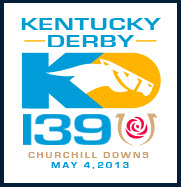 Today's maiden/allowance winners could become tomorrow's latest sensation on the Kentucky Derby trail. It's getting down to the wire for last out maiden and allowance winners to snag enough points to ensure a spot in the Kentucky Derby gate. Here are ten colts to watch. Many of them are slated to make their next start in a stakes race.
Last month's watch list included Fountain of Youth winner Orb, Southwest Stakes winner Super Ninety Nine, Gotham third place finisher Elnaawi and Risen Star third place finisher Palace Malice.
Race record: 5-2-0-2 (

$314,100)
Last fall, Capo Bastone finished a strong third despite bleeding heavily in the Breeders' Cup Juvenile. After time off to heal and switching to the barn of Todd Pletcher, the son of second crop sire Street Boss got back to work, winning a 1 1/6 mile allowance race at Gulfstream by a gritty head on February 16. The runner-up Offlee Fast, was three lengths clear of the third place horse, the well-bred Finn's Quest (Giant's Causeway – Questress, by Seeking The Gold).

Capo Bastone's pedigree is borderline for Classic distances. His second crop sire Street Boss never won beyond 7F and his offspring have yet to win past 1 1/16 miles over dirt. Capo Bastone's damsire Fit to Fight won from a mile to 1 1/2 miles. No problem with stamina there....except that as a broodmare sire, none of his offspring have won a stakes race past 1 1/8 miles. Capo Bastone's half sister CJ's Leelee (by Mizzen Mast) never won past a mile. She was proficient over dirt and turf. She did place in the Golden Rod (8.5F, dirt) and the Regret Stakes (9F turf).

Capo Bastone breezed and easy 4F in :49.40 (31.52) in his first post-race work. We may see Capo Bastone head to the Rebel Stakes (G-2) March 16.
Race record: 4-2-1-0 ($81,910)
General Election hit the radar with his spectacular ½ length win in the John Battaglia Memorial Stakes. The son of Harlan's Holiday was five wide on the first turn and swung eight wide on the second turn of the 1 1/16 mile race. He past the well-bred Giant Finish with a furlong to go and held that rival at bay to the wire. General Election carries the bloodlines of Classic/Stout Chef-de-race Kingmambo and Champion Spectacular Bid is his second damsire. The colt is a half brother to multiple graded stakes placed Ready's Echo (by More Than Ready), who was third in the Belmont Stakes and second in the Breeders' Cup Mile. No need to wonder if General Election likes the dirt. He won his maiden at Churchill. There's always a question who he beat in the John Battaglia. General Election has the option to run in the Spiral Stakes on March 23 or wait until the Bluegrass on April 6. His connections could elect to send him out of town for anther race over the dirt.
Race Record: 3-2-1-0 ($55,800)
After placing in his debut, Ground Transport won his last two races at the Fairgrounds. The offspring of dual Classic winner Big Brown haven't stretched out to win beyond 1 1/16 miles yet, so there's a question of how far they might want to run. Ground Transport has a perfect blend of speed and stamina through his female family. His damsire Broad Brush is an Intermediate/Classic Chef-de-Race and second damsire Mr. Prospector is a Brilliant/Classic Chef. The colt has a classy female family, too. His unraced dam is a half sister to multiple Grade 1 winner Fire The Groom (by Blushing Groom), who is the dam of the major sire Stravinsky and his stakes winning half brother Moscow Ballet. Ground Transport's third dam Native Street and fourth dam Beaver Street are blue hens. Ground Transport could ship for the Rebel Stakes March 16 or stay home and wait for the Louisiana Derby March 30.
GUNDERMAN
(Birdstone - Shesanoactor, by Noactor)
Race record 8-2-3-1 (

$96,131)
This late-developing colt won his maiden in October of 2012 and he is 3 -1-1-1 this year. In his last start, a 1 1/8 mile contest at Gulfstream, Gunderman had to break from the far outside in sixth position. Racing four wide the entire way, the Casse trainee sat about two lengths off of the the moderate pace. He made up 1 ½ lengths in the stretch to catch Indy's Illusion at the wire by a neck in 1:51.22.

Gunderman's stamina over speed pedigree is somewhat unusual as he has quite a bit of inbreeding to the good mare You All (4S x 4D x4D). His sire Belmont Stakes winner Birdstone is known for producing two classic winners in his first crop, Kentucky Derby winner Mine That Bird and Belmont Stakes winner Summer Bird. Gunderman's damsire Noactor won a 1 1/6 mile turf stakes race and have only three stakes winners as a damsire. None of the runners have won past 1 1/16 miles. Noactor is a half brother to Birdstone's dam Hush Dear. Hush Dear's dam You All is also Gunderman's fourth dam. Gunderman's dam Shesanoactor was a solid race mare and earned a 42-6-3-3 ($64,316) record. Her full sister Bigcuz was a veteran of 56 races and produced the only blacktype in this family in two generations in the stakes winning sprinter Salty Wave (by Salty Sea). Gunderman's second damsire Big Mukora didn't earn blacktype but he's a full brother to Champion Sprinter Gulch. We may see Gunderman jump into the Florida Derby in his next start or wait until April for a start in the Wood Memorial or Bluegrass.
Race record: 6-1-2-1 ($94,915 )
The home-bred son of A.P. Indy needed a few starts to put it together, but got the job done in a business like fashion in early October, winning an off the turf mile maiden contest by 1 ½ lengths over a sloppy sealed track. This year, Indy's Illusion has a 3-0-2-1 race record. He was most recently a tough luck second gong 1 1/8 miles at Gulfstream, beaten a neck by Gunderman. Indy's Illusion has a classy pedigree. His dam is an unraced half sister to the stakes winning sprinter Apprehender (by Posse) Indy's Illusion's second dam is the multiple G1 winner Missys Mirage, a winner from 6 furlongs to 1 1/8 miles. She beat the well-bred multiple G-1 winner Versailles Treaty three times. Missys Mirage's half sister half sister Classy Mirage bore Hopeful Stakes winner Dublin. A logical spot for Indy's Illusion may be the Florida Derby March 30 or Wood Memorial the following week.
KID DREAMS
(Lemon Drop Kid - Dreams, by Silver Hawk)
Race record: 2-1-0-0($34,500)
Kid Dreams was unplaced in his only start as a two year old. He was professional in a one mile maiden contest at Santa Anita on February 17, racing on the rail then making his move between horses to win going away by 3 ¼ lengths. Kid Dreams is a full brother to Swaps (G-2, 9F) winner Dreamy Kid and a half to 2008 Fountain of Youth runner-up Elysium Fields (by El Prado). Trainer Neil Drysdale conditioned Fusaichi Pegasus to victory in the 2000 Kentucky Derby. Kid Dreams could show up in the Sunland Derby on March 24 or squeeze in an allowance race before taking on stakes horses in the Santa Anita Derby or even Bluegrass Stakes.
Race record: 3-1-1-0 ($34,645)
In his first start against winners, Offlee Fast set a solid pace and gave Capo Bastone all that he could handle in the stretch of a 1 1/6 mile allowance race while giving that one weight. Offlee Fast's sire, a beautiful son of Wild Again was leading freshman sire of 2009. Most of his offspring are sprinter/milers although a few have stretched out to win at 1 1/8 miles. In fact, Offlee Fast won his maiden going 1 1/8 miles over the turf. There's little blacktype in Offlee Fast's female family. His dam was a decent runner and compiled a 10-3-4-2 ($137,588) record against allowance class foes.

Offlee Fast's damsire is a half brother to the great Storm Cat. He's a young broodmare sire. Offlee Fast is a quickly improving colt and I expect we'll see him given a shot on the Derby trail.
SHAKIN' IT UP
( Midnight Lute - Silver Bullet Moon, by Vindication)
Race Record: 4-2-1-1 ($139,600)
Shakin' It Up won the seven furlong San Vicente Stakes (G-2) by a length on February 17. One of Baffert's brilliant runners, the son of the two-time Breeders' Cup Sprint Champ is overshadowed by the exploits of his stablemates Flashback and Super Ninety Nine. By Kentucky Derby/Preakness winner Real Quiet, Midnight Lute was bred to go two turns, but a breathing problem kept him confined to shorter distances. His offspring should improve with age and currently, he's one of the top second crop sires. Shakin' It Up is a grandson of Two Time Champion Silverbulletday. Her offspring didn't do much on the track, but the talent is clearly skipping a generation. She's the damsire of three blacktype runners, Crisis of Spirit (by Vindication), Shakin' It Up, and stakes placed Mile High Magic (by Roman Ruler). Shakin' It Up's pedigree is borderline for 1 ¼ miles. Shakin' It Up is Vindication's only stakes winner as a broodmare sire. As a sire, Vindication's offspring are best as sprinter milers. Second damsire Silver Deputy is best as a middle-distance broodmare sire. His daughter's offspring include multiple graded stakes winners Groupie Doll, Roman Ruler, Miraculous Miss and Preachinatthebar. Baffert has a number of options open for Shakin' It Up. He may head to the 1 1/16 mile Rebel or jump into the deep end in the 1 1/8 mile Sunland Derby.
Race Record: 3-1-1-1 ($69,000)
Treasury Bill bided his time in last place, swung four wide on the turn and gained ground to finish second, beaten only a length by Shakin' It Up in the San Vicente Stakes (G-2). By a Belmont Stakes winner out of a mare by a Derby/Preakness runner-up, Treasury Bill Seven should excel at 1 ¼ miles. His dam won the Next Move Handicap (G-3) at 1 1/8 miles and the Ladies Handicap at 1 ¼ miles. Treasury Bill is her first foal to race. Add more stamina from Canadian Triple Crown winner With Approval and Belmont Stakes winner Coastal and you have a recipe for a horse with unlimited distance potential. The Rebel Stakes on March 16 is a strong possibility for Treasury Bill's next appearance.
VERRAZANO
(More Than Ready - Enchanted Rock, by Giant's Causeway)
Race record: 2-2-0-0 ($51,300 )
Pletcher has a cornucopia of talented three year olds. Verrazano jumped onto many early Derby lists with his daylight maiden win at Gulfstream on New Year's Day. He was even more impressive with a 16 ¼ score against allowance winners last month. Included in that field was Gunderman who came back to win a 1 1/8 mile contest next time out. The Pletcher trainee has a serious pedigree suited for the classics. Read all about it here. Verrazano is headed to the Tampa Bay Derby on March 9.