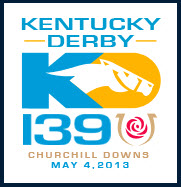 Take a good look at the colts on the 2013 Kentucky Derby Points List. Chances are, most of them won't be on the list in two months.
I reviewed the last ten winners of the Kentucky Derby to see how many had won or placed in stakes races as two year olds. Six of the ten (Funny Cide, Smarty Jones, Barbaro, Street Sense, Mine That Bird and Super Saver) had won a stakes race at two, but only three colts (Street Sense, Mine That Bird and Super Saver) had won a Graded Stakes. Two Derby victors, Giacomo and I'll Have Another, placed in a graded stakes race at age two.
The Breeders' Cup Juvenile has practically no bearing on three year old form. Only two Kentucky Derby winners in the last ten years even raced in the Breeders' Cup Juvenile, the remarkable Champion Street Sense and Mine That Bird, who finished twelfth.
The trend of late-maturing two year olds improving their form as three year olds held strong in the last decade. The majority (7) of the Kentucky Derby winners won their maiden between September and November of the previous year. Three precocious youngsters won their maidens in July or August while two Kentucky Derby champs, Monarchos and Fusaichi Pegasus, had hit the board as two year olds, but didn't win their maidens until early January of the following year.
If this year's crop of Triple Crown aspirants follows the trend of the last decade, chances are good that next year's Kentucky Derby hero has made between two to three starts, has been victorious in one or two of those starts and has placed in a stakes race, possibly graded, between August and December. Chances are good that he (or she) didn't run in this year's Breeders' Cup Juvenile.
Let's take a look at some of the runner-ups in this year's graded stakes races to determine which colts have the pedigree and potential to make an impact on the 2013 Kentucky Derby.
DELHOMME (Dixie Union - Art Show, by Out of Place)