The Thoroughbred breeding and racing industry is a tough business. Fortunes rise, fade and in some cases, plummet. Claiborne Farm has weathered them all. Established in Kentucky in 1910 by Arthur B. Hancock. It is now run by his grandson Seth W. Hancock. Some of the most influential stallions in American racing history helped shape the sport from the Claiborne breeding sheds. Eight time leading sire Bold Ruler, his son, super-horse Secretariat, dynasty forming Mr. Prospector, Nijinsky, Buckpasser, Danzig and Princequello are some of the most prominent stallions to stand at stud at Claiborne.
The farm suffered a blow last December when their leading sire Pulpit died suddenly at the age of 18. This year, it appears that War Front is stepping up to fill Pulpit's horseshoes in a big way. Currently ranked at #5 on the leading sire list in terms of earnings, he shares the #1 spot with Giant's Causeway for number of graded stakes winners (ten).
War Front made headlines in June as the next mate for super-mare Zenyatta. He again made the headlines recently when Coolmore spent $2.5 million dollars to purchase a War Front colt whose distaff line produced Met Mile winner Tizway, sire Citidancer and stakes horses Willa on the Move and Will's Way. The youngster is the highest priced yearling to sell at Keeneland since 2010. So what makes War Front so special? Let's delve into his pedigree to find out.
Owned and bred by
Joseph Allen
, War Front was a top-notch dirt sprinter. He preferred to play catch me if you can on the lead in most of his races. Although it took three attempts to win his maiden, once he figured out the game, War Front crushed his opponents by 25 lengths in three consecutive races, including the 1 1/16 mile Princelet Stakes at Belmont Park. Taking on graded stakes competition for the first time in the Discovery Handicap (G-3), War Front suffered his first defeat when he was rated off the lead. Learning a valuable lesson, the H. Alan Jerken's trainee switched back to a sprint in the Mr. Prospector Stakes (G-3) but fell a neck short of victory after encountering some traffic. A few starts later, War Front became a graded stakes winner in the Grade
2
Alfred G. Vanderbilt Breeders' Cup Handicap.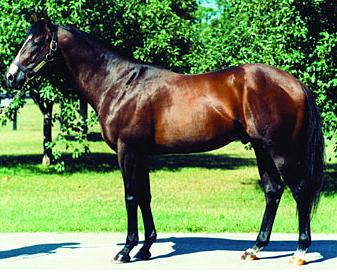 WAR FRONT
(Danzig - Starry Dreamer, by Rubiano)
Race record: 16-4-5-1 ($424,205)
Career highlights:
1
st
-
Alfred G. Vanderbilt (G-2) 6F
1
st
- Princelet Stakes 1 1/6 miles
2
nd
– Forego Stakes (G-1) 7F
2
nd
-
Vosburgh Stakes (Gr-1) 6F
2nd - Tom Fool Handicap (Gr -2) 7F
2nd - Deputy Minister Handicap (Gr-3) 6 ½ F
2nd – Mr. Prospector Handicap (G-3) 6F
Sire:
War Front is a product of the historic Claiborne Farm breeding program and carries the bloodlines of some of their best stallions and mares. His sire Danzig, a promising young son of Northern Dancer out of Pas De Nom, a stakes winning sprinter, made only three starts in his career before suffering an injury and retiring undefeated to Claiborne Farm.
A review of Danzig's immediate distaff family wouldn't have given an indication of his ability at stud. Of his eight half siblings to race, only three won, and only one visited the winner's circle more than once. His dam Pas De Nom was a stakes winning sprinter and only one of her half siblings, the steeplechase horse Bold Begger (by Bold Ruler) owned blacktype. This female family is clearly a case of brilliance skipping a generation. Pas De Nom's daughters and grand-daughters bore stakes winners and her dam Petitioner (by Petition) was a blue hen.
Danzig promptly set about siring a dynasty. His progeny won 188 graded stakes and ten of them became champions. Danzig became an important international sire of sires when his son Danehill was the first stallion in history to sire 300 stakes winners. Danzig's sons stand world-wide, and besides Danhill, include Agnes World, Ad Valorem, Adjudicating, Belong to Me, Green Desert, Brahms, Hard Spun, Langfuhr, Anabaa, U S Ranger, War Front and War Chant. For his efforts, Danzig was named an Intermediate/Classic Chef-de-Race.
Female Family:
War Front's dam Starry Dreamer was one of three stakes winners produced by her dam Lara's Star. At two, the pretty gray filly won three of five starts, including the Gold Digger Stakes at Hawthorne. At three, she won two listed stakes over the turf. Racing until she was five, the versatile mare placed in twelve additional stakes contests, including the Gazelle (G-1) over dirt, and the La Prevoyante Handicap (G-2) over the turf. Although Starry Dreamer's damsire Rubiano stood at Lane's End Farm both her second damsire the Champion and Classic Chef-de-race Forli (Sire of Forego) and her third damsire, the incredible Stout Chef-de-Race Round Table were stationed at Claiborne.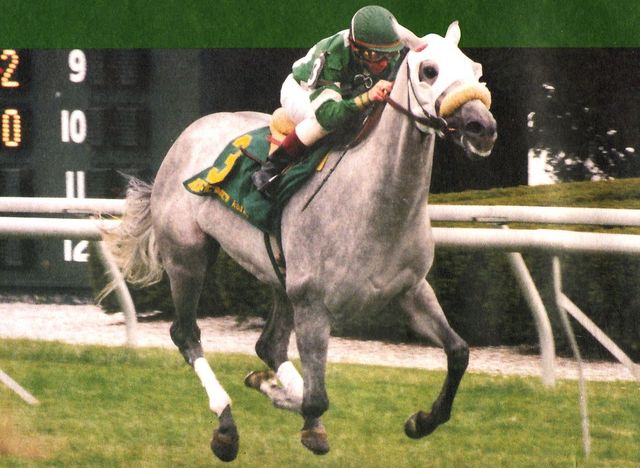 STARRY DREAMER
(Rubiano - Lara's Star, by Forli)
Race record: 31-6-11-4 ($564,789)
Career highlights:
1st - Gold Digger Stakes 1 mile (T)
1st - Regret Stakes 1 1/16 miles (T)
1st - Palisades Stakes 1 1/8 miles (T)
2nd – Gazelle Handicap (G-1) 1 1/8 miles
2nd - La Prevoyante Handicap (G-2) 1 ½ miles (T)
2nd - Long Island Handicap (G-2) 1 ½ miles (T)
2nd - Black Helen Handicap (G-2) 1 1/8 miles (T)
2nd - Sheepshead Bay Handicap (G-2) 1 3/8 miles (T)
Starry Dreamer became a fantastic broodmare. Besides War Front, she foaled his half siblings Ecclesiastic (by Pulpit), two-time winner of the Jaipur Handicap (G-3) and earner of $346,472 over the turf; Teammate (by A.P. Indy), heroine of the Bonnie Miss (G-2) and Shuvee (G-2). She placed in the Alabama (G-1), Gazelle (G-1) and three other grade 1 events on her way to earning $618,276 on the dirt; Riviera Cocktail (by Giant's Causeway) won a restricted race and placed twice in graded stakes over turf and synthetics, earning $197,806. Two other half siblings, both by Storm Cat, raced and won, but didn't earn blacktype.
Starry Dreamer is the most accomplished runner and producer in all five generations of this distaff line. While War Front's third dams is stakes placed, there's no notable blacktype runners, other than Starry Dreamer in three generations. War Front's fourth dam Secret Promise (by Warfare) is the grand-dam of the multiple graded stakes winner Home At Last (by Quadratic).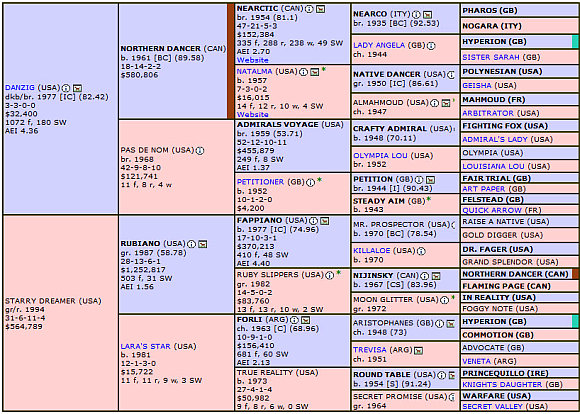 Broodmare Sire:
While he was named 1992 Champion Sprinter after recording victories in the Carter, Vosburgh, Forego, Tom Fool and Westchester Handicaps, Rubiano carried the genes of the Intermediate/Classic Chef-de-race Fappiano and the Classic/Stout Chef-de-race Nijinsky. The gray stallion passed along some of these attributes to his daughter's offspring. Twelve of his daughter's babies won stakes races at 1 1/8 miles or farther, including Grade 1 winning mare Take Charge Lady, the dam of Take Charge Indy and Will Take Charge; Sham Stakes winner The Pamplemoose, and Australian Cup hero Manighar.
Danzig was bred to only one Rubiano mare, resulting in War Front. Danzig already had proven success with Fappiano mares, getting eight winners from eight starters and one blacktype winner. War Front is a member of the Lowes Female Family 4-R. Danzig had remarkable success with this line, siring nine black-type runners, including, besides War Front, the stallions War Chat and US Ranger.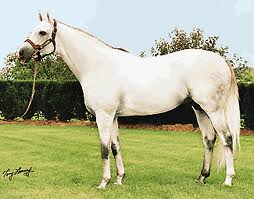 RUBIANO
(Fappiano - Ruby Slippers, by Nijinsky II)
Race record: 28-13-6-1 ($1,252,817)
Career highlights:
1st – NYRA (Cigar) Mile (G-1)
1st – Carter H. (G-1) 7F
1st - Vosburgh Stakes (G-1) 7F
1st – Forego H. (G-2) 7F
1st – Tom Fool H. (G-2) 7F
1st – Westchester H. – twice (G-3) 1 mile
2nd – Met Mile (G-1)
2nd – Jamaica H. (G-2) 1 mile
3rd – Breeders' Cup Sprint (G-1) 6F
Outlook:
The hallmarks of a lasting sire is the versatility of his offspring and how well he improves his mares. War Front has only four crops of runners on the track. They are sound horses, as 69% of them have started and half of those have won. 40 are stakes winners, 16 of which are graded.
His progeny win over all surfaces and at all distances. War Front's brilliant son The Factor set a new track record at Santa Anita for six furlongs in his debut. At the other end of the spectrum, Declaration of War captured the prestigious Juddmonte International Stakes (Gr. 1) over 10 ½ furlongs on the turf.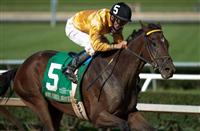 War Front is poised to make a strong impact on the Breeders' Cup contests this November. His son the Claiborne home-bred Departing missed out on the Kentucky Derby, but is adding plenty of other derbies to his resume, having captured the Illinois Derby, Super Derby and West Virginia Derby. He's scheduled to enter the starting gate for the Oklahoma Derby on September 29 and could target the Breeders' Cup Classic.
Three of War Front's sons could have a huge impact on the Juvenile Turf. Bashart won the With Anticipation Stakes and on the other end of the country, Diamond Bachelor shined in the Oak Tree Juvenile Turf. Still another son, War Command, has been making noise across the pond. A winner of three of four starts, the Aidan O'Brian trainee has won two Group 2 events and placed third in the Phoenix Stakes (G-1). O'Brian has captured the last two runnings of the Juvenile Turf with Wrote and George Vancouver.
Bashart is targeting the Pilgrim (G-3) on October 6 while Diamond Bachelor is headed to the Zuma Beach Stakes the same day. Only the Pilgrim is a Breeders' Cup Win and You're In contest.
With all of the attention surrounding War Front's offspring, one can only expect his book of mares to grow deeper in future years. It's only a matter of time before he hits with another sales topping yearling or two year old.