On Saturday the national horse racing spotlight will be on Florida, New York and California as Kentucky Derby prep graded stakes races are on tap at Tampa Downs (FL), Aqueduct (NY) and Santa Anita (CA). Of the three, the (Withers Stakes) race in New York may have the least impact on the Derby picture.
Let me explain. The powers-to-be at Churchill Downs Inc. (CDI) developed a new "Derby Point System" that will determine the pecking order as to which colts, geldings and/or fillies are given the chance to "Run For The Roses", if more than 20 are entered in the 139th running of the Kentucky Derby.  This "system" anointed specific races where points would be awarded to the first, second, third or fourth place finishers. Of the 3 traditional prep races run this weekend, only the Sam F. Davis (@ Tampa) and Robert B. Lewis (@ Santa Anita) are designated "point system" races. Therefore, one would think these two races would attract the most interest, leaving the Withers to play second (or in this case third) fiddle. Not quite, eight (8) are scheduled to run in the Withers, while the Robert B. Lewis only attracted four (4). Go figure?!       
First up will be the $200k G3 Withers Stakes at Aqueduct, race 9 (Post Time 4:18pm EST) on the card at 1 1/16 miles over the inner dirt course. The prohibitive Morning Line favorite is #2 - Revolutionary (3-5) who broke his maiden by 8½ lengths in his fourth career start. On paper this Todd Pletcher trainee appears to be a standout, but we know races aren't run on paper, so he'll need to turn back 7 rivals on the track. Trainer Kiaran McLaughlin will start a pair of talented colts #1 – Long River and entrymate #1A – Valid (7-2 M/L). The former ran 4th in the G2 Jerome last out while the latter was broke his maiden at Laurel Park in a convincing manner on last day of 2012. Other contenders here are #3 – Escapefromreality (6-1) will be the likely pacesetter as he stretches out to two-turns from two career sprints; #4 – Amerigo Vespucci (15-1) still looking for respect after getting SHOW purse money at 39-1 in the Count Fleet Stakes as is #5 – Siete de Oros (8-1) who at 41-1 lost to Vyjack by a head in the G2 Jerome on Jan. 5th.
WITHERS PLAY: $10 WIN / PLACE #1/#1A Entry and  $2 Exacta box 1-2-4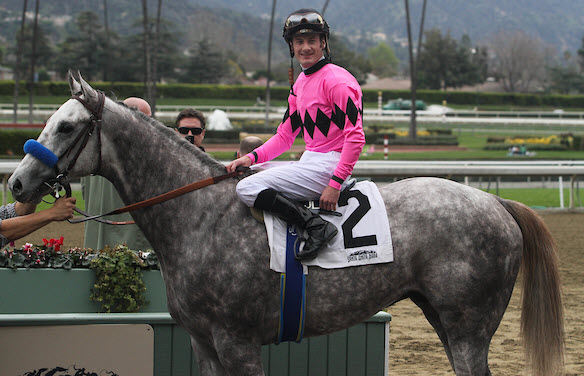 Next up at Santa Anita is the $200k G2 Robert B. Lewis Stakes, contested at 1 1/16 miles, the 4th race on the card. Post Time is set for5:03pm EDT. Really?! Only 4 horses… really?! Hard to believe with all the so-called Derby candidates on the west coast, this race came up so short. Even more pathetic, only 2 horses were nominated by the Jan. 24th deadline. Only one of them was entered, #2 – Flashback (3-5). Trainer Bob Baffert always has his horses Road to the Roses well mapped out. So my thoughts are this son of Tapit has been prepping for for the Lewis since winning his career debut on Dec. 8th. I envision a gate-to-wire victory. Looming the biggest threat is #4 – He's Had Enough (3-1) for the connections who sent out I'll Have Another. Both #1 – Little Jerry (8-1) and #3 – Den's Legacy (5-2) will fight it out for the minor shares and points.
ROBERT B. LEWIS PLAY: $30 WIN #2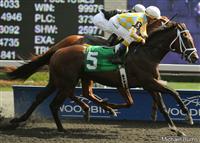 Lastly on Saturday is the $200k G3 Sam F. Davis Stakes at Tampa Downs,11th race on the card, Post Time 5:23pm EST). The 9-5 Morning Line favorite is the Mark Casse entry of #1 – Northern Lion and #1A - Dynamic Sky. The latter won the $100k Pasco Stakes over this course on Jan. 12th. His stablemate exits a 5½ length maiden score at Gulfstream Park travelling today's distance of 1 1/16 miles. Other of note are #4 – My Name Is Michael (4-1) recently turned over to the capable hands of Graham Motion after 4 lifetime starts over the synthetic surface at Woodbine; #5 – Speak Logistics (3-1) last seen finishing 7th in the G1 BC Juvenile last November and #8 – Falling Sky (5-1) who was purchased for $425k this month, after ending his 2 year old campaign with a victory in a tough Optional Claimer at Gulfstream Park on Dec. 15th. The rest of the field comprises of 3 Also-Rans from the Pasco Stakes, a Nick Zito maiden winner at Tampa and a turf winner who broke his maiden in a $12,500 Claiming race.

UPDATE: POE #1 - Northern Lion is SCRATCHED
SAM F. DAVIS PLAY: $30 WIN #8 / PLACE #8 and $1 Tri Part-Wheel 4, 5, 8, 9 w/ 1 w/ 4, 5, 8, 9 
---------------------------------------------------------------------------------------------------------------------------------
Recapping the previously posted pathetic selections at Laurel Park from Saturday, Jan. 26th had just 4 winners from 9 races (2 Top Selection; pay-offs shown in BOLD type) having $2 WIN pay-offs of $5.40 (2nd), $4.60 (6th), $3.60 (8th) and $6.40 (9th).
The BEST BET of the Day (5 0-0-0) Ciguaraya (4-1 PT; 5-1 M/L) raced 4-wide in the early stages, loomed a serious threat while being asked at the 5/16th pole, but was unable to sustain that drive, flattened out and finished 5th of 10. 
The LONGSHOT PICK (5 0-0-1) Mister Dish (7-1 PT; 8-1 M/L) was unhurried early but then moved into contention, splitting foes and looked like a threat at the head of the stretch, but flattened out in the final furlong, salvaging 3rd place purse money, returning $4.80 to SHOW.
For Saturday races the weather forecast calls for Sunny skies with no chance of precipitation, meaning the track will be FAST at Laurel Park on Saturday Feb. 2nd.
1st race – $10,000 Maiden Claiming for 3 y.o. – 5½ furlongs     
#5 – Dublin Gulch  (6-1)
#1A – Whatsthequestion  (2-5)  note: POE #1 – Light of My Life *** SCRATCHED ***
#4 – Mountain Bird Song  (8-1)   
2nd race – $5,000 Claiming for 4 y.o. & up – 6 furlongs     
#5 – Flavor (9-2)
#3 – Ninety Five South  (8-1)
#2 – It's Never Too Late  (2-1)
3rd race – $15,000 Claiming for F&M 4 y.o. & up – 5½ furlongs
#4 – Monster Sleeping (5-1)
#1 – Vicarious Won (8-5)   
#7 – Changingoftheguard (6-1) 
4th race – $14,000 Claiming for 4 y.o. & up – 6 furlongs
#1 – Dinny Dinosaur (10-1)  $$$ LONGSHOT $$$
#6 – Lemon Juice (8-1) 
#2 – Azicharmyou  (5-1) 
5th race – $5,000 Claiming N2L for F&M 4 y.o. & up – 7 furlongs
#4 – Miss Bad Girl (7-5)
#1 – Sicut Quercus (5-1)
#8 – Brightlingsea (4-1)  
6th race – $50,000 Optional Claiming for 3 y.o. fillies – 1 mile     
#4 – Seven Stars (5-2) 
#3 – Majestic Marquet (2-1)
#7 – Sea Lady (10-1)    
7th race – $25,000 Claiming N2L for F&M 4 y.o. & up – 6 furlongs
#1 – Jim the Dancer (9-5)  
#4 – Mendassity (3-1)
#8 – Lady Geegee (9-2)
8th race – $125,000 Wide Country Stakes for 3 y.o. fillies – 7 furlongs     
#5 – Walkwithapurpose  (5-2)      *** BEST BET ***
#1 – Dear to All (2-1)
#7 – Power Lady (7-2)  
9th race – $5,000 Claiming N2L for F&M 4 y.o. & up – 7 furlongs
#3 – Friendly Princess (5-1)
#7 – Smoky Opal  (6-5) 
#1 – Saratoga Notes (10-1)
 GOOD LUCK!