In early 2013 Sagamore Racing, the horse racing team based at historic Sagamore Farm in Maryland, where legendary champion Native Dancer is laid to rest, reached out to racing fans to name a two-year-old. And fans responded by submitting over 400 names and the name picked was Tizgale for a daughter by Stormy Atlantic out of the mare Tizthen, by Tiznow.
"We thought it would be fun and a way to draw the attention of sports fans to Maryland racing", said Tom Mullikin, Sagamore Racing General Manager. After advising Mullikin of my disappointment that my submission was not the winner, he added, "Well, she (Tizgale) actually picked her own name. We brought her out, put all the names on the ground and the one she picked was Tizgale."
Tizgale completed her two-year-old racing season on Dec. 8 by breaking her maiden at Gulfstream Park in her fourth career start, which was her turf debut. Being a daughter of Stormy Atlantic, sprinting on the grass is how she should earn her keep. But with Tiznow on the bottom, maybe she'll get added distance?
Shortly after the Tizgale victory, Sagamore Racing announced the "Second Annual Naming Contest". This time we're talking about a home-bred yearling colt by Include out of the mare Dictate the Tempo, by Dixie Union. To help with your creativity, he was born during the infamous Super Bowl XLVII blackout won by the Baltimore Ravens.
Names like "Blackout", "No Huddle", "Lucky" and "Baltimore Raven" are guaranteed losers, as all four have already been used for other thoroughbreds. Forget about "Paintthetownpurple" as well. That's the name I submitted and shared with Mullikin during my Sagamore Farm visit, but he didn't seem too thrilled by it? C'mon Tom! The "paint" reference is for Broad Brush and the "purple" instead of red is what Raven fans did that night. No? Nothing?!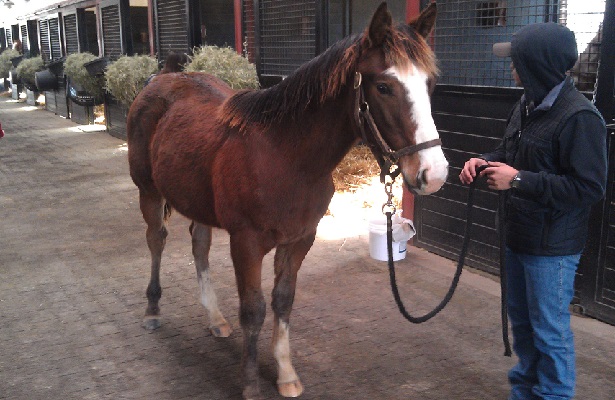 He's a stout little guy with a broad blaze and "… if he had two more white socks, he'd be a Clydesdale." joked Mullikin.
Online submissions will be accepted through this Friday January 17th at Facebook.com/SagamoreRacing. The team will announce the Top 5 names on Monday, January 20th, that will then be available for final public voting.
The winning name will be announced on Tuesday, January 28th. The fan who submits the chosen name will receive a Sagamore Racing gift, including a tour of Sagamore Farm, Sagamore Racing branded gear and a chance to attend the horses' first local race (travel expenses not provided).
About Sagamore Racing:
Sagamore Racing is a professional horse racing team based at historic Sagamore Farm in Glyndon, MD. Once owned by Alfred G. Vanderbilt II, Sagamore Farm was developed into a world renowned racing and breeding operation from 1933 – 1986. During that time, Sagamore became home and the eventual resting place of Hall of Fame horses Native Dancer, Bed o'Roses and Discovery. In 2007, Under Armour founder and CEO Kevin Plank, a Maryland native, purchased the 530-acre farm implementing a long-term restoration plan with the mission to breed, raise and race thoroughbreds at the sport's highest level, while preserving its storied and rich tradition.