The Kentucky Derby prep season has hit the home stretch, as there are only seven (7) significant races that carry the number of Derby points to get winners and runner-ups into the Churchill Downs' starting gate for the 139th running of the Kentucky Derby. Winners of each of the seven preps will earn 100 points, the runner-up earns 40 points while the 3rd and 4th place finishers earn 20 and 10 points, respectively. It's safe to assume that a minimum of 40-50 points will be required to be in the Top 20 of Derby point earners. Three of the seven will be contested on Saturday.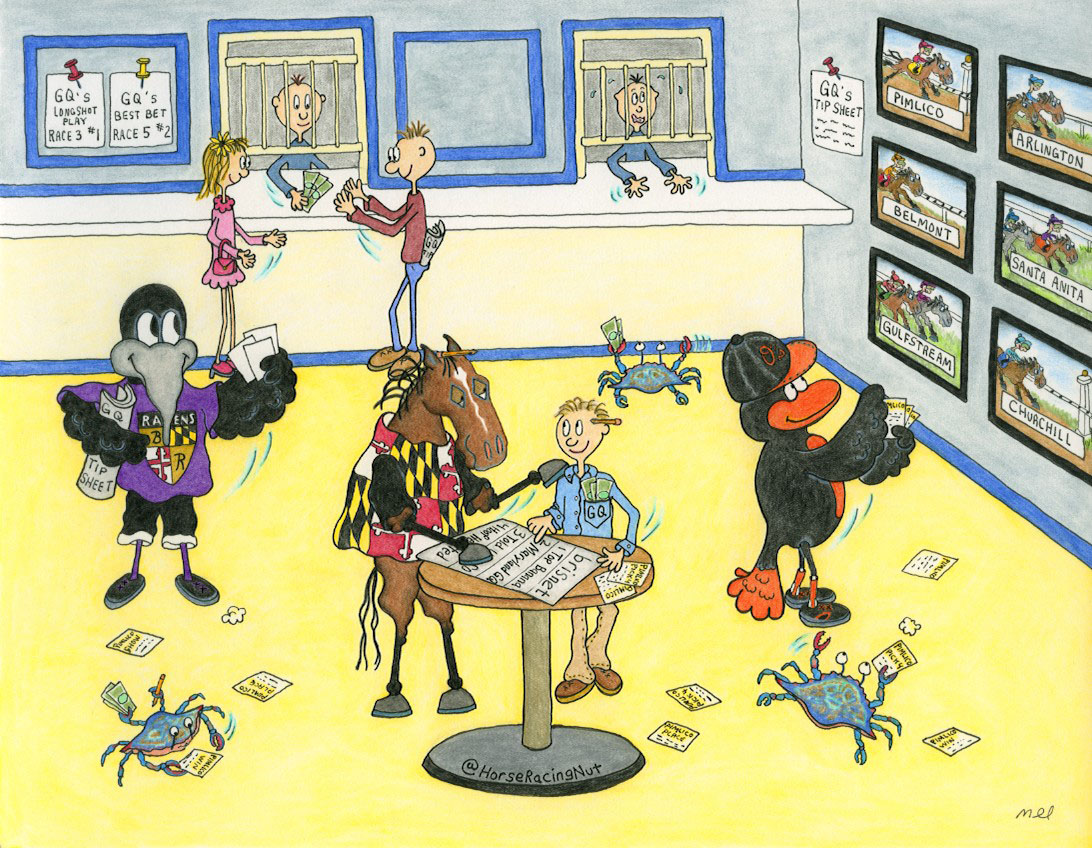 The first of the three is the $2,000,000 G2 UAE Derby at Meydan Race Course in Dubai. Post Time will be bright and early on Saturday at 10:25am EDT. The field will travel 1 3/16 miles over the Tapeta surface.
It attracted a field of twelve (12), two of which are based in the United States… #3 – Dice Flavor 8-1) won the El Camino Real Derby at Golden Gate Fields, but is not Triple Crown (TC) nominated. The other is #12 – He's Had Enough (20-1) who has struggled during his 3-year-old campaign since his BC Juvenile runner-up finish to Shanghai Bobby in November, but an in-the-money finish here could get him in the KY Derby. Of the ten (10) other runners, only one #4 – Lines of Battle (12-1) is TC nominated. He (having 0 points) would have to win to entertain shipping from across the pond to run for the roses.
Therefore, a win by any 3-year-old other than He's Had Enough or Lines of Battle will have no effect on the Derby point standings. As the 100 points earned in winning the UAE Derby will go unused, allowing the 3-year-old sitting in the 21st spot to gain entry in the Kentucky Derby.

HOW I SEE IT: If you live on the West Coast, set your alarm as if it were a work day and tune into your favorite horse racing channel or logon to your wagering website that offers live streaming video from Dubai, otherwise you'll sleep through it. With the lack of Points of Call for all the foreign runners (10 of the 12), it's difficult to determine the pace of the race. Therefore, one bit of information stuck out like a sore thumb, and that is the final time of the few who have already run this 1 3/16 mile (aka 1900m) distance. There are five (5) and four exit the same race (Mar. 9th) won by the 3-1 M/L favorite #7 – Secret Number in a time of 2:01.35. The Also-Rans are the runner-up #8 – Zahee (20-1), the 3rd place finisher #11 – Snowboarder (12-1), #2 - Elleval (15-1) who was 4th and a filly #6 – Emotif (30-1) was 5th by 6¼ lengths. The fifth one who has tested this distance is another filly #9 – Shuruq (8-1). On Feb. 28th she won comfortably and stopped the clock at 1:58.72, that's 2:63 seconds faster than the favorite ran it in on the same track, 9 days later. In that race she beat Emotif by 8¼ lengths. I'm usually not one to play fillies when in against colts, but Shuruq held her own 3 races back when 2nd against the boys going 7 furlongs.

The UAE Derby PLAY: $10 WIN and $20 PLACE on #9 – Shuruq (8-1)

The cream of the 3 year old crop have been racing all winter at Gulfstream Park, and the G1 $1,000,000 Besilu Stables Florida Derby caps off the Derby prep races in south Florida. Considering the Kentucky Derby is just five (5) weeks away, this will be the final race prior to the Derby for these runners. Those who desperately need Derby points to crack to Top 20, which determines who gets in if more than 20 are entered, must put in the best effort now as it's now or never. The FL Derby is race 12 on the card, with a 6:12pm EDT Post Time.
A group of ten (10) will break from the starting gate with a trio who stand out. First is #3 – Itsmyluckyday the 2-1 Morning Line favorite. He won the G3 Holy Bull Stakes in track-record time over the 2-year-old champion #1 - Shanghai Bobby who is listed as the 5-2 second choice. The 3rd choice per Morning Line Odds is the G2 Fountain Of Youth Stakes winner #3 – Orb (3-1).
On paper, it appears the rest of the field will be running for fourth place purse money, but the race isn't run on paper. Todd Pletcher's #8 – Merit Man (15-1) will try to stretch his sprinter speed around two-turns for the first time in his career. Then there's #5 – Frac Daddy (20-1) who been away since suffering a quarter crack during  his 6th place finish in the Holy Bull on January 26th. Dale Romans sends out a pair, #2 - Pick of the Litter (6-1), winner of an allowance race at GP and longshot #4 - Pontiff (30-1) for good reason, he's still a maiden. Rounding out the field are #7 – Indy's Illusion (20-1), #9 – Are You Kidding Me (15-1) and #10 – Narvaez (20-1)
HOW I SEE IT: Every year on Florida Derby Day, the Gulfstream Park dirt surface comes up fast, and there's no reason to believe it will be any different this year. If I were a betting man (wink, wink), from the 1st race on, I'd automatically toss any horse whose running style is more than a couple lengths of the lead during the early stages of their races. With that being said, look for Merit Man and Shanghai Bobby to hook-up on the lead going into the clubhouse turn, and staying that way for at least the first 7 furlongs. Itsmyluckyday should get a dream trip in the 3rd spot throughout and ready to pounce on the leaders in the final furlong, with Pick of the Litter trying to match his strides along the rail. The track bias will be too much to overcome for Orb and Frac Daddy in order to get to the Winners Circle. Of the outsiders having the best shot to take that huge step up and hit the board, look for Narvaez from the extreme outside find a nice stalking position in mid-pack and finish strong to get a minor share.
The FL Derby Play: $20 WIN on #3 – Itsmyluckyday (2-1)

At the Fair Grounds in New Orleans the locals will be celebrating their biggest racing day of the year featuring seven (7) stakes races on their 13 race card. The highlight being race 8, the $1,000,000 G2 Louisiana Derby. Post Time is 5:55pm EDT.

A crowded field of fourteen (14) have been entered in this 1 1/8 mile contest with Todd Pletcher having two of the top three choices in #3 – Revolutionary (3-1), winner of the Withers @ Aqueduct last out and #2 – Palace Malace 5-1, third in the Risen Star here on Feb. 24th. A total of five (5) Risen Star runners return for a chance to redeem themselves… #8 – Code West (9-2) 2nd by a nose; #4 – Golden Soul (20-1) 6th; #11 – Mylute (12-1) 7th and #9 – Proud Strike (10-1) 8th. New shooters on the Derby Trail are a quartet whose connections each ponied up the $6,000 late Triple Crown nomination fee last Saturday. They are an Al Stall, Jr. trained duo of #6 – Sunbean (12-1) and #7 - Departing (8-1), Mike Maker trainee #12 – Brazilian Court (30-1) and #1 – Hip Four Sixtynine (30-1).
A few others of note looking to earn their way in the Kentucky Derby with a win or runner-up finish in the Louisiana Derby are #14 – Nina's Dragon (30-1) 2nd to Dice Flavor in the El Camino Real Derby last month, won runs in the UAE Derby early Saturday morning at Meydan Race Course in Dubai. D. Wayne Lukas, already having two (2) potential Derby starters in Will Take Charge and Oxbow, will saddle #10 – Titletown Five (8-1). Undefeated #13 – Ground Treansport (20-1) is the local favorite, trying to run his career record to 3 for 3, while Keith Desormeaux, trainer of Risen Star Stakes winner Ive Struck A Nerve tries to rebound from the disappointment of that one's injury which took him off the Derby Trail, saddles #5 - Whiskey Bravo (30-1).
HOW I SEE IT: Eight of the fourteen starters could be on the lead if they choose, but Titletown Five needs to be there heading into the backstretch which is where he should be, if not he's done. Depending on how the track is playing, most riders will want to be within a few lengths of the leader, causing quick early fractions. This scenario plays into the hands of the strong stretch runners being Revolutionary, Golden Soul, Proud Strike and Nina's Dragon. Not willing to gamble that the Fairgrounds dirt oval will be kind to closers, look for one from the speed-stalking group to prevail in deep stretch. Palace Malice fits that mold and the "3rd start off a layoff" angle.               
The LA Derby Play: $20 WIN and PLACE on #2 – Palice Malice (5-1)