It was a gorgeous day for Maryland's Day At The Races, better known as Jim McKay's Maryland Million. Eighty-eight offspring from stallions standing (or who stood) in Maryland competed in the 9 races that make up the Maryland Million.
The first race of the day was the $100,000 MD Million Nursery for 2-year-olds. The program 8-5 second choice #7 – Bullheaded Boy was an early scratch, and that may have been spoken volumes about the winner, Golden Years. This 2-year-old son of Not For Love, gave his sire his 29th MD Million victory via offspring and is now 2 for 2 in his career. #6 – Legal Punch was 1½ behind the winner followed by #2 – Stonebriar another 3¼ back. 2013 Eclipse award winner for outstanding apprentice Victor Carrasco notched his first trip to the MD Million Winners' Circle.
The second half of the early Double, the $100,000 MD Million Distaff saw another progeny of Not For Love, #3 – Classy Coco ($5.00) display a strong rally in the stretch to win by 4 over #2 – Steady N Love. The early speed clocked a 22.15 opening quarter for the 7 furlong affair to set it up for "CoCo" who is now a two-time MD Million Day winner, as she won the Lassie in 2012. #8 – Jonesin for Jerry took SHOW honors. Jockey Trevor McCarthy piloted the winner to earned his first MD Million race victory.
The $100,000 MD Million Sprint Handicap went to #3 – D C Dancer ($15.00), giving sire Not For Love a natural hat trick to start the day. #5 – Always Smiling was game to the wire as the pace setter, re-rallying in deep stretch close the margin of victory to 1¼ lengths. Morning Line favorite #2 – Avarice ran third, 3 behind the runner-up. Jockey Angel Serpa guided the winner home.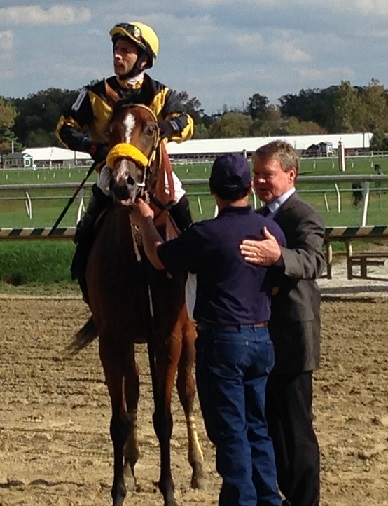 Local turf riding specialist Horacio Karamanos aboard 60-1 #10 – Bear Access, (on the left as trainer Lawrence Murray gives groom a well deserved pat on the back) put the rest of the $125,000 MD Million Ladies field to sleep to win by a length. Taking the lead from the first call, the crafty Karamanos "walked the dog" in 24.70, 50.17, 1:15.29, 1:41.57 and 1:54.83 for the 1 1/8 mile stroll over the turf. #3 - Pagan Priestess who won this event in 2012, equaled her 2013 finish, rallying from far back to get 3rd. The winner returned a MD Million record $2 WIN payout of $134.20 while the 10 cent Superfecta combo of 10-4-3-2 returned $19,257.97. "This filly always tries," said Murray. "I didn't see much speed... I told Horacio you might be on the front end and they might forget about you.", and they did.
Alex Cintron picked up the mount on #7 - Outbacker and gave the 5-year-old gelded son of Outflanker a perfect ride in the $50,000 MD Million Starter Handicap. #12 – The Camden Comet looked poised for a Winners' Circle photo, taking the lead as the field entered the stretch, but Cintron was relentless in deep stretch, getting up the win by a head to return $6.80. The top two were 5+ clear of longshot third place finisher #2 = Q's Jack. It was the fifth MD Million winner for breeder/owner Howard M. Bender.
Freshmen sire Street Magician got his first MD Million winner (from 3 starters) in the $100,000 MD Million Lassie with #9 – My Magician ($59.40). #10 – Rocky Policy, going for her 3rd win in as many starts was 5-wide on the turn and ran out of real estate, coming up short by neck while #5 - Rockin Jojo, another Street Magician progeny was a neck further back for third. Ridden to victory by Julian Pimentel, My Magician was trainer Michael Trombetta's second win on the day and 6th MD Million race victory.
Ben's Cat came up a couple strides short of making history as #11 – Talk Show Man ($11.00) denied the 3-time MD Million day winner of a record 4th win. #9 – Roadhog, who sought his 3rd straight Maryland Million Turf victory challenged Ben's Cat in mid-stretch, but never headed him, settled for the SHOW purse.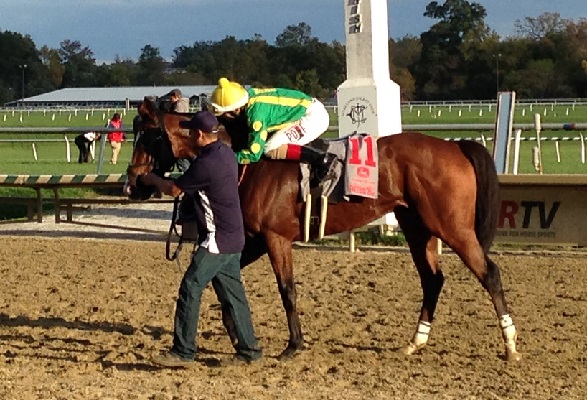 MD Million Turf winner Talk Show Man gets a hug from Xavier Perez - Photo: Gary Quill

Afterwards Ben's Cat trainer, King T. Leatherbury commented, "He ran a dynamite race… I've got no complaints on that. This makes me feel better. He didn't want to go a mile, but he dug in the best he could." Winning trainer Hamilton Smith was gracious in victory, "I always admired Ben's Cat. It's a real honor to beat him. He's a great racehorse."
The $150,000 MD Million Classic was only in doubt for about the first quarter, when the eventual winner #3 – Eighttofasttocatch ($3.20) took a stiff challenge outside #1 – Love's Not Fair and inside of #7 - Wild Louis and #8 - Seventeenohsix. But jockey Forest Boyce let the 8-year-old son of Not For Love use his natural early speed to create space while picking up the pace on the backstretch and widen his margin at every call.
Entering the stretch up by 3, Boyce roused her mount for more and he gave it to her. The final margin of victory was 4½ lengths over #4 – Concealed Identity and another 2¼ back to #5 – Turbin. On the gallop back to the Winners' Circle, the 3-time MD Million Classic winner looked no worse for the wear.
Making only his second start of 2014, Eighttofasttocatch will make The Jennings Handicap (Dec. 6th @ Laurel) the final race of his career, per trainer Tim Keefe.
The final race of the day, the $50,000 MD Million Distaff Starter Handicap by Printasticat ($17.80) giving trainer Claudio Gonzalez and jockey Daniel Centeno their first MD Million victory. Post Time favorite #9 – Aix En Provence chased the winner in vain throughout the stretch while early pacesetter #14 – Touring Hong Kong held on for third. "The last time she ran she bled a little bit so we treated her, we fixed her up…" Gonzalez said. "She feels perfect now and she ran like she felt".
A crowd of 18,870 was on hand to experience Maryland's best in horse racing. Hopefully the industry captured a few new fans who will be back again… with a few more new fans.