No matter how one feels about Medina Spirit as a win candidate in the 147th Kentucky Derby on Saturday at Churchill Downs, his strategy plays a key role in the pace scenario, which affects Rock Your World's chances and the hopes of other horses as well.
Therefore, Medina Spirit is the "X factor" in the Kentucky Derby.
If Medina Spirit is asked out of the gate, he can make the front more difficult for Rock Your World than in the Santa Anita Derby (G1), when Rock Your World took control comfortably on the first turn and went on to open up in the stretch for a 4 1/4-length victory. Given Caddo River's defection, the opening is there for another speed horse to set the pace.
With that said, John Velazquez has ridden Medina Spirit conservatively in his last two races, especially in the San Felipe Stakes (G2).
In the San Felipe effort, Velazquez kept Medina Spirit in a wide position around the first turn rather than allowing him to engage with Life Is Good.
From there, Velazquez kept a tight hold on Medina Spirit.
When the same barn enters two speed horses, it is reasonable to not expect them to contest the pace together. Even if the horses come from different owners, trainers do not want to lose because of a speed duel between two stablemates. There is not necessarily a conspiracy behind keeping them from dueling each other, as it happens on a daily basis.
No matter the reasoning, Velazquez kept Medina Spirit's speed in check.
Then in the Santa Anita Derby, Medina Spirit broke well again. But Velazquez did not make an aggressive move toward the lead.
Instead of asking Medina Spirit to clear, Velazquez waited in his lane as Rock Your World secured the lead and Parnelli kept Medina Spirit wide.
Medina Spirit remained close to the leader this time, but he continued to travel wide on the backside as well.
In contrast to those two races, Medina Spirit set the pace from the inside in the Robert B. Lewis Stakes (G3), with Wipe the Slate pressing and Parnelli nearby. This time, Medina Spirit won.
Medina Spirt put those two horses away through a fast pace and held off Roman Centurian and Hot Rod Charlie in a testing stretch run.
On paper, this was Medina Spirit's career best effort. Wipe the Slate and Parnelli were obliterated, while Medina Spirit found more and kept fighting the closers en route to his win. Abel Cedillo did a great job piloting Medina Spirit in the Robert B. Lewis (G3) and in the Sham Stakes (G3) earlier, when he lost by only 3/4 of a length to Life Is Good.
Given the style in which Medina Spirit won the Robert B. Lewis and the conservative tactics that led to his two more recent losses, as well as the fact that trainer Bob Baffert has only one horse running in the Kentucky Derby, Velazquez might attempt to send Medina Spirit this time.
Baffert typically wins big races by securing the lead. He tried to play conservative with Medina Spirit in the prep races, but there is no incentive to play the same strategy when Rock Your World is likely to lead comfortably without Medina Spirit and open up to victory again.
Win or lose, a more aggressive strategy from Medina Spirit hurts Rock Your World's chances. He faces the possibility of contesting the lead through a 22 opening quarter and 45 and change half-mile. Contesting a horse through a fast pace will feel different from leading uncontested through the same fractions.  
On the lead, Medina Spirt might become brave again and win. 
But in the event that Medina Spirit wipes out his own chances and significantly weakens Rock Your World, then the stalkers and closers come into play. Maybe another Orb situation arises if a duel occurs.
Then again, perhaps Rock Your World is too fast for Medina Spirit's presence to make a difference and he secures the lead comfortably anyway. Also, Velazquez might opt for stalking tactics for a third time on Medina Spirit. After all, many riders become concerned with conserving energy in a 1 1/4-mile race.
If Medina Spirit is sent to the lead, he is drawn perfectly for the task in Post 8. Rock Your World, Midnight Bourbon, Highly Motivated and Soup and Sandwich are drawn outside of Medina Spirit, while most of the horses inside of Post 8 are stalkers and closers. Medina Spirit can easily clear the horses to his left and try to set the pace on the inside. 
Get Oaks & Derby full-card picks today!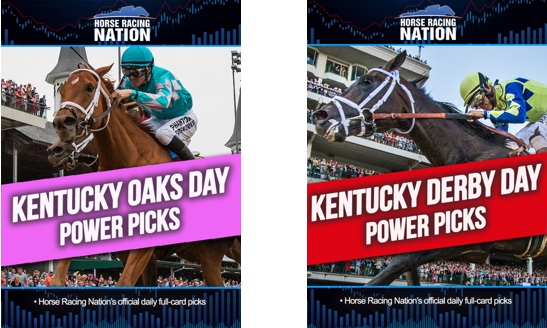 But the specific plan is unclear. Medina Spirit figures to run in the top five through the first half, but it is unclear whether he will revert back to his Robert B. Lewis style and make Rock Your World work hard early. 
Questions such as these make handicapping the Kentucky Derby a unique challenge. It still seems as though the race favors front speed overall, but an early duel between Rock Your World and Medina Spirit could lead to a number of outcomes – whether one of them wins or a different horse passes both of them in the stretch and pulls off the victory.