One of the cool features of the Hot Jockey report on HRN Pro Reports is the Impact Number, which compares 'Expected Wins vs. Actual Wins', to see how much they are overperforming or underperforming their odds." If the Impact Number is highlighted in green, it highlights a hot jockey.
Using the Impact Number, who has been on fire over the turf course at Santa Anita Park? The win statistics and Impact Number look at the past 90 days, so this includes this meet plus the last six days of the Autumn meet in October. 
Prat absolutely dominating on turf

There is only one name to highlight on this side. Prat has dominated the turf racing at Santa Anita with 27 wins out of 63 starts for an incredible 43 percent win rate. According to the second-from-last column, based on the odds of his mounts, Prat could be expected to win 17 times for a 28 percent win rate, which shows the high expectations placed on him for turf races. Rather amazingly, Prat is actually underbet at Santa Anita. 
The Hot Jockey Report gives Prat an impressive 54 percent Impact Number over the Santa Anita grass in the past 90 days. That means he's winning 54 percent more than he should, given his odds. With the number of turf races Prat competes in, it is impressive that his win percentage and Impact Number both remain high. Prat is clearly the best turf jockey riding at Santa Anita.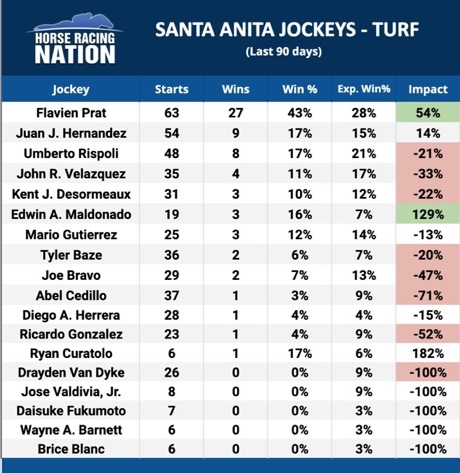 As for John Velazquez on Santa Anita turf, he is struggling with only four wins out of 35 tries for an 11 percent win rate. According to the Expected Wins column, he should be winning at a 17 percent rate.  
Even though Velazquez shows a few turf wins, he is underperforming. The last column for Velazquez shows a negative 33 percent Impact Number, which means bettors should think twice before betting him on Santa Anita turf. 
Velazquez deserves extra attention from handicappers on Santa Anita's dirt course. On its turf course, though, he is a questionable bet. In contrast, Prat deserves extra attention on turf, although he remains a good dirt rider as well.
Velazquez the best bet on dirt

As seen on the Jan. 21 Hot Jockey Report, there are seven jockeys with an Impact Number highlighted in green for the main track at Santa Anita. Four of those names stand out as riders with a strong Impact Number relative to the amount of rides, and one of them is a veteran jockey formerly seen at Gulfstream during past years at this time.
The veteran jockey firing on all cylinders on Santa Anita's dirt course is Velazquez, who previously was based on the East Coast. On the main track, Velazquez has won 14 times out of 32 starts for a huge 44 percent win rate, while based on the odds of his mounts he would have been expected to win only nine starts for a 29 percent win rate.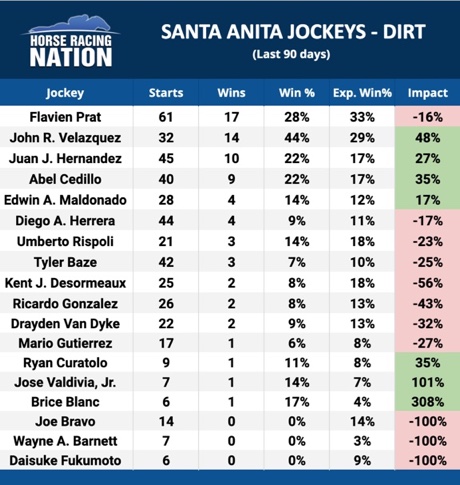 Those numbers add up to a positive 48 percent Impact Number. In other words, Velazquez winning nearly 50 percent more than he should on Santa Anita's dirt. Considering he is a familiar name who casual bettors sometimes bet blindly, it is impressive that he outperforms his odds.
Abel Cedillo also is notable with nine wins in 40 starts on the Santa Anita dirt course, which equals a 23 percent win rate. Cedillo's Impact Number is a big 35 percent.
A third jockey to note on the Santa Anita dirt course is Juan J. Hernandez. He has won 10 times out of 45 tries for a 22 percent win rate.  Hernandez's Impact Number is notable at 27 percent.
One last name to study on the dirt side is Flavien Prat, a 17-time winner already out of 61 starts for a 28 percent win rate over Santa Anita's main track. But in contrast to the turf, his impact is a slightly negative 16 percent on dirt.
Even though Prat shows a negative Impact Number, he is hard to ignore given his skills and the high amount of quality horses he gets to ride.
Regardless, the hottest jockey on the Santa Anita dirt course in terms of the Impact Number and amount of rides is Velazquez.
As the meet goes on, it will be interesting to see whether Prat and Velazquez can keep up these lofty win rates and how the bettors will respond accordingly.  
You can learn more about the HRN Pro Reports below: 
Packaged together as HRN Pro Reports, the daily reports tackle five of the most difficult handicapping challenges that face players every day:
All five reports are available daily, both individually and as part of the HRN Pro Membership package.