Tools & Tips to Win Big on Kentucky Derby 2021!
Time to list some possible wagers for the $3 million Kentucky Derby at Churchill Downs on Saturday. As a note though, it is important to adjust strategy if the wager no longer offers the value seen on paper. When studying the live board for races on the Kentucky Derby card, odds can shift drastically based on crowd hype.
              Click here for Churchill Downs Entries/Results.
Rock Your World is the top Derby selection, followed by Medina Spirit.
Both horses exit the Santa Anita Derby (G1), in which Rock Your World took control of the lead and began to open up in the stretch for a clear win over the runner-up Medina Spirit.
Both horses ran fast early, although Medina Spirit had an opening to flank Rock Your World rather than run wide throughout the race. 
Velazquez on Medina Spirit opted to not ask his mount out of the gate, and he let Parnelli come between them and Rock Your World. The questionable strategy is covered in the Wednesday post for this blog. 
As written in numerous other posts, the modern Derby favors speed.
On TimeformUS, Rock Your World and Medina Spirit own the most speed. Rock Your World took the field through 22.42 and 46.11 fractions for the nine-furlong race, which translate into a pair of 148 early pace figures on TimeformUS. On the TimeformUS scale, any pace figure above 140 equals a fast pace. Medina Spirit shows a 143 and 145.
Now, there are other horses with tactical speed in the race such as Midnight Bourbon, Highly Motivated and Soup and Sandwich, but their pace figures are mild overall. None of those three horses even own one pace figure that hits 130.
       >>>Get a FREE $25 Derby Bet with NYRABets now!<<<
In contrast, Medina Spirit had also earned a pair of 151s to open up in the Robert B. Lewis Stakes (G3) while setting a wicked pace before the win, which means his 143 and 145 pace figures from the Santa Anita Derby were not out of the ordinary. Medina Spirit wants to run fast, if his rider lets him.
Using speed allows the horse to avoid the traffic of a 20-horse field, but the horse also needs to put himself through demanding opening fractions for 10 furlongs in most years, even if the race has slowed in the points era.
For that reason, Rock Your World and Medina Spirit earn credit for enduring fast paces in the past. Both of them can handle that type of heat. 
Can horses such as Midnight Bourbon, Highly Motivated and Soup and Sandwich keep up with Rock Your World and Medina Spirit? The bigger question is whether they can endure the pace and still last. Maybe one of those three names moves forward and hits the board. However, Soup and Sandwich is likely underlaid because of his popular name.
How to Crush the Kentucky Derby 2021 Superfecta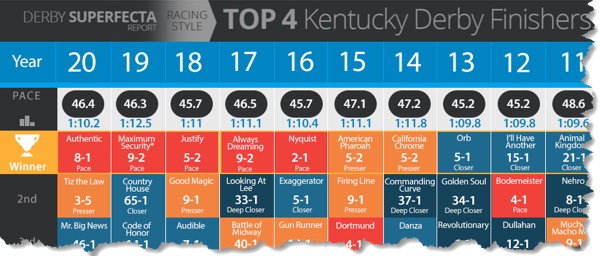 As for Essential Quality, he lacks a single pace figure this year above 119. In the Breeders' Cup Juvenile, he did adjust to a fast pace by becoming a closer while running roughly the same figures, but the closer position in midpack or worse is difficult in a 20-horse field.
Could Essential Quality find a nice clear spot in midpack, similar to Country House in 2018? Sure, that is possible as well. With that said, the speedy Maximum Security still beat Country House to the wire and only lost because of an unfortunate disqualification for interference.
Here are the possible wagers. 
Hopefully, the suggested Oaks-Derby Double in the Kentucky Oaks Odds & Analysis post starts off with a winner in Malathaat or Pass the Champagne. Both fillies enter the Kentucky Oaks off strong efforts in the Ashland Stakes (G1) at Keeneland, although the winner Malathaat may appreciate the nine furlongs more than Pass the Champagne.

Kentucky Oaks/Derby Double
Oaks: 10
Derby: 8, 15
Oaks: 5
Derby: 8, 15
The second ticket is for less money and contingent on Pass the Champagne staying double digits. 
In terms of the Kentucky Derby itself, Rock Your World and Medina Spirit both offer enough value for a win and place bet. Mattress Mack is reportedly putting millions of dollars into the win pool by betting Essential Quality, helping the odds of other contenders stay reasonable, at least for a win bet.
An exacta or trifecta might make it more interesting though.
Here are two exactas with Rock Your World and Medina Spirit, with Midnight Bourbon and Highly Motivated thrown into the second slots as well.
1st: 15
2nd: 8, 10, 17
1st: 8
2nd: 10, 15, 17
As with the Oaks/Derby Double, the second ticket is for less money since Medina Spirit is already 15-1 on the morning line. If he wins and the right horse finishes second, the payoffs will be generous enough.  
If Essential Quality ruins those tickets by winning or running second, that is horse betting. 
Get Oaks & Derby full-card picks today!