For the final Kentucky Derby preview of the week, it is time to discuss the three best long shots to use. Medina Spirit already has been chosen as a possible win contender along with the morning-line second choice Rock Your World. Who else stands to fire a big race at double-digit odds besides Medina Spirit on Saturday?  
Midnight Bourbon and Highly Motivated are two interesting options at 20-1 and 10-1, respectively. If not win contenders with Medina Spirit, both of them certainly belong in the second slots of tickets and could keep the exacta payoff interesting if Medina Spirt fails to fire. 
All three long shot runners also own two commonalities: speed and talent.  
Even though his final speed figures are moderate, he has never been out of the trifecta in seven starts for trainer Steven Asmussen. This year, he won the Lecomte Stakes (G3) at Fair Grounds in January, before finishing third in the Risen Star Stakes (G2) and second in the Louisiana Derby (G2) on the same course.   
In those three starts, Midnight Bourbon made use of his speed. He set the pace in the Lecomte before winning. In his two more recent starts, he tried to press the leader. None of his pace figures on TimeformUS are coded red, but they are becoming faster with each race. Last time, he put up 126 and 124 pace figures in the Louisiana Derby, with a career high 114 TimeformUS Speed Figure at the end.   
The ability to withstand a fast pace is an attractive trait heading into the Derby. Midnight Bourbon lacks a finishing punch when not setting the pace. He sticks around though from one mile to 1 3/16 miles, which is important to note.    
How to Crush the Kentucky Derby 2021 Superfecta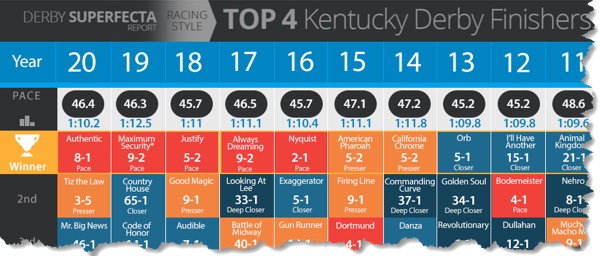 As for this colt, he turned in a mild race to finish third in the Gotham Stakes (G3) in March. He then almost held off Essential Quality in the stretch run of the Blue Grass Stakes (G2), only losing only by a neck to the 2-year-old champion after an exciting stretch battle. 
Highly Motivated traveled towards the end of mid-pack throughout the early stages of the Gotham. He also encountered traffic problems, which made sitting closer difficult. In the Blue Grass, Highly Motivated initially secured the lead over Essential Quality and posted TimeformUS Pace Figures of 126 and 118, before a final 118 figure. As with Midnight Bourbon, Highly Motivated turned in his career best figure last time. 
Neither Midnight Bourbon and Highly Motivated own blazing pace figures, but they are fast enough to stay in the top mix of horses and keep clear of most traffic.
Get Oaks & Derby full-card picks today!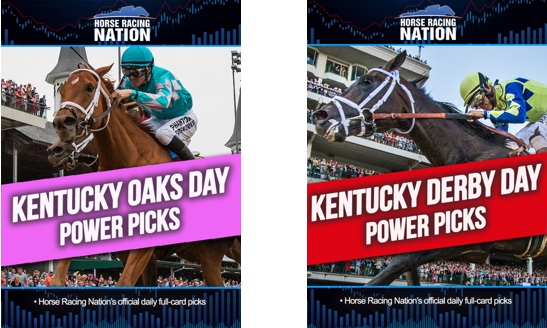 He has been discussed in detail on this blog. Nevertheless, here is a short recap of his Derby prep season. 
He won the Robert B. Lewis Stakes (G3) in February, and also ran second in the Sham Stakes (G2), San Felipe Stakes (G2) and Santa Anita Derby (G1). Only two horses were able to cross the wire ahead of Medina Spirit in those races, Life Is Good and Rock Your World.  
In his Robert B. Lewis effort, Medina Spirit set the pace through standout TimeformUS Pace Figures of 151 and 151. Those are pace figures fast enough to set the pace in the Kentucky Derby, if jockey John Velazquez decides to let him go early. Despite the fast pace, Medina Spirit kept fighting towards the end to secure his victory.   
Yet, Medina Spirit ran as a stalker in the Sham, San Felipe and Santa Anita Derby. As shown on this blog before, Medina Spirit was eager in the San Felipe and ready to flash his speed. Unfortunately, Velazquez put on a snug hold through pace figures of 119 and 121. He did flash more speed in the Santa Anita Derby with 143 and 145 pace figures, but Velazquez chose not to engage directly with Rock Your World.
If Medina Spirit runs freely this time and secures the lead, he could fight better in the stretch run as he did in the Robert B. Lewis and pull off a mild upset, or at least stick around for the trifecta at a nice price. 
Earlier in the week, this blog also discussed O Besos. O Besos is an improving closer capable of hitting the board, or even winning if the pace collapses. But it feels like there is plenty of hype behind him, which might make him an underlay. He is usable on the right ticket, but watch the board before deciding to bet him.  
Out of the three double-digit runners discussed above O Besos, Medina Spirit ranks first, with Midnight Bourbon and Highly Motivated secondary options. Midnight Bourbon does project to offer the best odds out of the three horses, with his morning line set at a generous 20-1.  
Think about using those three mild long shots in tickets.