The
2013 Kentucky Derby
prep season is long and can be very demanding for our hopefuls and their connections. Even for the average fan the interest level can remain at leisure until the winter months come to an end and the Major Preps take over. As for anyone that is just waiting for the moment when more contenders arrive then this may be the weekend that gets your attention.
The new qualification and points system has brought about many changes to the Kentucky Derby preps. One that may not be talked about a whole lot is the amount of races that we die hard derby fans pay attention to every weekend. If you don't notice already, you will soon observe that it's less because the map to get there now has fewer routes.  In fact, this weekend is the only one for remainder of the season that features more than two qualification stakes races in the U.S. However, if you love the derby prep season then all three races on Saturday should be more than enough to fill your cup.
That's right, three prep races on Saturday at three different tracks. Which brings me back to my original observation; if you're a fan that is waiting for some new contenders to race onto the scene then this BIG prep weekend could be the command that gets you to switch leads.
We begin with the only race that features a full field of horses that have yet to score a qualifying point; The G3 Withers Stakes at Aqueduct. Even though the field does not include a Graded Stakes winner there is still one horse that can be called a stakes winner.
Smooth Bert
by Smooth Jazz and Little Bertie, returns to Aqueduct, the place where he scored in the Damon Runyon Stakes last time out. He seems to be up against a much tougher field this time around but this New York bred could be geared up for the challenge.
Of course that will be a little bit of a long shot considering he's 15-1 on the morning line. But, this field isn't really bursting with Kentucky Derby contender talent. Really, anyone in the field can take advantage of the situation and use the Withers to prove me wrong. So, who will be the horse that comes away with 10 points and first graded stakes victory? The answer could vary between players but the morning line is pointing strongly towards a horse trained by either Todd Pletcher of Kiaran McLaughlin.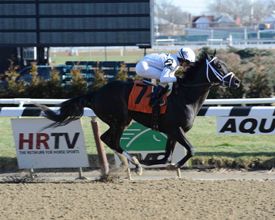 McLaughlin enters two horses, both owned by Darley Stable. Of the two,
Long River
may be more recognizable. At the beginning of this year the son of A.P. Indy and Round Pond got things started with a 4
th
place finish in the G2 Jerome Stakes. McLaughlin's other horse,
Valid
, is in a similar position as Pletcher's horse and 3-5 morning line favorite,
Revolutionary
. Both horses broke their Maiden in December and are entering their first Stakes race.
Since it will also be their first time out in 2013 their immaturity may play a role in this race and ultimately override expectations. For the remainder of the field there may be a few familiar names to some but none that make me think of this prep as anything except Wide Open.
Click
Here
 to view the entries in the 2013 Withers Stakes
Let's move down south for the G3 Sam F Davis Stakes at Tampa Bay Downs. This field of 10 is highlighted by the deserving favorite,
Dynamic Sky
. At 9-5 he gets my vote as the rightful favorite because he is the only horse in the field with any Kentucky Derby points. He also receives a vote of confidence from me because he has raced against Grade 1 class on two separate occasions. In comparison, there is only one other entry that has finished a graded stakes race. (
Speak Logistics
, 7
th
BC Juvenile)
Trained by Mark Casse, the son of Sky Mesa and Murani first got my attention when he finished 2nd in the G1 Breeders' Futurity at Keeneland last October. He raced gamely through the final furlongs but his unsuccessful bid to win was still a very nice performance. Last time out he looked great when he won the Pasco Stakes at Tampa Bay Downs on January 12. Interesting enough, Mark Casse looked twice as good that day.
Not only did he win but he also came in second with Sky Commander. On Saturday he has given himself the chance to repeat that accomplishment as
Northern Lion
is paired with Dynamic Sky. It may sound like I'm repeating myself but while the rest of the field might have a name or two that catches your attention I can't find one that I consider a legitimate spoiler. I'm not saying that it won't or can't happen but rather that it will be tough. If so however, then the winner will likely enter the Kentucky Derby conversation.
Click
Here
to view the entries in the 2013 Sam F. Davis Stakes 
Finally, we head out west for the G2 Robert B. Lewis Stakes. I'm pretty disappointed with this Kentucky Derby prep. It isn't because the field doesn't carry any Kentucky Derby contenders. Actually, it includes two horses that have already notched 2nd place finishes in qualification races. Instead, I'm just a little surprised with the size of the field; 4 horses.
Maybe I'm shocked because this is where I'll Have Another started his sophomore campaign last year. Or maybe it's just because it's at Santa Anita, the track that has been so exciting so far on the road to the Kentucky Derby. We saw Power Broker win big here early on in the Juvenile season. That was followed up by the thrilling stretch duel between Shanghai Bobby and He's Had Enough in the Juvenile. Then we opened the 3-yr-old season here with Goldencents winning the Sham.
But, the competition will go on and hopefully I will be impressed with how this small field races from gate to wire. Speaking of Doug O'Neill, he's back. Back to Santa Anita with
He's Had Enough
and back for his second consecutive win in the Robert B. Lewis Stakes. To make it even more interesting the whole team is with him. Owned by Paul Reddam and ridden by Mario Gutierrez, the team begins their journey towards a goal that would be legendary; back to back Kentucky Derby wins.
Right now they have their eye on Bob Baffert. Believe or not, they have two eyes on Bob; one on one entry and one on the other. First is
Den's Legacy
, 2
nd
to Doug O'Neill and Goldencents in the Sham on January 5. He is tracking rather well over his last few races and should be ready to try and catch He's Had Enough or maybe hold him off. The other Baffert entry is the lightly raced but highly touted
Flashback
. Filling out the small field of four is
Little Jerry
, trained by Richard Baltas.
Click
Here
to view the entries in the 2013 Robert B. Lewis Stakes 
And there you have it, the cliff notes on a BIG Kentucky Derby Prep weekend. It's the perfect set up for a few horses to begin shaking it up on the points leader board and officially launch their bid for a post position in the 139th Kentucky Derby. Good luck.