"Records are meant to be broken." Although the statistics generally prove that statement to be an accurate measurement of triumphs yet to be shattered, there are always going to be new records waiting. And for some, they have been waiting for quite a long time. When it comes to the Kentucky Derby the great Secretariat still stands as the fastest that ever was. His winning time of 1:59.40 has been challenged but no horse has ever been able to finish any better than the greatest Triple Crown champion of all time. Until that happens, the old saying will be exactly that; an old saying.
Records are one thing and so called trends are another. Trends in sports can sometimes be short lived and therefore quickly forgotten. Others however seem as though they will never end and eventually become known as a curse. America's past time is a prime example. The Boston Red Sox endured a drought for far too long, but they eventually reached their limit and came roaring out of their hole in 2004 for the first time in 86 years. As for the Chicago Cubs their drought has reached 105 years, and the so called curse continues.
Now back to the Kentucky Derby and the ultimate trend that has withstood the test of time. Since Apollo in 1882 there has never been another Kentucky Derby winner who did not race as a 2-year-old.
130 years is a long time so it must be rare that anyone tries to win the Kentucky Derby with this approach. Absolutely not. Actually, if you only go back to the 1940's there have been over 50 attempts at ending the curse. Therefore, it's not a trend that has not been tested. It has and it also includes so many good horses. What it comes down to is that this trend is proof that the Kentucky Derby is a race that takes much time and preparation in order to win. 
So if some records or trends are meant to be broken the question here is, when and who will be the next Apollo? For those that remember 2012 was only a sixteenth away from being the answer.
Bodemeister
entered the Kentucky Derby red hot. He was beaming with confidence after a 9 ½ length pounding of the field in the Arkansas Derby. But he wasn't just sizzling on the track he was just as hot off of it. With a catchy name, a great story, a veteran rider and legendary trainer, Bodemeister's fan base just kept growing day by day. The momentum would stick with him all the way to the post as Bodemeister entered the starting gate as the favorite in the 138
th
Kentucky Derby.
When he broke to the front, took the lead and held it all the through the top of the stretch it appeared that Apollo had finally found a friend. But, the final furlong is always the toughest.
I'll Have Another
had his way and not only did he claim the roses but he left us having the same conversation all over again in 2013. Our recent Kentucky Derby champion isn't the only reason we're having this discussion again. You must first have a horse that didn't race as a Juvenile and this spring we have two.
Will
Verrazano
or
Govenor Charlie
be the next? They're definitely chasing Apollo but whether or not they can catch him will be a very interesting race to watch over the next several days.
Verrazano qualifies for this trend by the slimmest amount of time possible. Foaled on January 27, 2010 the son of More Than Ready began his racing career on January 1, 2013 at Gulfstream Park.  Verrazano proved he was ready to begin racing. His maiden win by more than 7 lengths was special but it was pale in comparison to his second lifetime race on February 2. His dominant 16 length victory over a distance of 1 Mile gave trainer Todd Pletcher and Let's Go Stable the sign that his trail to the Kentucky Derby was ready to begin.
And so it did at the G2 Tampa Bay Derby. And winning didn't stop either. His next one took him to the G1 Wood Memorial and after winning again, he's made his case as a legitimate Kentucky Derby winner. He's got a perfect record on paper and you can hardly find a blemish anywhere else. But, when you look a little closer he didn't actually race as a Juvenile. Will this hurt his chances or will he catch Apollo?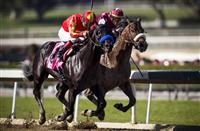 Who knew that much about Govenor Charlie before he blitzed through the Sunland Derby and set a new track record for the distance 1 1/8 Mile at Sunland Park? If you didn't he probably caught your attention. Foaled on February 23, 2010 by Midnight Lute and Silverbulletway, Governor Charlie also began his racing career this past January. Besides being 18 days later than Verrazano's debut, he also wasn't as fortunate. Instead, he finished 2nd by a half length and would have to try again.
Trainer Bob Baffert returned him to Santa Anita on February 17 and that was when Govenor Charlie was ready. He would win and Baffert was prepared to try him in his first graded stakes race next. The track was lightening fast, the pace was hot and the end Govenor Charlie was too fast to catch. Does this sound a little bit like Bodemeister? The margin of victory wasn't nearly as big as Bode's in the Arkansas Derby but these two colts do resemble each other just a little bit. But, that might be because of the Bob Baffert more than anything else.
When you compare them side by side the one BIG difference is that Bode ran in two graded stakes races before the Kentucky Derby. Governor Charlie on the other hand completed his trail to the Churchill Downs with the Sunland Derby. So, will that blemish on his resume coupled with the fact that he never raced as a Juvenile prevent him from becoming the next Apollo? Or do you believe that he will?
As for Bob Baffert it seems to me that he's thought about Apollo once or twice before. Before Bodemeister he tried it with
Midnight Interlude
in 2011. Although he won the Santa Anita Derby and earned a spot in the Kentucky Derby field, the next challenge was too tough. It may have been a shot worth taking but a 16th place finish defined him as a horse that never had a chance of breaking the curse. So, if Govenor Charlie stays healthy and remains a part of the Kentucky Derby field it will be Baffert's third attempt in three consecutive years.
Other attempts that you may recall starts with an eventual Breeders' Cup Classic winner. In 2007, the undefeated
Curlin
came into the Kentucky Derby a perfect 3 for 3 and winner of the Arkansas Derby. Except it wasn't his day as a late surge from well off the pace was only good enough for 3
rd
. Another valiant attempt that fell just short was in 1994 when Strodes Creek and jockey Eddie Delahoussaye took a shot at Go For Gin but finished 2nd.
Verrazano appears to be the more likely horse capable of overcoming a trend that is so hard to fathom ever being duplicated again. Govenor Charlie made a case for himself but if he is to become the first horse to win without racing as a juvenile, he'll probably have to carbon copy his Sunland Derby performance: Fast and too quick to catch. That's not to say that Verrazano can overtake the trend that has lasted over 100 years without a freakish or at least breathe taking performance either. Both horses will need to be special and that may be asking too much.   
But as long as they enter the starting gate the game is on. The most perfect place in the racing world to make history is underneath the twin spires on the first Saturday in May. So, the stage is set. Will Verrazano or Govenor Charlie be game enough?