As we get together for the holiday with family, or prepare to head out for the Thanksgiving Day card at the local track, the HRN team took a little time out to reflect on what we are thankful for this year in racing.
Brian Appleton, Distaff Runner: 
Thoroughbred Horse Racing has provided some of the greatest thrills of my life, 
and writing about some of the greatest modern day racers has been very fulfilling for me. I am so 
thankful for the opportunity to write about racing, share with other enthusiasts, and learn from 
my peers on Horse Racing Nation. Also, I could never complete a thankful statement without 
mentioning how incredibly thankful I am to have seen Curlin race five times in person, creating 
some of the absolute greatest moments of my life.
Don August, Bay Area Backstretch: 
I am thankful for all my readers that look up my blogs on a weekly basis. I am also 
thankful for the people at Golden Gate Fields, (publicity dept., jockeys and trainers) for being 
so receptive to my requests and for dealing with me on a weekly basis. On the lighter side, I'd 
like to thank Russell Baze's back spasms for keeping the jockey race close and the tapeta surface 
for keeping my shoes clean while trackside on rainy days. But the biggest thanks of all goes to 
Horseracingnation.com for allowing me to share the sport I love with the entire bay area.
Garnet Barnsdale, Drive On:  
What I am thankful for in the World of Horse Racing: I am thankful that I have 
3 great venues for all racing genres less than a 40-minute drive from my residence: Woodbine for 
thoroughbred, Mohawk for harness and Ajax Downs for Quarterhorses. NOTHING beats live racing on a 
nice day or evening. I am thankful for great horses such as San Pail, Frankel, Black Caviar, 
Kauto Star (steeplechaser) and many, many others. Finally, I am thankful that my interest in 
horseracing has been the catalyst for meeting so many new friends that share a passion for this 
great sport on social media like Facebook.
Angie D'Amico, Race Talk With The Girl Next Door:
This year I am thankful for Havre De Grace. Her connections really stepped up at 
a time that I was starting to lose a little faith in our sport. Havre De Grace, has not backed 
down from any fight, has proved herself against the boys and decided to stay in the Classic 
against the boys despite Blind Luck being out for the season. I am thankful that Havre De Grace 
and her connections are not afraid of defeat. They lost the Classic but still came out of the 
race well so they have decided to run her again next year. Thank you Havre De Grace. 
Scott Dick, Hoosier State Of Mind: 
Thanksgiving has always been one of my favorite holidays. It embodies the best things 
about people, which are love and kindness. Family is something that is dear to me and that's what 
Thanksgiving is all about. Over the past year I've realized my family runs deeper than blood. The 
people of this sport have adopted me as one of their own and through the most trying times of my 
life, lifted me on their shoulders and carried me through it all. Family is what I'm most
thankful for, this family. I've lost the most dear member of that family, but, the memories will 
be something I'll hold on to forever. A special thanks to all those members of this "Family" for 
everything you have done for me.
Eric Kords, 12th Crown: 
As 2011  comes to a close, I reflect on the reasons I am involved in this great sport 
as a fan (first), a blogger and recently as an owner. My mother played so many $2 daily doubles 
in her lifetime that Oaklawn Park should rename the bet after her.  Her interest and loyalty to 
the turf persuaded my father to get involved as a thoroughbred owner through a local partnership. 
Some years later, I am getting more new owners involved via Saturday Racing Stable and the cycle 
continues.  So I say thanks to all the owners out there who finance our sport in spite of the 
slim chances for profit, but also am very appreciative of the horsemen on farms and backstretches 
across our country who put in countless grueling hours so that we can pursue our hobby.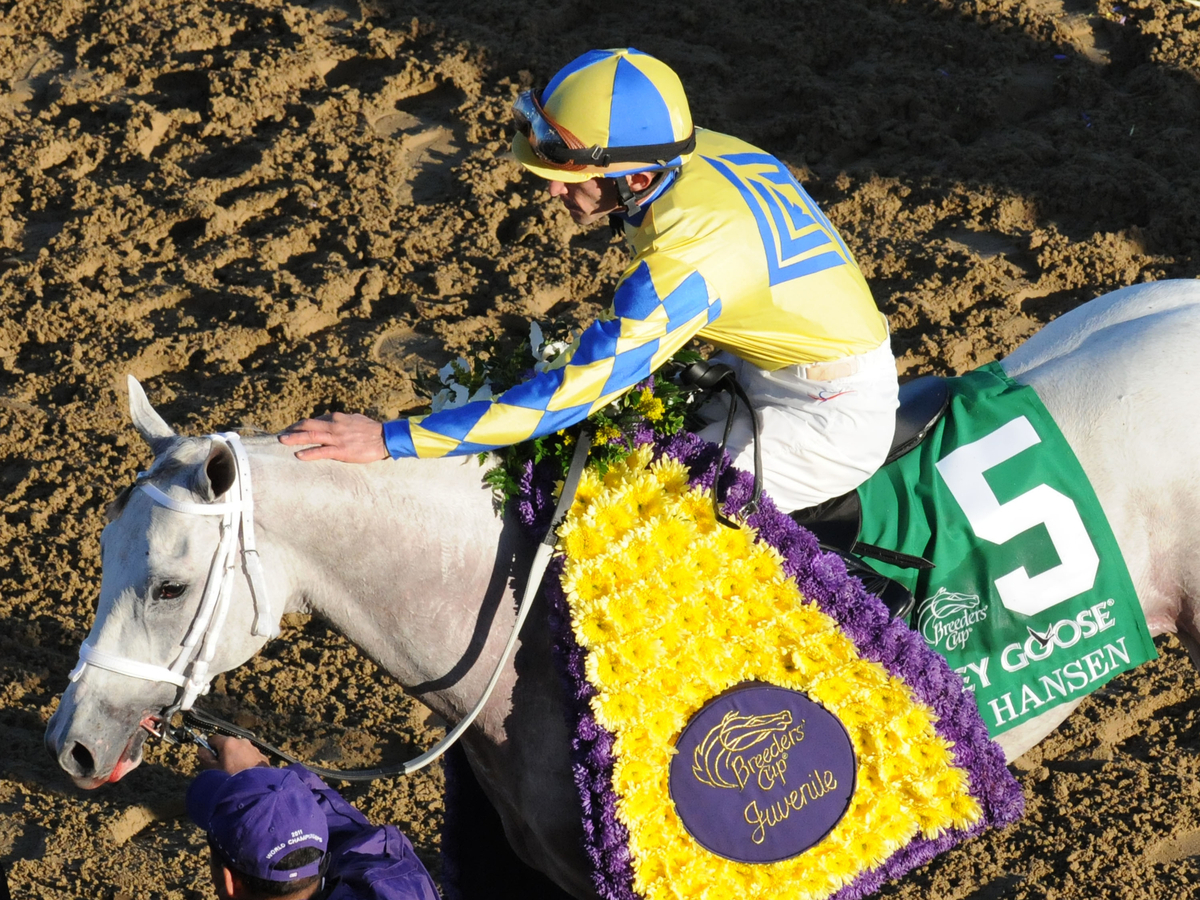 Dani Pugh, Dead Heat Debates:
2011 has been far from easy for me, both in racing and at home. There were times when 
I honestly wondered what on earth I was doing, but this Thursday will not be one of those days. 
Thursday will be the day I get to look back on what was good, on what was great, and one moment I 
feel was truly memorable was getting to go to the 2011 Breeders Cup. I want to thank Mike Shutty, 
Mark Midland, Brian Zipse for giving me the opportunity to come. I want to thank my father, Mark 
Pugh, for driving me all the way to Kentucky, and allowing the entire weekend to happen. Finally, 
I would love to thank everyone above, the entire HRN team, and most of all the horses for 
providing such a wonderful time. It was a weekend I will never forget and will hold with me for 
the rest of my life. Thank you.
Matt Shifman, Racing At The Jersey Shore:  
The world of horse racing changed for me in 2011, and it changed in ways that I 
had always dreamed. Getting to be the Monmouth Park Correspondent for HorseRacingNation.com has 
allowed me to be part of one of best racing websites.  Covering the Haskell at Monmouth, a week 
at Saratoga, or Super Saturday at Belmont, was so exciting.  It is great to be doing my part to 
promote the sport that we all love. I have found the people, who I have met in person, at HRN, or 
on TWITTER @AndyScoggin, to be smart and thoughtful.  It is exciting every time I open my 
computer to write or to read what is going on in cyberspace.  Thanks so much to HRN for adding a 
lot of joy to my world.
Chris Sorenson, Chicago Dark Horse:  
This was easy.  What I'm most thankful for in the sport of kings is all of the 
connections I have made over the years.  I have met the best people in the world at Arlington 
Park, Hawthorne, and at Churchill Downs.  I had the opportunity to meet the best racing fans on 
Facebook, then got to meet those people in person.  I got to meet some of the best industry 
insiders, jockeys, trainers, and owners.  I got up close and personal with some of the racing 
greats like Mineshaft, Curlin, Rock Hard Ten, and Quality Road.  I have had the opportunity to 
introduce new fans, family, and further instill racing interest into my children.  I am also 
grateful that my wife Ramey has put up with countless hours of racing "stuff."  For all of this I 
am eternally thankful.  Really. Most of all, I am thankful that I got to meet and hang out with 
Tim "Tiznow" Reynolds.  He was the biggest and best racing fan ever and I'm happy that I was able 
to know him.
Melaina Phipps, Around The Oval:  
Thanksgiving is a very special holiday for me; some of the most important 
memories of my life are linked to this wonderful day. When it comes to horse racing, I am 
grateful for many things: that it brought me to live in Saratoga Springs,where I have found a wonderful 
community and friends; that I have been privileged to spend time some of the world's 
finest racehorses in this country and their connections. What I am most grateful for in this 
magnificent sport, though, is love. Love of the sport, love of the game, love of the challenge, 
but mainly, love of the horse, who asks for so little in return. 
Candice Curtis, HRN: 
Horse racing has been very good to me this year (though not always at the 
windows!). I am thankful for the opportunities offered by the University of Arizona's Race Track 
Industry Program and the Turf Publicists of America. If not for them, I wouldn't 
be at HRN! I am thankful for the creative minds and passionate racing fans with whom I share office- and cyber
space. I am also thankful for our readers - you all prove that horse racing 
is as vital as ever! Finally, I am thankful for Game On Dude - he gives his all, every time! 
Sometimes he wins, sometimes he doesn't, but he is *always* leading the way. He even *almost* 
swiped the Breeders' Cup Classic! 
Brian Zipse, Zipse At The Track: 
I have much to be thankful for both in everyday life and in the world of horse 
racing. I appreciate the wonderful equine athletes that give us their all on a daily basis so 
that we can enjoy. God never created a nobler creature. I appreciate all the readers who frequent 
Horse Racing Nation. Without you the words of my friends and I would mean very little. Most 
importantly, I appreciate my family for the strength and support that allow me to do what I love. 
Thank you and Happy Thanksgiving!