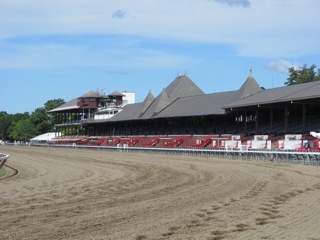 After an unassuming debut of selections, let us take a look at what went wrong.
Zero Rate Policy turned out to be a weakly constructed angle play. The low win percentage of Trippi offspring on turf superseded Terri Pompay's record with first-time turf runners for me. He had to race up for the start and quickly appeared to wind up a non-factor at the finish. This was a salty field of turf sprinters and a difficult, if not ill-advised, spot to play a first-time turf starter. Trippi's offsping win turf races at only 16%, which should have been a read flag in spite of the trainer's prowise with surfaces switches and turf sprints.
Perfect Officer, my only selection of the day to make the exacta, ran a good race to overtake Bridgetown, but Fiddlers Patriot was much the best. I ignored Fiddlers Patriot despite recent good showings against quality company, including the Grade 1 Nearctic. While we may debate the quality of fields in graded stakes races, having competed in a Grade 1 is an undeniable asset.
Fiddlers Patriot looked best in the paddock and ran accordingly. The lightly-raced six year old gelding has been very dangerous outside of Grade 1 and 2 races and, said in the clarity of hindsight, was a logical contender. He was able to sit an ideal trip behind the dueling leaders and take over in the stretch as the class of the field should. The race turned out quite formful, with the three short-odds horses one, two, three and the four long-odds horses rounding out the field. I simply failed to identify the best horse in the race. Live and learn.
While I focused on two trainer statistics in recommending Zero Rate Policy, I ignored a glaring trainer statistic in backing Hot West: Nick Zito's abysmal record with first-timers. I did so because of two bullet works over the Saratoga training track and a sub-48 work the first time over the main track. Unfortunately, we did not learn anything conclusive about Hot West from this race. He acted up in the post parade and unseated the rider as well. He broke slowly, went wide on the turn, and did not factor in the race. I will look for improvement from the son of Xtra Heat.
Well Lawyered did not have so many excuses, but he also fared better in the running. He raced in fourth most of the way and secured third at the end, despite losing lengths from the three eighths pole to the finish. The full brother to Drill did not do much running when the time for running came this time, but his connections suggest that he will improve off his first career start.
Spurious Precision (translation: false accuracy) was much the best, drawing clear after pressing the pace. Close to the pace was the place to be in both of these races, as horses just off the lead took over in the stretch and won convincingly. I am sure Well Lawyered will be heard from down the road, but I was unimpressed. Hot West, on the other hand, had excuses - acting up and Zito's record, for example. I will look for the son of Xtra Heat again.
In the CCA Oaks, Yara shot out of the gate and Irad Ortiz Jr., riding Questing, allowed - or, had to allow - Yara the lead. My top selection, Disposablepleasure, on the other hand, left the gate slowly. In Lingerie was also unhurried as she allowed the field to get ahead of her before being steered over to the rail behind Disposablepleasure. Nothing like seeing your two picks bringing up the rear before the clubhouse turn.
Questing was impressive. She had enough of Yara by the time they reached the backstretch and put her head in front. Yara, to her credit, fought back, but may prove best racing under one mile. In Lingerie moved early and tired in the stretch. She opened up throughout the stretch despite drifting out badly. Zo Impressive ran a fine race. Disposablepleasure had a good rail trip most of the way and had no real excuse. There was some contact at the top of the lane, but she simply did not have much run.
Disposablepleasure had run well in defeat in her previous two starts, but this time, she did not. I expected her to improve running back at nine furlongs, but she showed little. Perhaps she did not like Saratoga, perhaps she is a cut below this company, perhaps it is something else entirely. In any case, I am curious to see where she ends up next, but I am done betting her. I thought she may have been on the cusp. Perhaps she had already peaked.
In Lingerie moved early, but likely would not have gotten to Questing regardless. I am troubled by the loss of ground at the end, as she entered the stretch four lengths back and finished beaten by ten.
Zo Impressive ran better at nine furlongs than I thought she would, but she also lost ground to the wayward Questing in the stretch. The latter, again, impressed me with her victory. She clearly wanted to go early,  rated well, and did not relinquish command once she had it. The only fault one can find is her extreme drifting out in the stretch. I am not familiar enough with this filly to know if it is something she is prone to or if it was a sign she was tiring. Regardless, this is a dangerous daughter of Hard Spun who is now 2/3 on the dirt. It remains to be seen if she can stretch out in the Alabama, but I would not discount a horse who has shown the ability to jump from a one mile $25,000 optional claimer to a nine furlong Grade 1 at Saratoga and win with ease.