My Pick 4 was shot before the races even started, as Race 2 was taken off of the turf, but I went for it anyways and lost immediately. I singled heavy favorite Drift King in the first leg, but after pressing Red Jag throughout, he took the lead around the far turn. Unfortunately for me, he got the lead too early and could not hold off a hard-charging Stoneside, who took his tenth career victory.
Time to Doubledown made the best of the most significant class drop in racing (MSW to MCL), taking the third over my three other choices, which I admittedly preferred. When I saw the results, I remembered why betting individual races is often the way to go, as I used the top four finishers in my Pick 4. However, I thought My Miss Aurelia could outclass the La Brea field, so I went for it.
My Miss Aurelia had her chance to take the La Brea, but she may simply be better suited going a bit longer. Reneesgotzip ran a corker in defeat, but Book Review came with a late charge that I simply did not foresee. Perhaps she will enjoy Bob Baffert's barn. Although she did very well for Chad Brown, she was never competitive in a graded stakes prior to the La Brea. Baffert has been cutting horses back in distance at a 40% clip and you can bet I am still kicking myself for overlooking that statistic.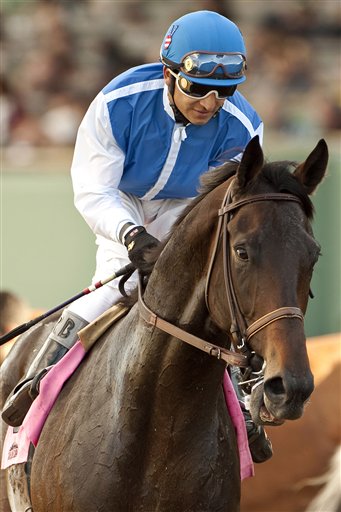 Silentio's victory did provide a bright spot in the day's selections. The exacta over Battle Force indeed recurred, but the ticket was long lost already. Though no money was won, I was happy to see the grandson of Sunday Silence making hay at Santa Anita. I will be looking for him again, as well as Book Review.
As far as the Malibu, I was planning to bet Drill in that spot prior to even looking at the past performances. I ended up not betting the race, but as I looked over winner Jimmy Creed's form, I saw his most recent work: 7 furlongs i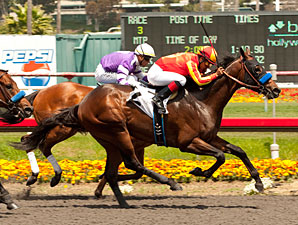 n 1:24 & 4 - only two seconds off the time of Drill's last victory in the Laz Barrera. Oops. Drill himself had posted some works that jumped out as well, albeit for a fast-working trainer, but he came out of the gate slowly and really ran quite well considering how far back he was at the outset.
All in all, the lead was not the place to be on opening day. Stoneside and Book Review both won with late charges and Drill may have been able to do the same had he broken quicker. Fortunately, they will be running down the hill very, very soon. I will be ready.