Is the Preakness becoming the new Kentucky Derby?  As blasphemous and confusing as that question may sound, recent years have proven that second jewel is becoming the source of the generations' best horses.  Now, some could argue this could be because it's the shortest of the triple crown races, and given that most horses today are bred for speed and not stamina, the race just better personifies the style of horses that run in it.  Another argument is that some horses are not directly pointed at this race for their entire lives, and therefore only run if it fits the year long plan set out by their connections, allowing for a better performance in May and still keeping some gas in the tank for the summer and fall.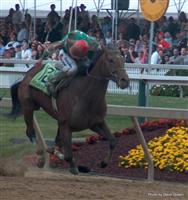 If we look back at the past couple of years, I notice a very interesting trend.  In 2005 I saw one of the gutsiest performances by one of my favorite horses, Afleet Alex, recovering from a near disastrous spill to take off down the stretch for the win.  In 2006, Bernardini took down the second jewel in a race that will forever be remembered by the injury of ill-fated Barbaro.  Bernardini went on to win other G1 races that year and win champion 3 year old honors and is now the hottest sire in town.
2007 saw another champion come out of the Preakness, with Curlin's immortal stretch battle resulting in a tie of the fastest 9.5f in the races history.  2008, yet again another Preakness win for a 3 year old champion with Big Brown.  In 2009 we saw perhaps the greatest 3 year old filly campaign ever, with Rachel Alexandra wiring the boys at Pimlico.  2010, was Lookin At Lucky.  And in 2011, we watched a gritty Shackleford run his heart out to hold on against the yet-to-be-crowned 3 year old champion, Animal Kingdom. Although Animal Kingdom won the Eclipse Award, to date, some could say Shackleford has had the more admirable career.
In fact, aside from the afore mentioned Shackleford, you have to go back to the 2000 Preakness to find a winner (Red Bullet) that did not go on to become 3 year old champion.
Maybe there was some method to the madness of Sam Riddle, who as we all know, held Man 'O War out of the Kentucky Derby.  He thought 10 furlongs was too long of a race that early in a 3 year old horses life.  It will be forever speculated that the great chestnut would have won the triple crown had Riddle let him run the Derby, but you can't knock an innovator, especially when his strategy worked.
As we approach this weekend's race, we are seeing 6 (maybe 7) horses come back on 2 weeks rest from the grueling test in Louisville, with 6 fresh horses ready to seek their starting point to a championship.  It may not have the glory of the Kentucky Derby, or the stigma of the "test of a champion" at Belmont, but the marquee event at "Old Hilltop" has a track record for success, and I'm excited to see who comes out of this one on top.  I have a feeling that who ever wears the blanket of Black-eyed Susans on Saturday has only started to make their statement on the still young 2012 season.