The story lines are set for tonight's Breeders Crown races at Pocono Downs is Wilkes Barre, Pennsylvania and chances are decent that North American Horse Of The Year could be decided on the 5/8 mile oval as three of the sports current superstars race for glory.
First we have the star of the "glamour boys" division of 3YO colts and gelding pacers, the sensational Captaintreacherous – who has lost only once this year by a slim nose (to Sunshine Beach) in The Battle Of Brandywine on this same track after going a monster first-over trip following a month layoff. "The Captain" is the clear leader of the division having won 19 of 22 lifetime, never missing the board and winning 11 of 12 this year with a mark of 147.1 which is just 2/5 of a second off the all-time all-age race mark shared by his sire Somebeachsomewhere with Holborn Hanover and Warwee Needy – who took the mark this year and competes in the Aged Pace tonight. The Captain would seem like a lock for Horse of the Year Honors, wouldn't he? Not so fast; there's a certain unbeaten 3YO trotting filly who has her oar in the HOY water and has looked unbeatable within her own division this year and isn't likely to be beaten against the same foes Saturday night. Bee A Magician boasts a 14 for 14 record including a World Record tour-de-force masterpiece in the Hambletonian Oaks where she blazed a path around the Meadowlands mile oval in a sparkling 151.0. These two monsters have been locked in a heated battle in the weekly USTA poll in which the Queen Bee holds a very slim lead heading into this weekend's Breeders Crown action. Assuming both win, the vote would be an extremely close one – should one win and the other lose, it would surely seal the deal for the victor. 
Then there is poor Iluvthenightlife. While she certainly likes to boogie on the racetrack – winning 12 of 13 including most recently a dominating two-heat same-day performance in The Jugette at Delaware, she likely stands little chance of winning HOY, but this stellar daughter of the late RockNRoll Hanover is a lock for divisional honors and certain to pass the $1 million earnings plateau for 2013 tonight. In any other year…Seems like a pretty exciting night in store, right? Well that's not all – there are several other interesting dashes including Hambletonian winner Royalty For Life trying to parlay a conservative approach in the elimination race in which he finished fourth following a moderate first-over try; the amazing 9YO pacing gelding Foiled Again who is the sport's all-time leading money winner at $5.4 million earned coming into his final off a dominating win in his elim; Aged pacing mare Androvette attempting to become the first horse to three-peat following wins at Woodbine in 2011 and 2012; Another amazing 9YO – the $4 million earning trotter Arch Madness – who has seemed to catch fire at the right time having won the Allerage elim and Final at The Red Mile in fast time and 2YO trotting colt sensation Father Patrick – a winner of 9 of 10 and coming in to the Final having set a World Record of 152.1 in his elim. This Breeders Crown is stacked with sensational horses from start to finish and while there figures to be several short-priced winners, there are always upsets on this night. One thing to keep in mind when handicapping these races is that Pocono is typically extremely speed-favoring and has a  generous "passing lane" form which it is very likely a winner or two (or more) will emerge after sitting a pocket trip through most of the race.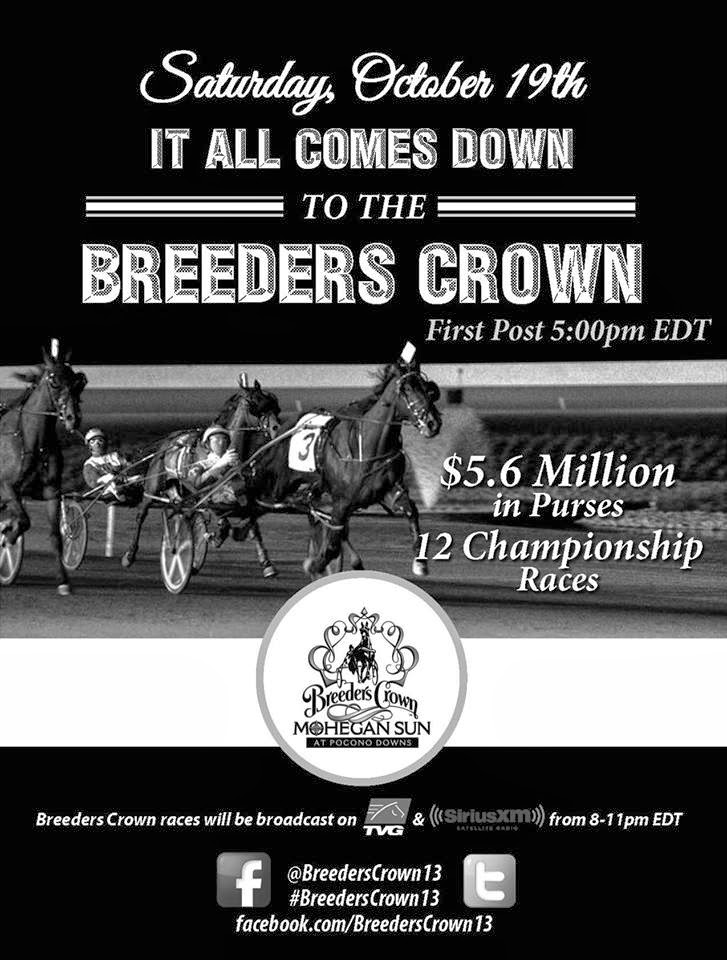 Let's get down to business. Here's the Drive On full-card analysis followed by the "Drive On Bets" section:
Race 3: 2YO Colt and Gelding Trot
#2 Father Patrick – It's extremely difficult to see this superstar son of Cantab Hall getting beat here. The only rival to ever do so, #8 Nuncio raced well last week cutting some serious fractions for Patrick, but you have to figure the heavy chalk will convert here with the post position advantage. We'll single him in the early pick 4 and look for prices elsewhere.  #8 Nuncio is likely to fire out as fast as he can for the front again and the race stands a good chance to play out exactly the same as last time. If the exacta is somewhere in the 9/2 range it is very playable, but it will likely get pounded lower. #3 Credit Fashion could trip out for a good piece with Sears and is also a good candidate to complete the exacta.
Race 4: 2YO Filly Pace
We like #3 Uffizi Hanover to pick up the pieces late here after an almost-certain quick early pace develops. While she would look like a juicy proposition at 6/1, expect her to get bet down more into the 3/1-7/2 range as many seem to be picking her if social media is any indicator. #8 Precocious Beauty is the clear divisional leader, but did herself no favors getting picked off late in the elim which put her in the open draw (all winners drew for posts 1 through 5). Post 8 is no treat in here and she'll need to work out a trip – no easy task in this competitive dash. #4 Allstar Rating is getting hot at the right time for the potent Burke/Gingras tandem and must be respected.
Race 5: 2YO Filly Trot
The rail horse, #1 Struck By Lindy, has a good chance of a pocket-riding passing lane-skimming upset if Purple Jesus, Dave Miller fires her off the gate fast enough to secure the garden spot behind speedball #2 Cooler Schooner, who has looked invincible on this track but was helped by some early breakers in her elim. She is likely to try the same speed mission here but Struck By Lindy is capable if properly placed early. #3 Shake it Cerry, the other elim winner is also capable of knocking off the favorite. Using all three in the pick 4.
Race 6: Open Trot
If last year's Breeders Crown proved anything, it was that #5 Intimidate is a trotting machine. While he has been sparingly raced this year, his only loss came when he broke stride. He comes into this fresh, but tightened nicely with a measured 152.4 win in the Preferred at Mohawk only 5 days ago. This gelding made a move you just don't see to win The Credit Winner at Vernon and is capable of some amazing things. I don't see the post, speed bias or any horse stopping him in here. #6 Mister Herbie has some sneaky good form and was certainly good enough to win the Allerage but ended up having to try to overcome excess cover and Arch Madness who was tripping out directly in front of him. Look for him as a late threat. #1 Market Share hasn't won a race since July after looking sensational early in the year. He will likely be overbet from the rail and is a decent bet to miss the exacta as an underlay. It's pretty clear he is beyond hos best form.
Race 7: 3YO Filly Pace
Sensational sophomore #7 Iluvthenitelife perhaps faces the toughest test of her career here – as her main rival #5 Shebestingin comes in off a dazzling all-time World Record for any horse of her sex in 147.0 at The Red Mile. Still, we are of the belief that Nitelife will get the job done as she has shown herself to be at a different level all year. The brief freshening following The Jugette can only help. If you are looking to upend a VERY chalky exacta combo of 7/5, try the #3 Caroles Desire in the 2nd slot behind Nitelife. She might just trip out and sneak in late.
Race 8: 2YO Colt and Gelding Pace
Drive On's best bet of the card, #4 So Surreal will be driven MUCH more aggressively here than he was in the elimination and the best news is, you'll get a much better price. #2 Luck Be With You cut a quick half (53.4) and still won comfortably. Respect. #1 Somestarsomewhere has blossomed for Burke/Gingras recently and is also dangerous – but that also helps the price on our top choice.
Race 9: Open Mare Trot
#1 Maven looks formidable as usual, but beware of her arch-rival #2 Check Me Out who almost toppled her two starts back then was conservatively driven in the elim, closing for 2nd late. This one is closer than you might think based on what you see on paper. Check Me Out is obviously improving at exactly the right time. #3 Bax Of Life, a personal favorite, always gives her all and stands to land a good chunk of the $250K purse with her good draw. Perhaps not the best betting race, but an interesting dash in its own right.
Race 10: Open Mare Pace 
#2 Androvette looks to become the first-ever horse to three-peat as Breeders Crown champion and stands an excellent chance of doing so from this inner draw. #1 Rocklamation has hit her peak form the past month and is certainly capable of upending the defending champ. #4 Swinging Beauty is a nice bomber to put on the bottom end of your tris and supers as she's in pretty good form and will be coming hard late.
Race 11: 3YO Filly Trot
Three words: BEE. A. MAGICIAN. The end. To complete the exacta we like #2 Ma Chere Hall who will likely be pocketed behind The Queen Bee most of the way and keep 2nd. #3 Frau Blucher is also likely to be in some small-paying exotics. This one is all the Bee, though. She is in a different league.
Race 12: 3YO Colt and Gelding Pace
This is it – the "glamour boys" division. Let's take one more shot with #5 Vegas Vacation to topple The Captain at a square price. This race will play out a lot differently than the elim in which VV tried to outsprint The Captain on the lead. With #3 Lucan Hanover coming into this off a 1:48 flat win in which he pressed quicker fractions throughout, the stage may just set up for a perfect second-over trip for Vegas Vacation which might just get him there. It's worth a stab – especially on Pick 4 tickets – but don't bet the farm. Captaintreacherous is a formidable opponent who has won off many different trips and has the heart of a champion. It's no easy task, but not impossible – they all get beat.
Race 13: 3YO Colt and Gelding Trot
Hambletonian winner #1 Royalty For Life is going to be tough in here from the rail after being used sparingly in his elim. That being said, we like #5 Spider Blue Chip to knock him off. He should be able to leave quickly from the middle of the gate and work put a winning trip. Another to consider here is #4 Deadliest Catch at a price. He chased a slow early pace overland and was victimized by that pace faltering late when the leaders sprinted for home. With a better trip he could beat 'em all at a big price.
Race 14:  Open Pace 
We are big believers in the rail horse, #1 Clear Vision, who has retained his good form despite two terrible posts for his style in the Allerage. A 3rd quarter brush 'n crush wouldn't surprise us a bit. We also find #6 Warawee Needy interesting here coming in off a brutal first-over trip in the elim in which he was fried in a 26.3 third 1/4. "Needy" has shown some explosive moves off a helmet and might just pull a surprise here. #4 Modern Legend comes in fresh and ready and is worth exotics inclusion at a price.
Drive On Bets:
Starting Balance: $2,000
Current Balance: $3, 891
Tonight's wagers:
Race 3: $5 Pick 4: 2/all/123/5 $10 Pick 4 2/3/123/5 - $165
Race 7: $5 Pick 4: 7/4/12/all $10 Pick 4: 7/4/12/12 - $130
Race 8: $35 exacta 4/2
Race 11: $5 Pick 4: 4/135/124/16 - $90
Race 13: $10 Double 12/16 - $40
Race 14: $20 exacta box 1-6 - $40
Total Wagered: $500
Current Balance: $3,391