The absence of
Inglorious
from Sunday's
Prince of Wales Stakes
allowed a new face to step into the spotlight during the Canadian Triple Crown – let there be no mistake, the way the 1 3/16-mile race unfolded the star filly, who has opted for a return trip to the United States and a try at the Grade 1 Alabama Stakes in August, would have had little problem capturing the second jewel.
A no-show by the Plate winner didn't damper the enthusiasm of her rider
Luis Contreras
, who not only picked up a Prince of Wales mount – he picked up a live mount.  Woodbine's leading rider guided
Pender Harbour
to the the finish line first at the picturesque oval in Fort Erie, albeit just a nose in front of
Bowman's Causeway
.
Contreras took over the reins from another filly, California-based jockey Chantal Sutherland, who was aboard Pender Harbour in the Plate. Interestingly, it marks the Mexico City native's second straight Triple Crown victory on a horse formerly ridden by Sutherland, who had the Inglorious mount until the filly's connections expressed interest in a local Woodbine rider as opposed to one on the West Coast.
On another note of the not-so-historic-but-still-intriguing variety, Contreras is the first jockey in the 52-year history of the Canadian Triple Crown to celebrate Queen's Plate and Prince of Wales Stakes scores in the same year from the withers of two different horses. 
The Ontario-sired gelding handled the switch from the Toronto oval's Polytrack to the speed-favoring nature of the conventional Fort Erie dirt perfectly. Despite the slimness of the margin, trained Mike DePaulo wasn't forced to agonize long before discovering he had won his second Prince of Wales title.  In 2006, the Toronto-born conditioner had to endure a long inquiry before his Shillelagh Slew was placed first due to the disqualification of Malakoff, owned by Stronach Stables.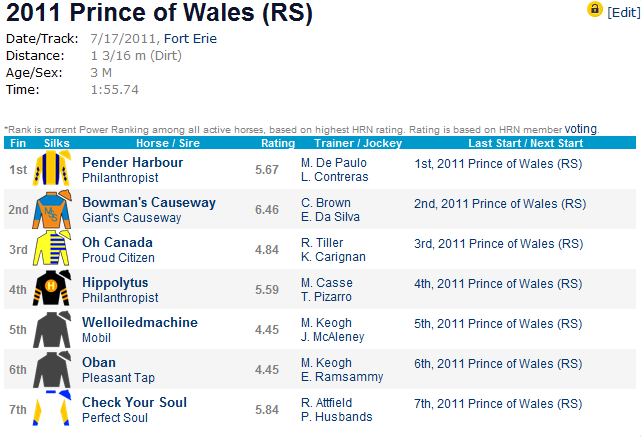 In winning the $500,000 event, Pender Harbour represents the first classic win for his sire, Philanthropist, whose second crop is now aged two.  An impressive winner of last Fall's Kingarvie Stakes at Woodbine, Pender Harbour was the star of an otherwise lackluster 2010 performance at stud by Philanthropist.  Pender Harbour's development from winner of an Ontario-sired stakes to hero of a Triple Crown contest illustrates the noticeable development that sons and daughters of Philanthropist have demonstrated up to this point in 2011.
It's certainly no secret that this son of Kris S was off to a slow beginning at stud. He had six winners from 16 starters in his freshman season. The 16 starters made it to the gate 70 times and managed eight wins (strike rate of 11 per cent).
Through July 20, barely past the half-way point of the calendar year, Philanthropist's first crop has bloomed nicely at the age of three.  From a total of 26 starters, he has a total of eight winners that have contributed to an improved record of 10-for-82.
Pender Harbour also adds further glory to a female line that has consistently produced stakes-calibre horses since it arrived in Canada, first for Conn Smythe and in recent generations for Gardiner Farms. For students of pedigree, perhaps this shouldn't come as much of a surprise, considering that eight generations deep on Pender Harbour's tail-female line is 16-time winner and influential broodmare Selene, the dam of Pharamond II (grand-sire of Tom Fool, who sired Buckpasser), Sickle (ancestor of Native Dancer, grand-sire of Mr. Prospector) and Hyperion (multiple years a leading sire and sire of Lady Angela, dam of Nearctic).   
In fact,
Selene
is represented in nine other strains of Pender Harbour's family tree, including a total of eight times in the pedigree of his dam Uproar, the winner of the 1990 Algoma Stakes.
Uproar is the fourth Canadian-bred dam in this branch of the Selene line, which arrived in North America in the mid-1950s via the English-bred mare Mythical (great, grand-daughter of Selene). This daughter of French-bred stallion My Babu placed twice, at age three and four, in the 1 ¾-mile Valedictory Stakes in the inaugural two meetings at Woodbine.
In 1960, Mythical was bred to Nearctic and the result was a filly named Muskoka, who was part of the three-year-old crop that featured Flaming Page, the first ever filly to win Oaks and Plate.
Muskoka reportedly won three races over her career, but she would go on to be very valuable in the broodmare barn of breeder Conn Smythe, producing Muskoka Weekend in 1978 and Miss Hyperion, the (third-dam of Pender Harbour) in 1979.
Running for the Estate of Conn Smythe in 1980, Muskoka Weekend bested Eternal Search in the Ontario Lassie and then defeated that strong rival again in 1981 for new connections, Eaton Hall Farm and trainer Mike Doyle. She also won the Jammed Lovely. Muskoka Weekend also went on to be an effective broodmare, producing Karmani, who was second in the Grade 1 Sword Dancer and Muskoka Ice, the dam of last year's Gazelle winner No Such Word.
No part of Pender Harbour's pedigree is more infused with the Selene influence than Miss Hyperion, who is 5x5x5x6 to the important mare as a result of Smythe's mating of Muskoka to Marine and Queenston winner Henry Tudor, Canada's champion older horse in 1974.
Like her half-sister, Miss Hyperion won the Jammed Lovely as a three-year-old. She went on to a breeding career at Gardiner Farms, which was the birthplace of her sire, that was highlighted by the success of Moon Mist, winner of the Fury Stakes and dam of Barlee Mist, a multiple-stakes winner of over $600,000 in purses, mostly at Woodbine.
The 1986 mating that allowed Miss Hyperion to produce Hippic, the dam of Uproar, was perhaps the most peculiar of her career.  When Gardiner bred Miss Hyperion to Briartic, she wound up producing a foal that was closely inbred (2x3) to Nearctic.  The result, whether intended or not, upped the Selene factor to five repeats.     
The second last mating, which was also orchestrated at Gardiner Farms, was to breed Hippic to Hail the Ruckus, a Canadian-bred son of Bold Ruckus. The overall influence of Bold Ruckus in Canada would take several blog posts to discuss.  Important to this study is that the Bold Ruckus pedigree features three strains of Selene. This triple added to Hippic's five is how the aforementioned total of eight Selene mentions was achieved in the pedigree of Uproar, the dam of Prince of Wales winner Pender Harbour.
Was this all by design or just a happy coincidence? It's hard to say definitively – particularly since some of the early actors are no longer around. Either way, it's a strong testament to the reach Selene has maintained into the 21st Century.
While the Prince of Wales lost all its importance when the Queen's Plate winning filly didn't show her snout, one good thing did come out of the result. Pender Harbour's victory allowed the chance to salute one of thoroughbred racing's legends, almost 100 years later.
On a side note, Pender Harbour isn't the only tail-female descendant of Selene currently stabled at Woodbine that is enjoying some success.
Gardiner Farms had originally introduced Hippic to Hail the Ruckus one year earlier, which produced stakes placed Hippicritical, a full sister to Uproar older by one year. Hippicritical's leading runner is a three-year-old Nanaimo, who is also by Philanthropist – making him a same-aged full-brother-in-blood to Pender Harbour. Genetically, they both have the exact same ancestors and therefore the same 10 strains of the great Selene. 
Considering both are multiple winners, aged three, competing for different interests, perhaps a stakes showdown is on the horizon? Say, the Sir Barton Stakes later this Fall?