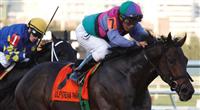 If Itsmyluckyday, winner of the January Holy Bull Stakes, reigning juvenile champion Shanghai Bobby, runner-up in the aforementioned stakes, or Fountain of Youth conqueror, Orb, should win Saturday's Florida Derby, the colt will likely be considered one of the betting favorites for the Kentucky Derby on May 4th. 
But here's an early Derby betting tip: Don't put to much emphasis on who wins the preps. 
Though winning one of the final major prep races- Florida Derby, Wood Memorial, Santa Anita Derby, Arkansas Derby and Blue Grass Stakes-is often considered a gigantic step toward a win at Churchill Downs, the numbers suggest otherwise. In the last 20 years, only 7 of the winners of one of those races have gone on to Derby glory-while 64 runners from those final preps finished off the board completely in the Run for the Roses. Last year was the first time since 2008 that a major prep winner, I'll Have Another (Santa Anita Derby), basked in glory in Louisville. 
Holy Bull (1994), Unbridled's Song (1996), Harlan's Holiday (2002) and Empire Maker (2003) actually won two of the five major preps heading into the Derby. All four were post-time favorites in the Derby. All four lost. In addition, Captain Bodgit (1997) was also a two-time Derby prep winner. He too lost in Louisville. 
There's no requirement that horses must run in one of the five major preps, but 18 of the last 20 Derby winners have done so. Two of the last four Derby winners, Animal Kingdom and Mine That Bird, had their final tuneup in other prep races. 
So what do these recent trends suggest? One theory is that prep-race winners overexert themselves on the Derby trail. If that holds true, the best bet may be to focus on horses that have shown consistent promise and are improving or rounding into peak shape for the big race. Any horse that can get within a few lengths in a key prep race for the Derby deserves a second look, especially if the horse made a bid to win the race. A decent late rally without winning an important prep could mean the horse is perfectly suited to the longer distance of the Derby. Even better is a horse that makes a strong stretch bid to win their prep race, only to tire late. These genuine types are sometimes overlooked in the betting and can improve on Derby day. Focus on the major Derby prep races to identify these horses. Remember, horses don't need to win their final prep race to win the Kentucky Derby, but they do need to run well and should have the look of a horse who is improving. Also, a strong showing at a mile and an eighth at some point prior to the Derby is a must. 
Don't let the preps fool you: How the winners of five major races have done in the Kentucky Derby since 1993. 
Prep Race Win Place Show Off The Board Didn't Run In Derby Recent Winner 
Fla Derby     4       3        0            12                 1                  Big Brown '08
S.A. Derby   1       2        2            14                 1                  I'll Have Another '12
Wood Mem.  1       2        1            10                 6                  Fusaichi Pegasus '00
Ark. Derby   1       2        2             12                 3                  Smarty Jones '04
Blue Grass   0       2        2             16                 0                  Strike The Gold '91