It is highly unlikely the names Cool Flash and Liza McCoy are noteworthy to you, me or practically anyone else. The former sounds like it could be the nickname of one's best friend, while the latter of a guy's best girl.
But neither descriptive applies. Instead, both are names of horses that Roy Sturgeon won on his first two mounts as a professional jockey.
Sturgeon's sensational debut occurred on the evening of Aug. 27, 1982, at Stampede Park, in Calgary, Alberta. 
Recently I asked Sturgeon if the aforementioned date brought special meaning to him, and he answered with an emphatic, "Yes, of course,", as he quickly recalled and mentioned the two winning horses.
One could refer to Sturgeon's winning start as beginners' luck, but no one can deny that it was his well-versed background working with all types of horses that had the young teenager prepared when he became a licensed race rider.
Sturgeon has ridden horses all his life, applying his talents and skills to just about every discipline there is in the equine world, including riding jumpers, breaking quarter-horses, participating in team roping and even engaging in pony chuckwagons.
"I actually rode one of my first races on one my Dad's wagon ponies when I was 6 years old," Sturgeon said.
When he was a young boy, Sturgeon's father raced pony chuckwagons and showed horses. "We bought and sold horses for a living," said Sturgeon. "As we did that, that kind of transitioned me into the racetrack."  
By age 13, Sturgeon was introduced to Thoroughbred racing and learned to gallop horses.
"When I was a kid, I had a friend that I showed horses with, and her dad, Bud Mathes, was the one that started me at the track. What I did was, go to their place and Bud's wife, Joan, taught me how to gallop horses. And when I turned 15, I went to the race track and started with Bud," Sturgeon recalled.
He rode professionally for a dozen seasons before injuries cut short his race riding career.
Now, after more than two decades of being retired from the jockey ranks, Sturgeon no longer faces the daily grind of getting to the racetrack in the wee hours of the morning to work horses or struggle to make weight for the afternoon races. But his current undertaking still keeps the 54-year-old Alberta native sitting atop a horse seven days a week at his facility, Flying Cross Ranch, where he and his wife, Christina, teach kids about the Thoroughbred racing industry.
Christina, who also grew up around horses, has an extensive background in harness racing, and she complements the program with her own solid qualifications and credentials. 
Roy and Christina met at Alberta Downs, where they started an amateur race club for kids, and later Christina went on to manage the race track.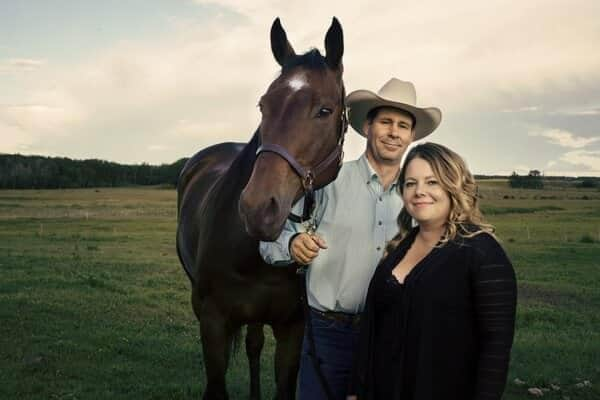 Flying Cross Ranch, situated about halfway between Calgary and Edmonton, the two largest cities in the Alberta province, belonged to Sturgeon's parents, and Roy has been there since he was a kid. "When Christina and I got together, then we took it over," Sturgeon said.
"Racing was really starting to dry up around the region, so I started doing lessons kind of on the side," the ex-rider added. "Everybody was always asking me about racing and doing different things, so we put one weekend together for some kids to come try it and to play around, and they liked it. Then, I asked the parents if they would basically be OK if I turned it into a lesson, thinking the kids would probably grow tired of it after a few of months. But it became so popular, and now that's what we are doing full-time."
Students at Flying Cross Ranch, mostly children, also known as "Junior Jockeys," are from varying social and ethnic backgrounds and have varying levels of riding knowledge. Many of kids are unsure of themselves when they enter the program, especially those with no experience. 
"We spend a ton of time with them," Sturgeon said. 
Extreme patience and proper teaching by Roy and his wife allow the kids to ride horses at their ranch, while providing skills and experience that might not be available otherwise. 
It's an involved program that consists of teaching the students to breeze and gallop horses in company, to break horses from out of the starting gate and how to get a horse to switch leads. (Horses use their inside leg when negotiating a turn at a gallop and their outside leg in the straightaway.)
"They all help in the barn too," learning to groom and feed the horses, clean stalls and equipment, Sturgeon said.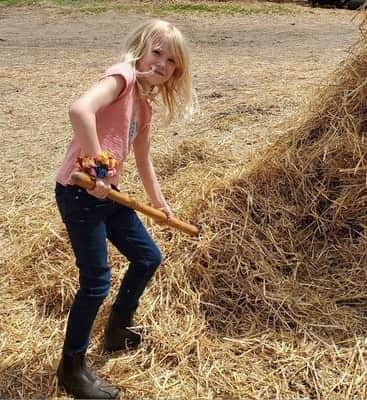 The activities help kids focus on their individual life and develop attributes such as self-confidence, self-worth, responsibility, teamwork, support and dedication, all aspects they can apply to other areas of their life.
The entire learning process is safety oriented. Helmets are mandatory, speed limits must be adhered to, no whips are allowed and respect for the horse and fellow riders must be demonstrated.
The biggest part of the Flying Cross Ranch educational program is "actual race days," which happen at least twice a year and follow a racetrack's itinerary. 
"We have a two-stall gate, a four-stall gate, a small training track, and that's what we use," Sturgeon said. "We supply the horses, but a few kids own their own."  
The setting simulates a race day at a track. The horses are brought over and saddled up, there is a post parade, and after the race, the junior jockeys weigh in/out. Winners get awarded with a winner's circle photo.
With safety always first and foremost at Flying Cross Ranch, Sturgeon and his wife are adamant about keeping a close eye out on the kids.
"By trial and error, we learned that if they are not ready to ride or their horses aren't ready to race, they just don't. Plain and simple," Sturgeon said. "We've done it long enough now that when we race, I'm there or I have a friend who was a professional outrider with me, and we always have paramedics on site. We have everything available."
Flying Cross Ranch is a haven for off-track horses, including about a dozen Thoroughbreds, but the breed is strictly off limits for racing.
"I honestly don't allow the kids to race Thoroughbred horses because they are too fast, Sturgeon said. "That's another part of our safety program. We decided on that quite a while ago, especially on our tight little track. And they don't need to go that fast, they are going fast enough anyways. They learn to do what they're supposed to do on these lesson pony horses, and these kids really race hard."
Safety is first, fun is second, and according to Sturgeon, "The kids are having a ball. They love it." 
The ultimate award for the kids via the program is pride in successful riding. Recognition for their accomplishment. And it's a big deal to them. "Sure it is, it's huge," Sturgeon said.
The top event at Flying Cross Ranch every year is called, "Talk Derby to Me," which is its main fundraiser. The money goes to kids who can't afford lessons. 
But in 2020 nothing has gone according to plan and the fundraiser was cancelled because of the coronavirus outbreak. But the kids in the program still managed to raise money on their own.
Throughout the pandemic, Flying Cross Ranch has been forced to alter its schedule, but it has managed to stay open. "With COVID, we are able to do private and semi-private lessons. At least we can operate, and we are very thankful for that," expressed Sturgeon.
Flying Cross Ranch offers riding lesson programs for people of all ages. In addition, Sturgeon teaches Western and English style riding clinics, gives roping demonstrations and even assists people in buying horses, especially first-time buyers.
For more information, contact Roy and Christina at: info@flyingcrossranch.com or visit the ranch's website: www.flyingcrossranch.com.