For more than 25 years, Paul Souter climbed on the back of racehorses for a living.
In 1977, his first full season, he earned the leading apprentice award in Florida. After stints at Calder, Hialeah and Gulfstream, Souter then headed north to Canada, where he continued to successfully ply his craft, becoming an accomplished rider on the Southern Ontario circuit. He rode for several years at Woodbine, winning the 1982 
Queen's Plate
 aboard Son of Briartic, the highlight among his 1,327 lifetime victories. Later on in his career, Souter shifted his tack full-time to Fort Erie.  
Following his retirement from riding, Souter became a jockey agent. He performed that job for 10 years, worked a stint in the racing office, then returned to serving as an agent.
In other sports, the title may involve negotiating contracts and salaries. Souter, however, is all about getting a man or woman on a horse, with it a complicated road to doing so.
Souter's work begins on the Fort Erie backstretch in the early morning hours, going barn to barn talking to trainers and attempting to secure mounts for his rider.
"I wake up at 5 a.m. and I'm here just before 6 to get my jockey going," he said. "I usually have everything pre-arranged the day before. I'll approach trainers to see if they are wanting my rider to get on any horses in the morning and try to find out what races they are looking forward to.
"I deal with mostly good people that are my friends, but it gets hectic. You are trying to please everybody, every day, but you don't, you can't do it."
As an agent, Souter is selling a jockey. The charismatic 63-year-old certainly has the personality for it, plus almost 50 years in the racing game.
"I have a lot of friends, and that's what you depend on mostly," he said. Souter then added, "I have the champ," referencing 
Krista Carignan
, the jockey he represents.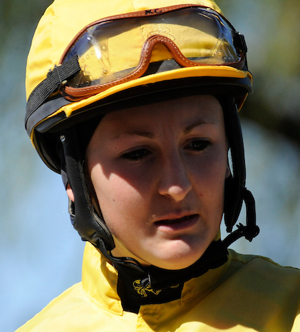 Carignan was Fort Erie's leading rider last year and currently leads all riders in wins at the 2019 meet.
"The job is hard at times, but things go a lot easier when you have a really good rider," Souter said.
Working as a jockey agent calls for a diverse set of skills. In addition to marketing a rider, Souter has to be a negotiator, logical thinker and astute handicapper. He is familiar with all the trainers on the ground and possesses an incredible knowledge of the horses on the backstretch in regard to where each runner fits in relation to its best chance of winning.
"I just do it live, on the go," he said. "I don't have a computer, I'm not a computer guy. I do it by feel, and watching all the time. I try to sort the bad ones out, and look for the good ones. Krista gets requested a lot, so I just take the calls and sort them out. I try to ride the best horses."
Before he even approaches a trainer, Souter knows what horses fit a race that has yet to be drawn. "I don't pick the races for them, because that is the trainer's job. They should know what they are doing, but I will suggest spots for them," he said.
Souter's morning concludes by attending the post-position draw for race entries. He is always present to make sure his rider receives the correct mounts. He then spends his afternoon watching races, looking for a horse that stands a good chance to win its next start. When he spots such an opportunity, Souter acknowledged that he would attempt to get his rider on that horse only if he thinks the trainer would be making a rider change.
"I don't go chasing many riders' horses," he said. "I will not go out of my way to get somebody off a horse. If trainers want Krista, they will usually call me."
In obtaining mounts to get the best deal for his jockey, Souter has respect for the integrity of all the participants and wants to keep in the good graces of the connections of the current rider, as well as other trainers who want his jockey for their horse.
"Everybody gets mad at each other at some point," Souter said. "Agents are not the most likeable people in the world. For me, I think I am a little different, because I am more up front. I do not try to ditch people just to ride winners. I am pretty faithful, and so is Krista."
While Souter builds trust with horsemen, there's also the relationship with his rider. It's the basis of his business, and sometimes Souter has to work Carignan out of some tough spots, such as when the duo backs out of a commitment to ride.
"Most of the trainers I deal with know better," Souter said. "If they are upset, I don't have any trouble with it. My girl is the champ and a lot of people want her to ride."
Jockey agents' salaries are dependent on how well their rider performs, and Souter emphasized, "My salary is winning. If I'm not winning, I'm not making money."
The job has no guarantees, as riders get hurt and agents get fired.
"Unless you pick somebody else up, you probably would have to do something else," Souter said. "Up until recently, I had another rider I booked mounts for, but we parted ways. That's the way of world."
Carignan, the jockey that makes Souter's job easier, came to him this year.
"Her last agent quit to go on to do something else, and she asked me," he said. "I couldn't be more thrilled. It was a blessing. She's just a champ.
"Personally, and work-wise she never stops. She hasn't complained about anything, and she could have. She's the best I've ever represented, and the most fun I have had being an agent."