When former jockey Mike Manganello reflects back on the first Saturday in May in 1970, many images flood his mind. But the one he sees most vividly is that of himself as a 29-year old rider aboard his horse bounding away down the Churchill Downs stretch on its way to win the Kentucky Derby.
Manganello's horse, Dust Commander, overlooked by the estimated usual crowd of "about 100,000" fans that jammed Churchill Downs, roared through on the rail to capture the 96th Kentucky Derby going away from the field that included several stars.
"I get goosebumps every time I watch the replay and see him open up and know what that feeling was like," Manganello said in a recent conversation. "It was beautiful. He did everything right. When I reflect back on that, it's kind of a nice feeling."
Dust Commander, an unheralded Illinois-bred running in the silks of owner Robert E. Lehmann, left strong evidence by Derby day he was a threat.
The colt had won his final tune-up, the 1 1/8-mile Blue Grass Stakes at Keeneland, nine days earlier. And in the 1960s horses who performed well in the Blue Grass normally did well in 1 1/4-mile Kentucky Derby. Dust Commander, a 35-1 long shot in the Blue Grass and a 15-1 chance at Churchill Downs, kicked off the new decade by strengthening that barometer.
A bargain yearling purchased for only $6,500 at the 1968 sale, Dust Commander was offered for a claiming price in his second lifetime start with no takers. He didn't win until start No. 5.
"I didn't have him for those earlier races. I didn't get the horse until September," trainer Don Combs said, looking back.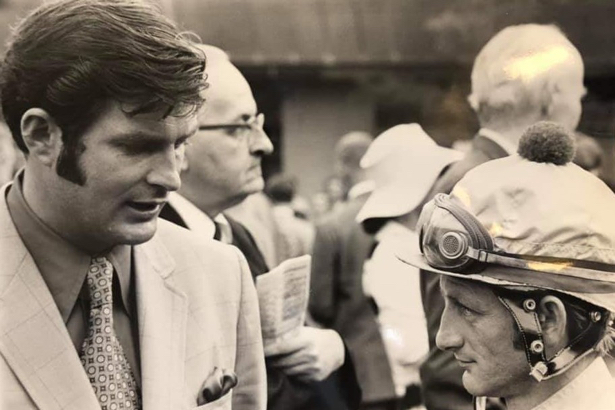 (Trainer Don Combs and jockey Mike Manganello meet in the paddock. Provided by Kitty and Mike Manganello.)
Prior to switching barns, Dust Commander notched another win, and then under the care of Combs, the horse added two more victories in December to compile a 4-1-2 record from 14 starts for his juvenile campaign.
The first few months of his 3-year-old season in Florida weren't kind to Dust Commander as he was off the board in six consecutive starts, including a distant 11th-place finish in the Fountain of Youth at Gulfstream Park.
"That was the last time I ran him in Florida," Combs said.
When Dust Commander shipped north to Keeneland, he had already been nominated to the Kentucky Derby, but Combs said, "I really didn't think about it until he won the Blue Grass. I just wanted to see how he was doing and how he was developing."
The person in charge of bringing Dust Commander along majored in political science at the University of Kentucky. At age 31, Combs had been conditioning racehorses for less than three years.
Combs, who still currently has a few horses in his care, sought out a new rider once back in Kentucky, hoping the modification would provide the needed ignition for the chestnut colt.
"I had a rider on him that didn't ride him very well, so that was the reason I made a change," Combs indicated.
"When Don brought the horse up to Keeneland for the spring meet, he was looking for a rider," Manganello added. "My agent was at the right place at the right time and acquired the mount for me."
When paired with Manganello, results for Dust Commander suddenly turned for the better.
"I rode him the opening week there in a six-furlong race. He ran well, ending up seventh and was closing," Manganello said. "I really like the way the colt was finishing at the end. The following week, I rode him in a mile and 1/16-mile race which he won. He impressed me even more.
"The horse was coming into himself at that point and I was fortunate to pick the mount up. We just hit it off together."
The trainer agreed with his jockey's assessment of the horse's development. "He started to get better and better," said Combs, who attributed the turnaround to "good water and plenty of good grazing" once the horse returned to Kentucky.
Certainly, no one outside the Dust Commander circle thought much of the win, as he was greatly overlooked in the Blue Grass Stakes two weeks later.
A heavy downpour early in the day left the Keeneland track muddy, but Dust Commander, saving ground the entire trip, took to the wet conditions like a duck to water and splashed his way to a three-quarter length victory, paying a whopping $72.80.
On that same day, which happened to be his 49th birthday, Lehmann, a retired Ohio construction company businessman, was nearly 8,000 miles away from Kentucky on a hunting expedition on the India-Nepal border.
Following the upset win, Lehmann was notified of the good news and the big-game hunter made plans to return to Kentucky. His determined attempt in coming halfway across the world was rewarded by his colt's performance.
Conditions early on Derby morning offered promise to those who thought Dust Commander's win in the Blue Grass was attributed to the wet track. An early morning thunderstorm made the Churchill Downs track sloppy for the first race, but by noon, the sun appeared and had dried the racing surface long before the field of runners paraded on the track for the main event.
By Derby post time, the Churchill racing strip was rated "good" and appeared close to fast. The changing surface didn't trouble Dust Commander's rider, who had competed in several races on the undercard.
"I wasn't concerned one bit as to whatever type of track it was," Manganello said. "He had run three times at Keeneland and two of those times it was on a fast track, and one of those times he did win. He could handle any kind of race track."
"I put special shoes on him, so he could handle the track," Combs added. "I put inserts on his shoes so he could get a hold of the track better."
Down in the crowded paddock, Lehmann, his wife Verna and their family looked on anxiously as Dust Commander was being saddled. Lehmann, who had arrived back in the States just hours before the race, was a believer in good luck charms, and had in the pockets of his pants as a sign of good luck the neck bones from a leopard and a tiger he had bagged on his hunting trip.
Meanwhile, in the jockey's room, Manganello, a popular rider at Churchill Downs, was preparing to make his second Derby start. He finished 10th aboard Te Vega two years earlier. Before heading out, the veteran placed his St. Christopher medal that had been blessed by Pope Paul VI underneath the gold and red silks with the owner's initials "REL" emblazoned across the front and back. Manganello said he "always wore the medal for safe passage and luck."
He sure got it, weaving in and out of openings as he remained always in excellent position.
Manganello, said his horse "got knocked around leaving the gate, but I just took a hold of him and let him settle and get his stride back." He had Dust Commander in ninth place as the field raced under the finish line the first time by.
When the gates opened, Rancho Lejos had slammed into Holy Land, who subsequently careened into Dust Commander. "I got roughed up leaving there, bounced around a little bit which knocked me back further than I wanted to be," Manganello said.
Rancho Lejos straightened himself away from the mishap and set the early pace, opening up a three-length lead in the first half-mile, and still led California Derby winner, George Lewis, who was in search of a record sixth Derby victory for jockey Bill Hartack, by a length as the field entered the far turn.
"I just let my horse drop down to the rail and save all the ground I could and start letting him pick up horses, which he did very well. Every time I asked him to make a move, I always had someplace to go," Manganello said.
When Rancho Lejos began to tire, Silent Screen, one of the better-regarded colts, took over the lead. But Silent Screen stopped gradually while Dust Commander moved up steadily without attracting too much attention and without much encouragement.
Manganello remembered the Derby winner as "a real easy horse to ride. He responded well when you asked him to do something."
As the field of 17 pounded into the home stretch, Manganello handled his mount with skill and fine judgment, steering Dust Commander around one rival, then sending the colt through a narrow opening between two others and flashed into the lead. With plenty of daylight ahead, the young rider from Hartford, Conn., didn't apply the brakes as the margin widened past the eighth pole. 
"I knew though, at that point we were going to win," Manganello said. "I reached back and tapped him and he opened a couple of lengths. I continued to tap him and he opened and won by five with room to spare."
My Dad George, the betting favorite off his Flamingo and Florida Derby victories, finished second, with High Echelon third and Naskra fourth.
Diane Crump, the first female to ride in the Derby -- an important breakthrough for women in thoroughbred racing -- finished 15th aboard Fathom.
When Combs was asked about his reaction to Dust Commander winning that afternoon, he replied, "He ran good. He ran a little better than I thought he would. Of course, I was pretty happy. I'm not the type of person that hollers or jumps up and down. I'm very quiet. I just enjoyed the moment in my own way."
The 1970 Derby, with a purse value of $170,300, richest in its history at the time, awarded $127,800 to the winner.
The race was timed in a moderate 2:03 2/5, hardly impressive when compared to the Derby record at that time of 2:00, which had been set six years earlier by Northern Dancer, but it was good enough to bring home the biggest cash prize in the race's 96-year history.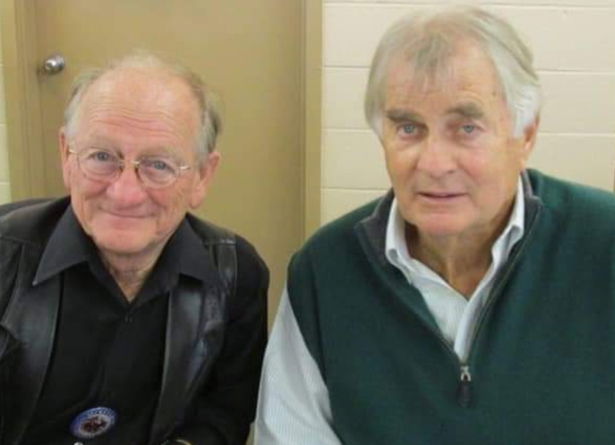 (Jockey Mike Manganello and trainer Don Combs in recent times. Provided by Kitty and Mike Manganello.)