While it wasn't quite the spending spree exhibited in March, the Barretts May sale did boast several 2-year-olds with classy pedigrees selling for large chunks of change.
91 horses were sold Monday in Pomona, and the sale-topper, a filly (above) by
Street Boss
, fetched a cool $260,000. Sold as Hip No. 90, the filly, named Long Hot Summer, is out of the Stormy Atlantic mare Hotlantic, and she was the only thoroughbred to hammer for more than $150,000.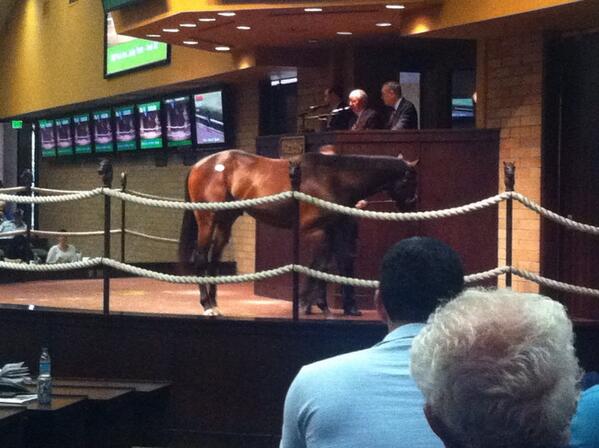 Two 2-year-olds sold for that precise amount. Hip No. 31, a son of Lucky Pulpit named Lucky Logan (above), was the sale-topper for more than an hour, while Hip No. 38, a filly (below) by Kentucky Derby winner Super Saver, also brought a pretty penny. Meanwhile, Hip No. 82, a son of Tribal Rule, finished fourth in those standings by bringing in $145,000, and Hip No. 114, a Magna Graduate colt named Pet Project, hammered for $125,000.
In total, eight thoroughbreds sold for six-figure sums, down from 16 such sales at the 2013 May auction (headlined by the $320,000 sale of eventual stakes winner
Can The Man
). However, ten others brought in between $70,000 and $100,000, up from eight a year ago. 
The next sale in Pomona will be the Barretts October Yearling Sale, which is scheduled for Tuesday, October 7th. Barretts will also run the Paddock Sale at Del Mar on Sunday, July 20th.