The 2014 Kentucky Derby Trail of 2014 is finally upon us. I'm going to preview Saturday's LeComte Stakes from Fair Grounds and Monday's Smarty Jones from Oaklawn Park. (Both races will appear on at TimeformUSBlog.com). However, let's go back and look at the career of the 1914 Kentucky Derby winner, Old Rosebud. In my opinion, he had the most amazing and remarkable career of any racehorse in North American history. 
The tiny gelding Old Rosebud was purchased for $500 as a yearling and made his career debut in a four and a half furlong stakes race in Juarez, Mexico on February 9th of his two-year-old season. He made short work of that field, winning by six lengths "in a canter" according to the result chart. 
Old Rosebud would set four track records from May through June before arriving at
Saratoga
with a major reputation. His first workout at Saratoga would only further enhance that reputation. 
Hall of Fame trainer T. J. Healey is famous for winning the Preakness five times, the Travers three times, and training the great Equipoise. Healey told Old Rosebud's trainer
Frank Weir
"Three-eighths in 36 seconds was the best any youngster had traveled." Weir continued, "I brought out Old Rosebud, and with the boy holding his head, he worked three-eights in 33 4/5. Say! That fairly took Healey's breath away. He was so impressed, he stood and looked at Old Rosebud for fifteen minutes." 
After his impressive workout, two easy stakes victories at Saratoga would cement him the undisputed honor of outstanding 2-year-old of 1913. However, an ankle injury sidelined the gelding for over eight months. 
Old Rosebud finally made his three-year-old debut in an allowance race at Lexington. He romped by six lengths while "under restraint throughout" according to the chart. 
The first great test for Old Rosebud was supposed to come in his next start, the Kentucky Derby. There were some obstacles--Old Rosebud was making just his second start off of an eight and a half month layoff and had only once before raced beyond the distance of six furlongs. 
The glaring morning headlines shouted 'Slow Track for the Derby.'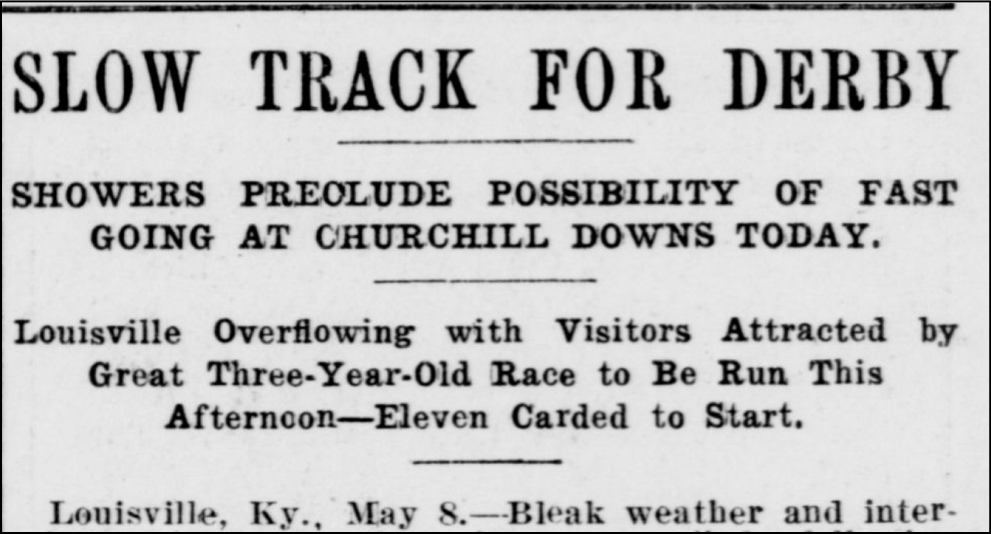 However, the public made the sensational Old Rosebud the 4/5 favorite anyway. 
We regret that we don't have any TimeformUS past performances for him, but here is what Old Rosebud's tremendous form looked like going into that 1914 Kentucky Derby:

Old Rosebud continued his brilliant ways and made an absolute mockery of his Kentucky Derby opposition. He won by eight lengths and did it while "under hard restraint" according to the result chart. In the history of the race, no horse has ever won the Kentucky Derby by a wider margin. 
Indeed, Old Rosebud beat some quality horses in the Derby. The second place finisher Hodge would win the Clark Handicap over the same track in each of the next two years. He was an excellent handicap horse. The third place finisher, Bronzewing, had won both the Ashland and the Blue Grass Stakes in her two starts prior to the Kentucky Derby. She returned to Churchill Downs two weeks later to win the Kentucky Oaks. Secretary Garret D. Wilson of the Kentucky Association would later tell Daily Racing Form: "Bronzewing is the best filly I have seen in twenty years." They were both obliterated by Old Rosebud, and it was 13.5 lengths back to the fourth place finisher, and 20 lengths back to the fifth place finisher, respectively. 
Most impressively, over a track widely predicted to be slow, Old Rosebud's final time of 2:03.40 shaved 1.40 seconds off of the track record, and it was a track record that would stand for 17 years. In fact, the last
Breeders' Cup Classic
run at Churchill Downs in 2011 was won by
Drosselmeyer
, and he needed 2:04.27 to win it.  
For a three-year-old gelding making only his second start of the year, and first ever beyond a mile, it was some performance to get a mile and a quarter at Churchill Downs in 2:03 2/5 while under restraint throughout. 
Yes, Old Rosebud was a most glorious winner of the Kentucky Derby 100 years ago, but everything to this point has been the uninteresting part of his story.  
The drama all started three weeks after his glorious Kentucky Derby score. He made his next start in the
Withers Stakes
at
Belmont Park
and was bet down to 1-to-5 favoritism against a good field that included eventual Hall of Famer Roamer. At that time, races at Belmont Park were run clockwise, in the English manner. 
Old Rosebud made the early lead and was going easily when the sheath ruptured on his near foreleg, and he drifted out extremely wide. The brilliant Old Rosebud tried to stay on, but would hobble home a cripple, and finished a distant last. The great Derby performer had severely bowed a tendon. 
---
Old Rosebud had broken down so completely that it was felt that he was a helpless cripple. For the next two years the gelding was never saddled and never trained. The belief was that his injury was so permanent, he might never be agile enough to do buggy horse chores. 
However, as the story goes "One day in 1916, his trainer Frank Weir happened to pass the pasture where Old Rosebud was grazing with some two and three-year-olds. An automobile passed by with its exhaust wide open. The explosions frightened the horses and they started to run. Weir looked--and saw something that amazed him. Leading the field and increasing it with every jump was the hopeless cripple. Old Rosebud was running with the speed of the wind." 
Weir, hardly believing his eyes, put a halter on Old Rosebud and sent him around the track the next day. "Those legs that were supposed to be hopeless from a racing standpoint, they held up as Old Rosebud went 1:14 and change for six furlongs and did it just breezing."
After an almost three year layoff, Old Rosebud returned to the races as a six-year-old. Nicknamed both "The Courageous Cripple" and "Old Buddy," he won 15 of his 21 starts that season and was considered the undisputed Horse of all Ages. It was widely considered the greatest comeback by a thoroughbred in North American history. 
With apologies to
Da Hoss
, this truly was the greatest comeback since Lazarus. However, things took an ugly turn at Saratoga that year. 
Old Rosebud collapsed while schooling in the paddock at Saratoga. After an indigestion attack, he fell to the ground as if dead. It took "heroic measures" to revive him.
Old Rosebud only made one more start that season, when another very serious injury sidelined him for over a year and a half. 
Of course, the story should have ended there. Old Rosebud is the only thoroughbred in North American history to be considered a champion two-year-old, and be credited with Horse of the Year recognition at the age of six or up. One hundred years later, he still owns one of the all-time most sensational Kentucky Derby wins ever. Even to this day he still unquestionably owns the greatest comeback by a thoroughbred in racing history. In fact, take a good look at this amazing record: 

But enough was never enough. It was a much different game at that time. Old Rosebud was brought back for an eight-year-old campaign, and it was off to a fantastic start. In his first nine starts as an eight-year-old he managed six wins and three second place finishes, and even his widest defeat was a spectacular effort. In the Paumonok Handicap, as the 134-pound highweight in the field, he overcame major interference at the start and finished second at odds of 7/1 in the field of 14. 
What had the making of another impossible comeback took a sour turn in "Old Buddy's" tenth start of his eight-year-old season. He acted up terribly and showed nothing, finishing fifth beaten 16 lengths as the favorite. 
The New York Times reported "Age is beginning to tell on Old Rosebud, and he has become mean and almost unmanageable at times, especially at the post. 
All of the signs to ease up on Old Rosebud were there, but Frank Weir refused to let up on his suddenly mean eight-year-old. Old Rosebud made 30 starts as an eight-year-old. From late September on, he raced five different times on just one day of rest. 
Weir finished off Old Rosebud's eight-year-old campaign by starting him four times between November 22nd and November 29th of 1919. 
Old Rosebud came back as a nine-year-old and did manage to win a race over decent company, beating stakes winners Peter Piper and Leading Star. 
Never to be deterred, Frank Weir brought Old Rosebud back for his ten-year-old season to compete in claiming races. "Old Buddy" won his second start of that season, a claiming race at Belmont Park, but he "pulled up lame" according to the chart. 
Normally, when your former champion two-year-old, record setting Kentucky Derby winning three-year-old, and Horse of the Year older horse wins a claiming race at age 10 and pulls up lame, it's probably best to retire him. 
That retirement never happened. Old Rosebud lasted just two races at age 11 before disaster struck. What would now be considered an unbelievable disgrace was not even a controversy in those days. The huge headlines simply just read "Famous Old Rosebud Is Dead."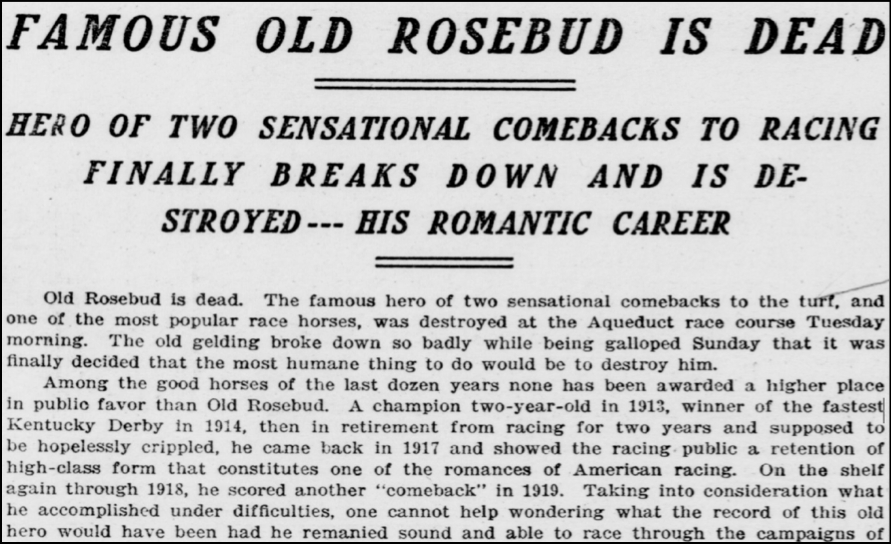 ---
Old Rosebud's regular pilot John McCabe lived a long life and he reportedly said:  "Old Rosebud was as good as any of them — Man o' War, Count Fleet, Citation, Secretariat." 
Frank Weir said: "Old Rosebud is the kind of horse that one sees once in a lifetime, and then he fails to appear in the lives of some men. He is certainly the fastest horse that I have ever trained or ever saw. If he had ever been sound there is no telling how fast he would have run a mile."
The 2014 Kentucky Derby Trail is sure to bring us plenty of excitement. However, there's simply no way we will ever see anything like that gelding who won the Derby exactly a century before this one. "The Courageous Cripple" Old Rosebud was a different kind of horse, from a much different kind of time.
Newspaper clippings courtesy of Daily Racing Form/Keeneland Library