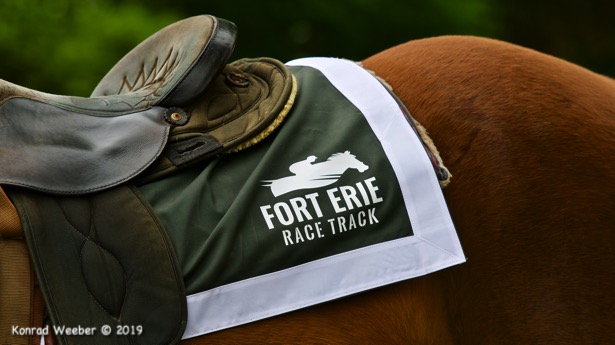 Fort Erie Race Track sits just across the border from Buffalo, N.Y., and is thus frequently referred to as the "border oval." It also has the tagline "Alive and Kicking," which of course aptly applies to opening day last Tuesday. Fort Erie was kicking off its 122nd season of 40 race days to be held on Tuesdays and Sundays throughout the summer months into fall.
Gloomy clouds darkening the sky for most of the day, but that did not dampen the upbeat atmosphere of horsemen and spectators. 
Opening days are about meeting and reconnecting with old friends. Luis Contreras, winner of the Sovereign Award for Outstanding Jockey in 2011 and 2012, is a Woodbine-based jockey who came over to Fort Erie to race on this opening day and reconnects with Melanie Pinto in front of the jockeys' room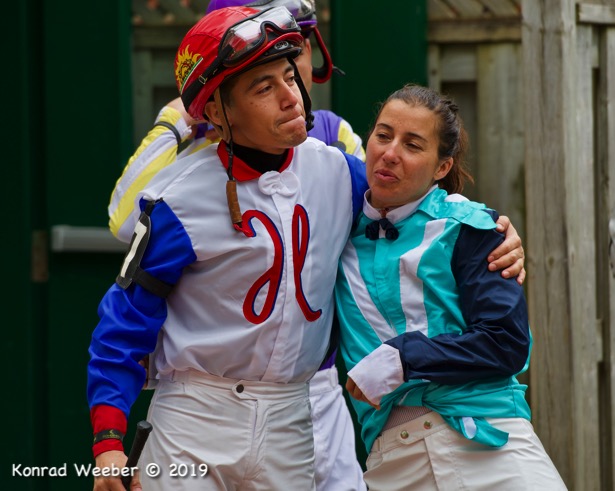 The first race was a close battle between Moon Doggie, No. 4 under Brandon Duchaine on the outside, passing Krista Carignan on Sheer Talent and Brian Cheyne on Master Connor. They battled to the wire, and Moon Doggie won the first race of the season. Weather was not perfect, the track was sloppy, but hey, they're alive and kicking, and they're off for the season.
In my mind the most iconic moment of the day was Bryce Alderson's magic return to the saddle. He had a terrible spill at Tampa Bay Downs in December of 2016, which left him with a traumatic brain injury and numerous facial fractures. After a long recovery period and spending the 2018 season as an exercise rider, he was cleared to return as a jockey this season and competed in two races on Tuesday.
"I'm ecstatic to be back in the jock's room and out there riding races again. It's everything I've lived for, it's what I do, so I'm really happy to be back," said Alderson after his first race in more than two years. "It was a real thrill to be racing again. I have to get myself back into the groove, but it felt fantastic."
You can see his sheer joy heading out onto the track for his first race, and returning from it with a big grin on his face.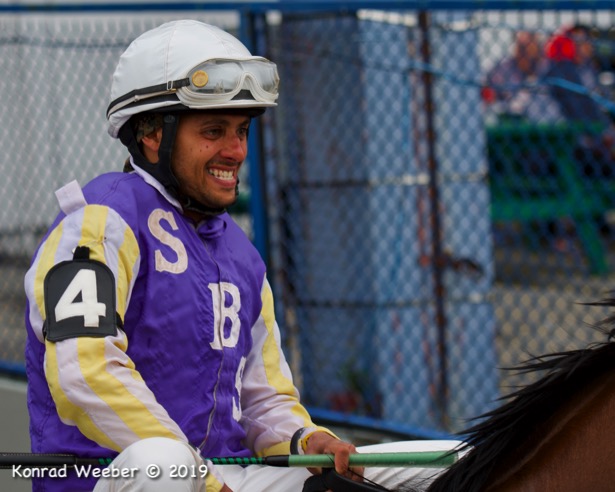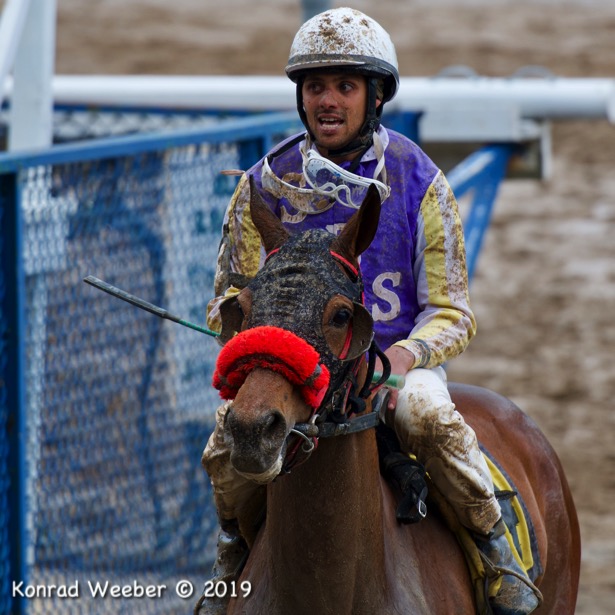 Another "touchy" moment came after the fifth race, won by young Daisuke Fukumoto on Wild Honey after a battle to the wire with Pierre Mailhot on Distinct Signature.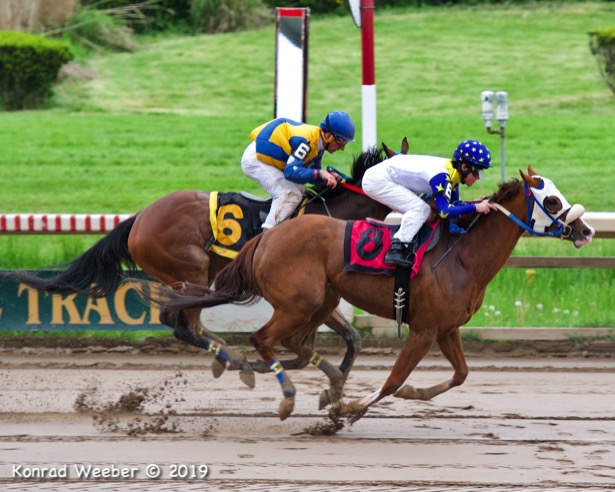 As the riders were heading off the track, Pierre snuck up behind Daisuke to give him a little tap of congratulations and recognition with his whip. Both shared a hearty laugh. You simply cannot find many sports where athletes of two generations can compete against each other in a meaningful way.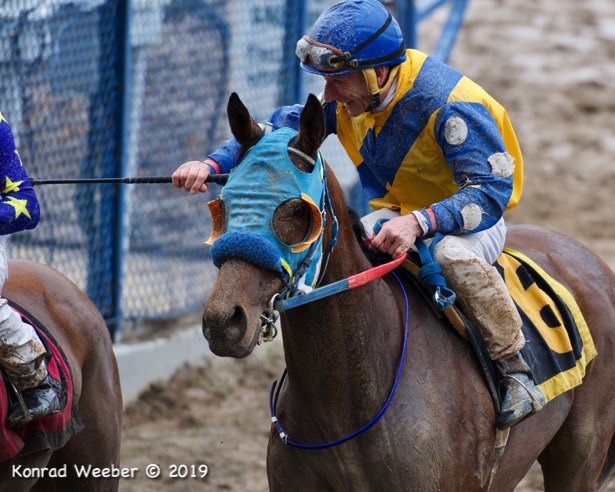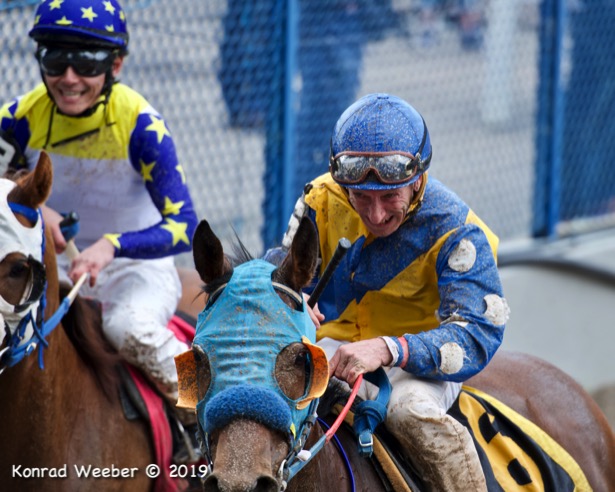 Smaller racetracks seem to have a higher percentage of female jockeys. Melanie Pinto means business as she heads into the paddock...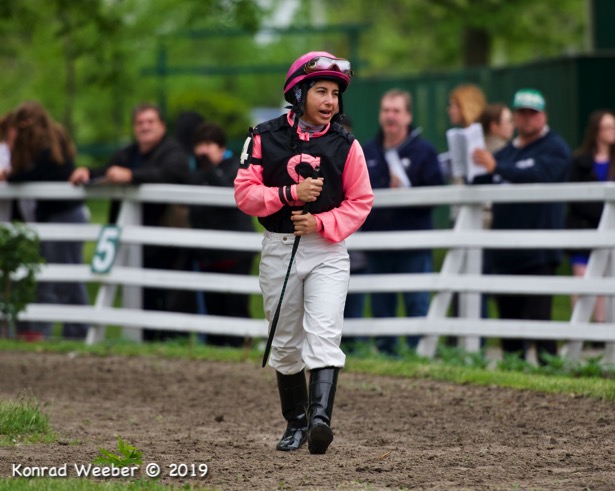 ...and makes a point of checking how far behind she has left her competition in her romp on Smoky Blues in the sixth race.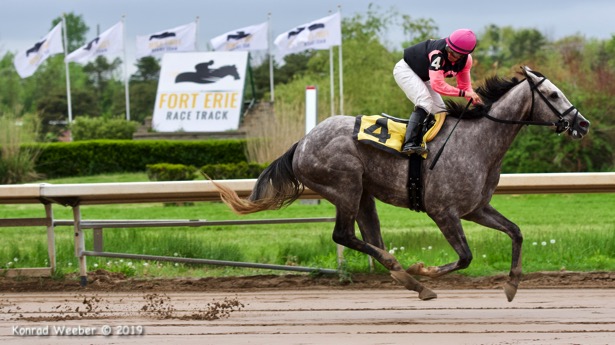 Before the eighth race, the Fort Erie-based jockey Jeff Alderson gets a wonderfully warm sendoff from his grandparents, which he responds to with a sniping, come-from-behind win on Sniper. He is then all smiles on his gallop to the winner's circle.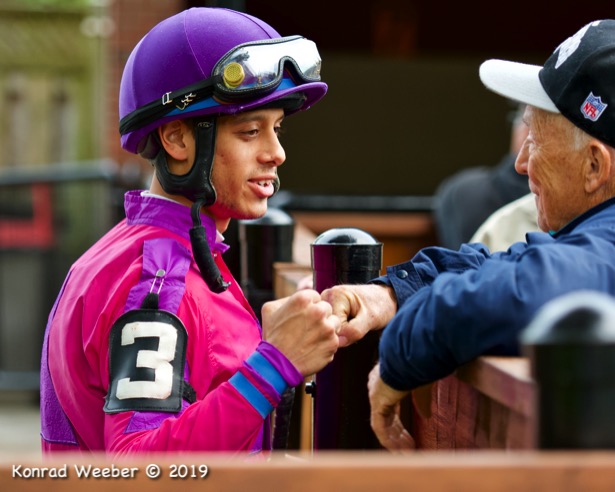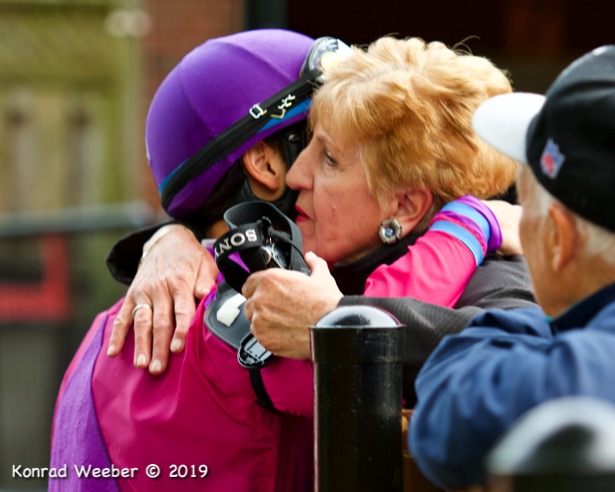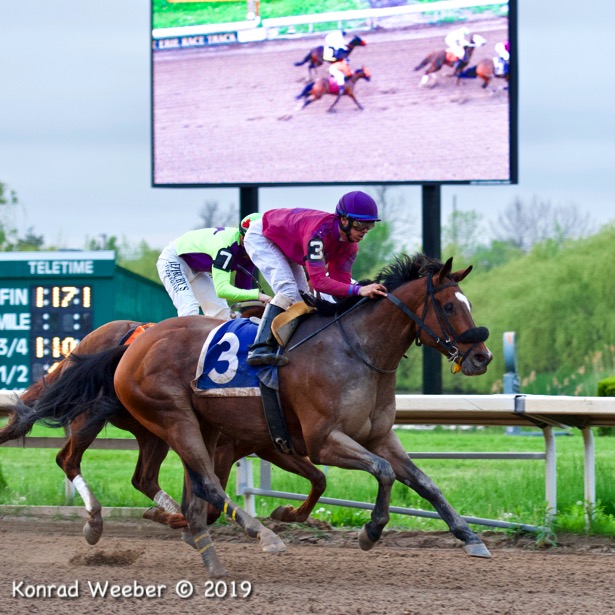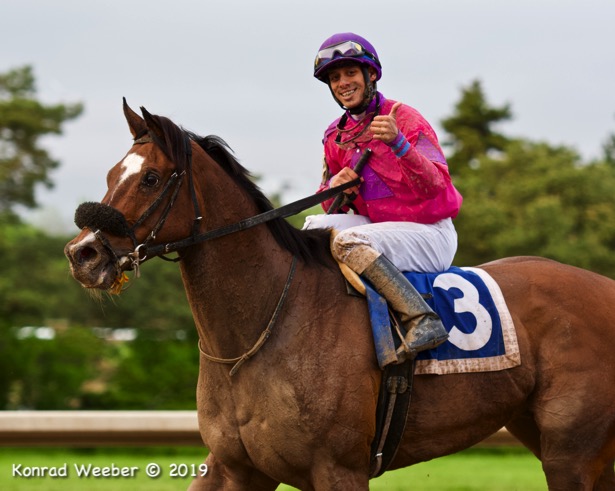 Another female jockey who left her mark on the winner's circle at Fort Erie is Michelle Rainford. Michelle had established herself in the Woodbine jockey colony, one of the toughest in North America. In 2007 she then had her own battle with a head injury that she suffered in a devastating accident in which she went down in a three-horse spill at Woodbine.
Michelle missed all of 2008, made it back for a few races in 2009, but it wasn't until 2012 when she was back racing full-time after a tough long recovery period. She is now back enjoying racing, seen here in the paddock before Race 7, which she won in commanding fashion on Hipp Smitt.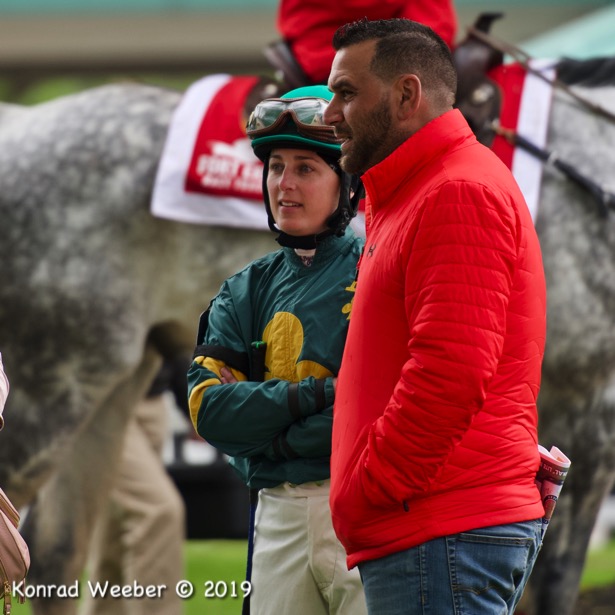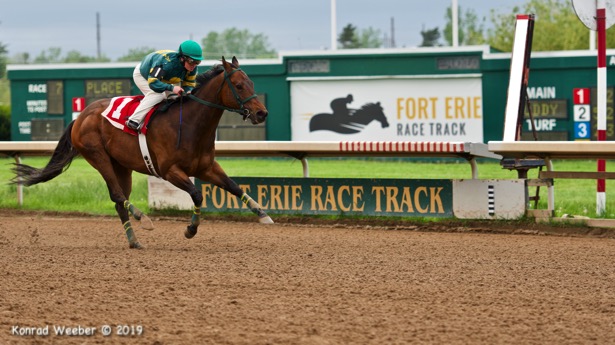 Jockey Krista Carignan won the Fort Erie riding title last year with 57 victories. On this opener, Krista finished in the money in three of her five races but narrowly missed her first win. Nevertheless, she stayed upbeat and confident, seen here heading into a race with Magical Breeze.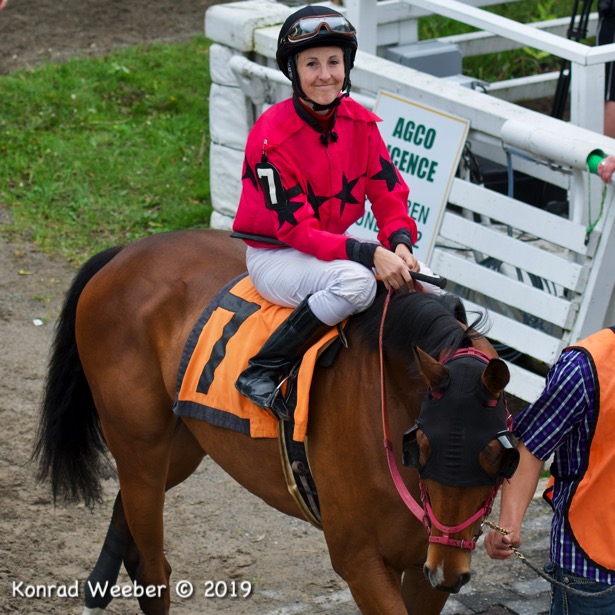 Luis Contreras also stayed out of the winner's circle in all his five races, patiently waiting, but ultimately having a muddy day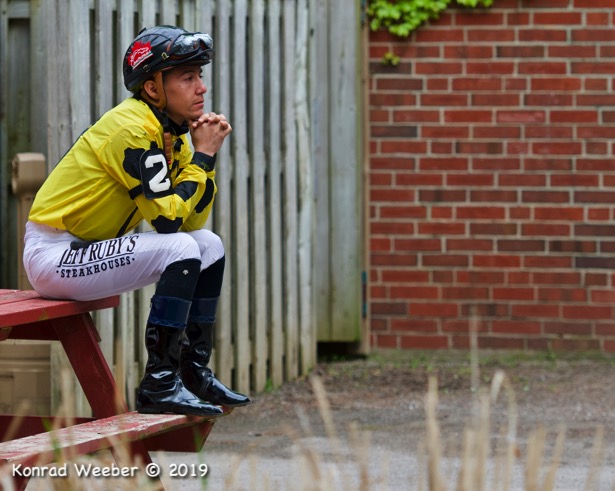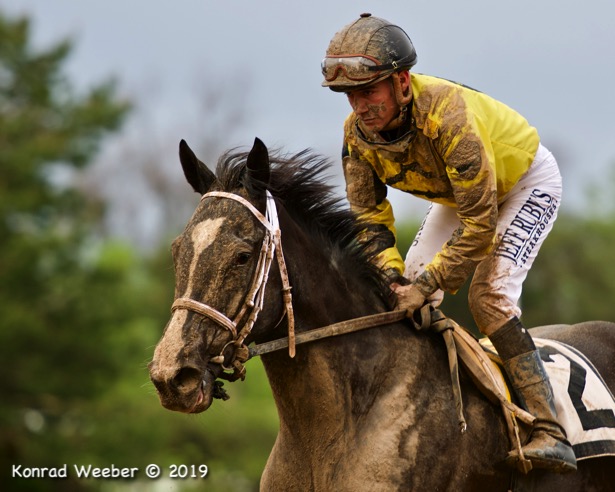 This opening day drew to a close as the starting gate rolled past the tiki bar after the last race, and the crowds were preparing for a free concert by Practically Hip, a cover band of the Canadian icons Tragically Hip.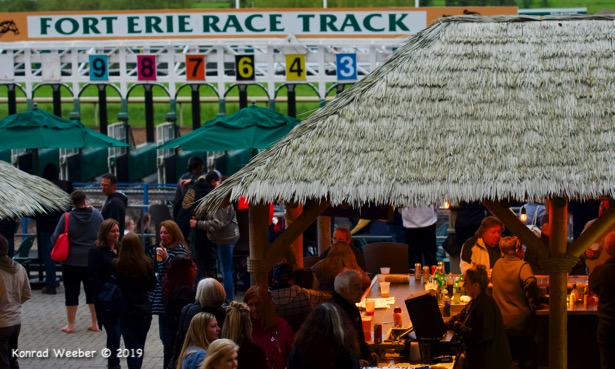 After this immersion into the charm of this smaller race track I am already looking forward to return for its signature event, the Prince Of Wales Stakes, the second jewel in the Canadian Triple Crown, on July 23.