Now that the dust has settled after a whirlwind of excitement courtesy of Beholder, I thought I'd share and revisit my exciting weekend of racing at Del Mar with all of you! Reminiscing of Blue skies, palm trees, and a magnificent view of the ocean from a far I can faintly hear Bing Crosby singing, "Where the turf meets the surf at down at Ole' Del Mar"...
So the coolest part of the trip was sharing the experience with people that I love. My daughter, as well as my niece and two very good friends joined me at the track. My niece and one friend traveled all the way from Hawaii, and another friend drove in from LA. All "new" to the sport, this was their very first visit to Del Mar,  and to a horse race!  I promised them a weekend filled with thrills and excitement! I never break promises, but again... How could I? This was TVG Pacific Classic weekend, the best day of Summer racing at Del Mar!
For all of you who have never been to Del Mar, I climbed the highest spot at the track to get this view for you, check it out!
We finally get to the track and racing fans were just so excited for the day. Whenever a female runs against males it always stirs that extra bit of excitement. Yes, a female in the Pacific Classic! Could Beholder be good enough to take her male rivals down? That was the question buzzing around the track that afternoon. Two things that she was about to do for the very first time, could she handle the 1 1/4 miles, and how would she do running against males for the first time? Our questions would be answered soon enough. The track was already crowded and our very first stop was at the Stretch Run Grill.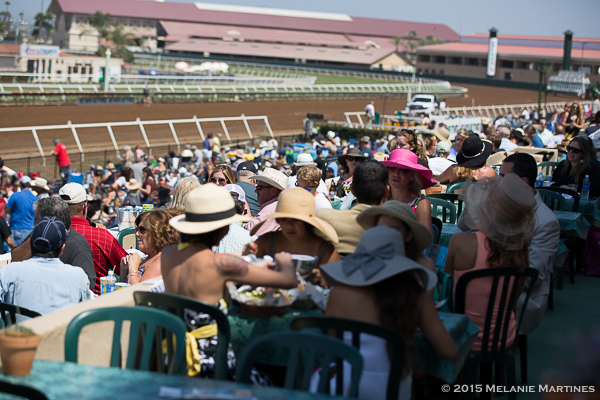 There were three graded stakes action on Saturday, Race 4 was the 30th Running of the Grade 2, Pat O'Brien, Race 8 was the 76th Running of the Grade 2, Del Mar Handicap, and finally Race 9, the 25th Running of the Grade 1, Pacific Classic the race we've been all waiting for! 
It was a small field of four in the Pat O'Brien, with Turnover scratching. Here are photos from the paddock area.  
#3 Wild Dude.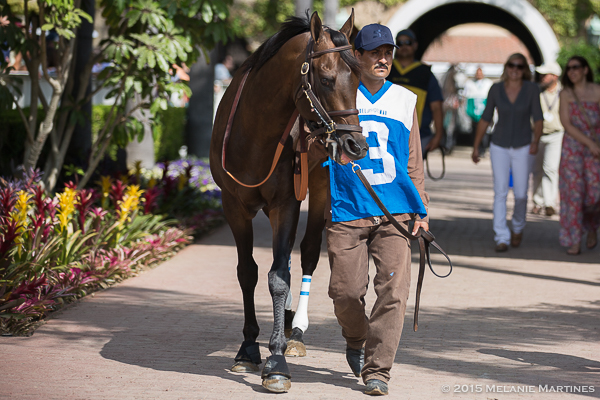 #4 Indexical, I love his eyes. 
And who doesn't love the gray horse? #5 Kobe's Back.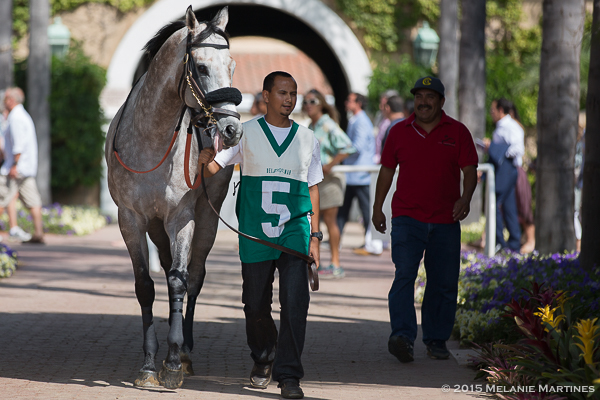 Jockey Gary Stevens speaking to Kobe's Back trainer, Peter Eurton.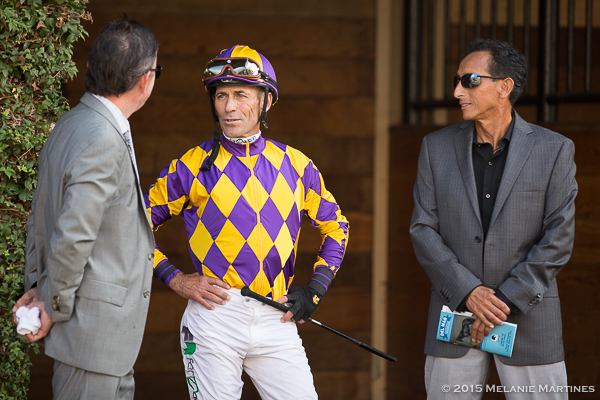 #2 Appealing Tale broke sharply out of the gate and went straight to the front with #3 Wild Dude and #4 Indexical right behind him. Turning for home in the Pat O'Brien Appealing Tale and Wild Dude was nose to nose in a fight to the finish.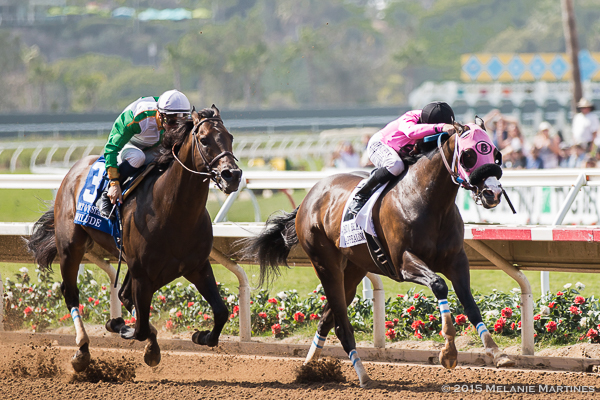 Appealing Tale finds more in a game effort over
Wild Dude
, and steals the Pat O'Brien.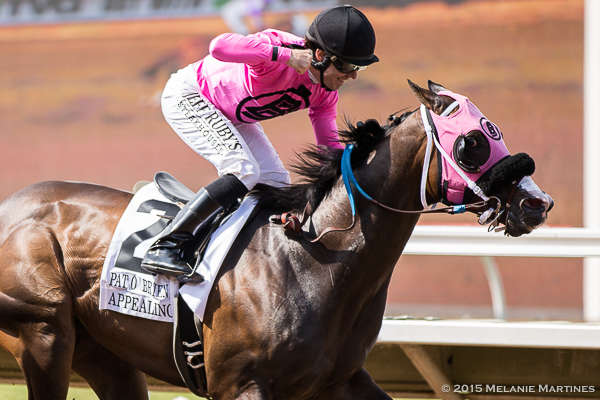 Thumbs up from winning trainer, Peter Miller.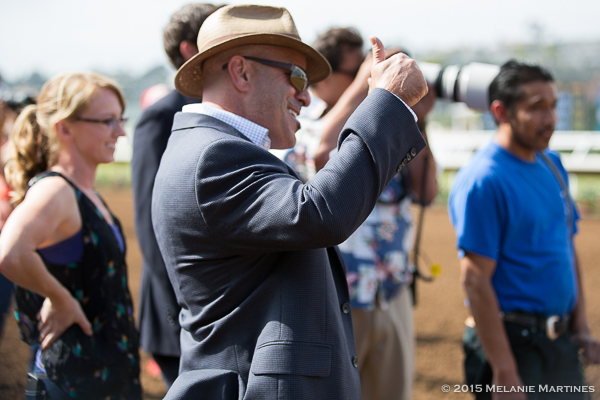 Another thumbs up from Joe Talamo.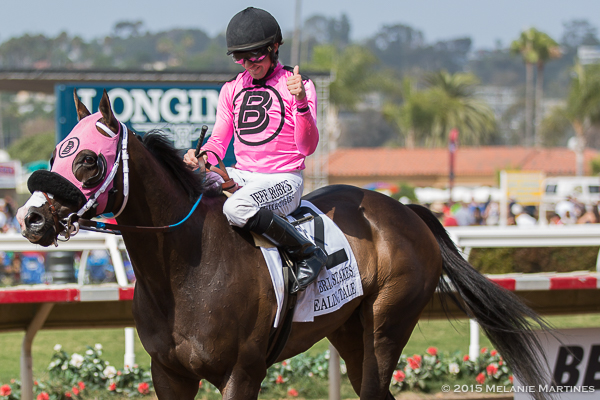 Peter Miller on Appealing Tale, " He's a fighter this horse, he loves a good dogfight."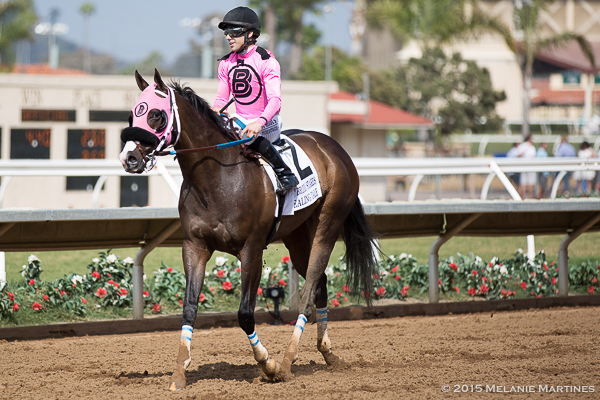 In Race 8, the Del Mar Handicap, #4
Big John B
patiently trailed the slow pace with #5 Little Jerry leading the pack. On the top of the lane, Big John B started to make his sweeping move in the final turn and powered past the others.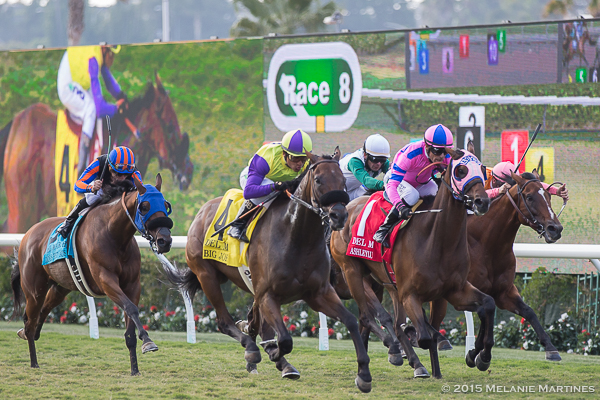 Jockey Rafael Bejarano on winner Big John B, " I knew he was going slow, but thats OK. My horse had only one pace, one way to go, and I can't change it. It all came the right way. When we hit the three-eighths pole I asked him to go, and he really put it in. He has a great kick."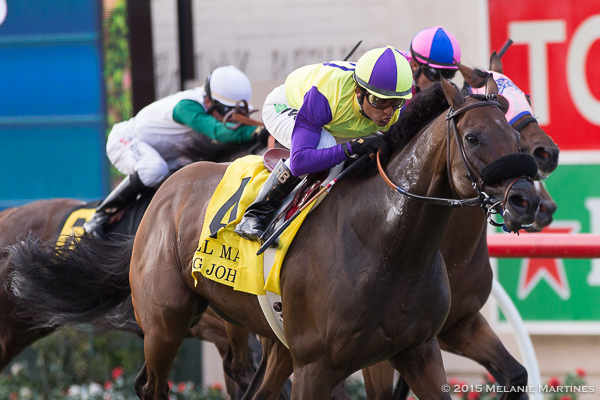 "He's a powerhouse. He runs so well and he ran well today."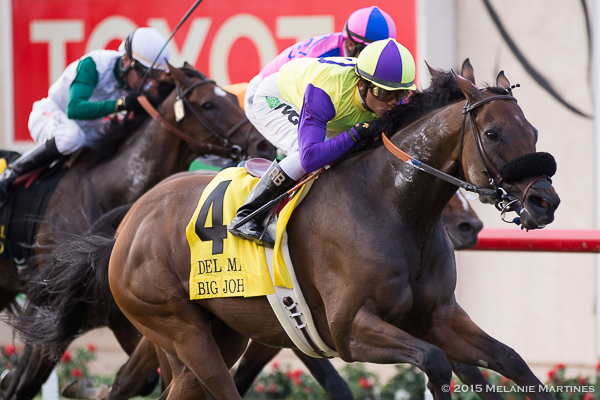 I always get a thrill watching a closer come from way back.  It just seems like the other horses are standing still.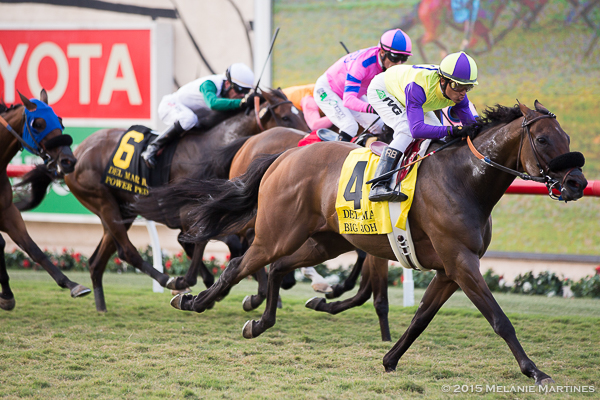 Del Mar Handicap is a Breeders' Cup Win and You're in challenge race, and Big John B earned himself a spot in the Longines (gr. IT) Breeders' Cup Turf. He was the second betting choice at 2-1. Ashleyluvssugar came in second with Ganesh coming in third. 
Race 9 was the 25th Running of the $1 Million TVG Pacific Classic. The much anticipated race with a field of 10 horses. Four other females have attempted to take on the boys, but with no success. In 1992, Paseana finished 5th. Will Beholder make history? That was the question inquiring minds wanted to know. It was very busy in the paddock area as the crowd gathered to get a closer glimpse of the field. 
While in the Paddock area before the race, #9 Beholder was very quiet. As you see in my photo, she is in the right corner staring at the wall. She did that for some time. Maybe some quiet time to meditate and come up with a plan to take her male rivals down?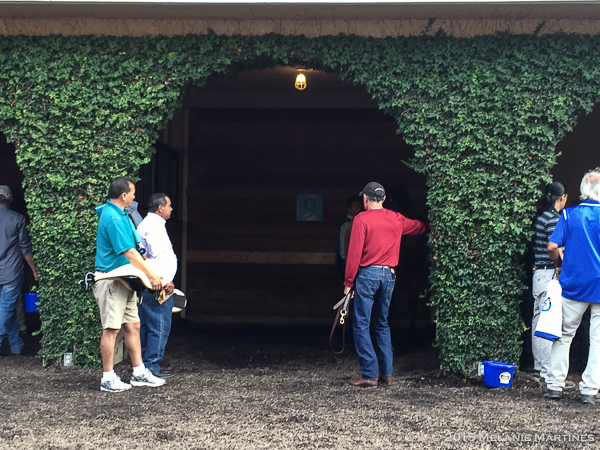 When it was time to put the saddle on, she looked ready and confident.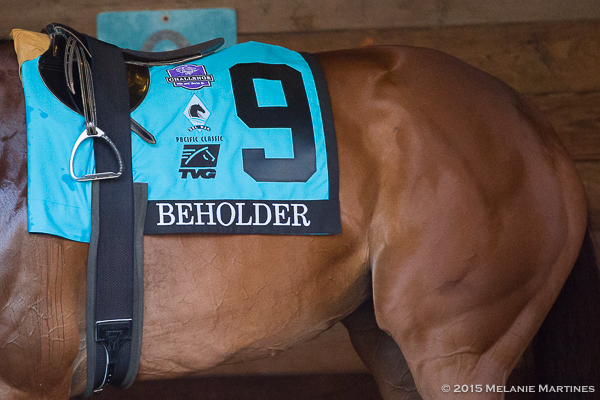 #5
Red Vine
was also looking good. I liked the way they looked so much,  I boxed the 5,7,9 and hit the Trifecta!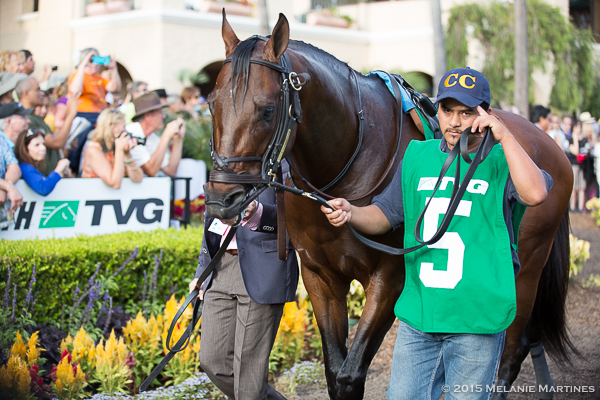 #9 Beholder looks like she was ready to kick some butt!
I've taken photos of Hopportunity in the past, and I've always noticed that he has really sad eyes.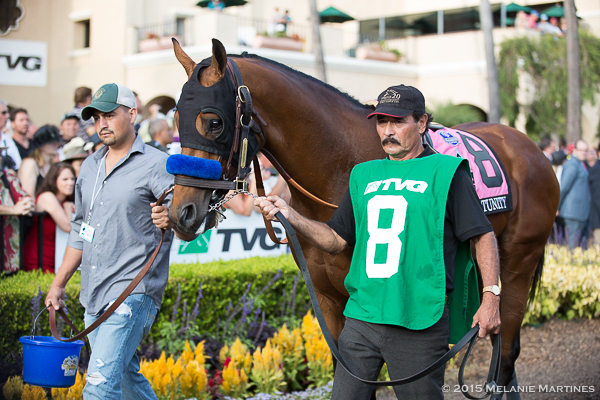 There's so many more photos I'd like to share with you, but if you'd like to see more photos of the rest of the field in the post parade I'll have it up on my website soon. Now on to the racing photos!
Race fans waiting to see horses in the post parade.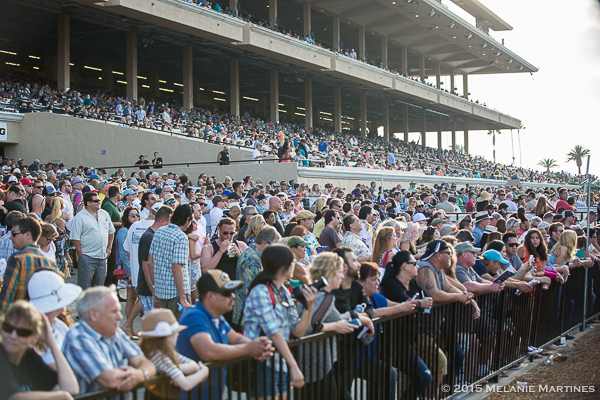 #3 Bayern leading the field in the
Pacific Classic
passing the grandstand for the first time.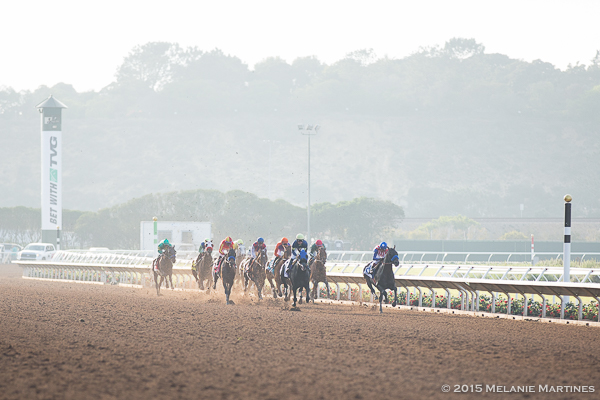 #3 Bayern and #10 Midnight Storm set the pace.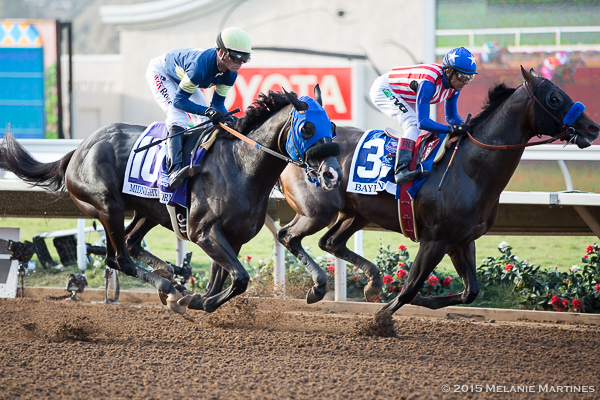 A view of what the boys soon will be looking at once Beholder kicks it into overdrive.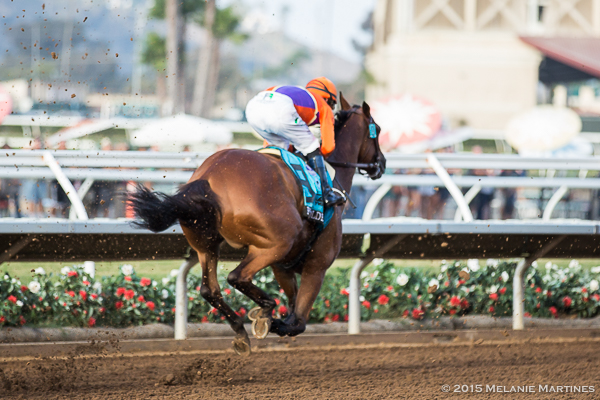 Jockey Gary Stevens on winner Beholder, " The funny thing was (about her move on the far turn), is that I didn't do that. She did. You would see her ears straight up. She was just going so easy. We went by Bayern like he was tired. Then when we straightened away I pushed the button and she went on with it. I've never felt anything like that on a racetrack before, and I don't think she is done yet. She's got a few more in her.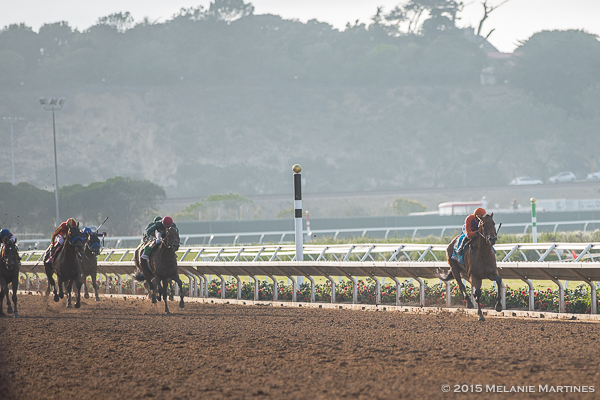 Cantering home and making the victory look so easy, Beholder becomes the first female to win the Pacific Classic etching her name in history winning by 8 1/4 lengths!  Not once did Stevens give Beholder a single crack of the whip.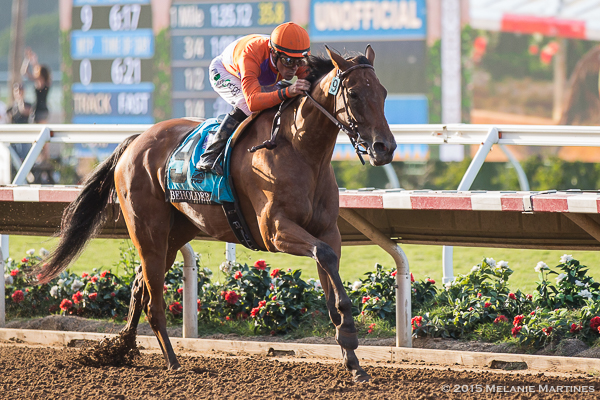 The Pacific Classic is another Win and You're in Challenge race, and she now earns a spot in the $5 million Grade 1 Breeders' Cup Classic. Headed for the wire in a hand ride, Stevens gives Beholder a pet on the neck. 
Beholder also earned a spot in the Breeders' Cup Grade 1 Distaff after her victorious win in the Clement L. Hirsch Stakes last month. No decision has been made on what race Mandella will run her in.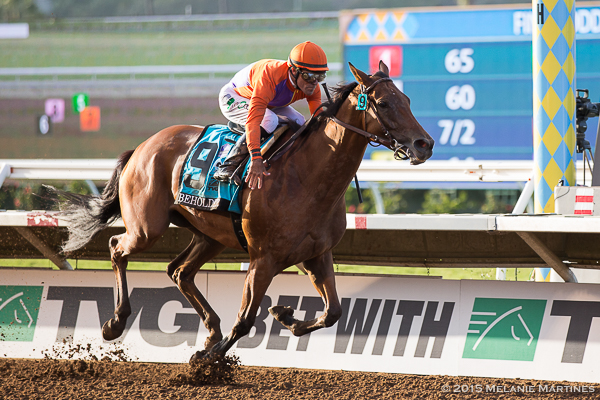 Looking brilliant as ever.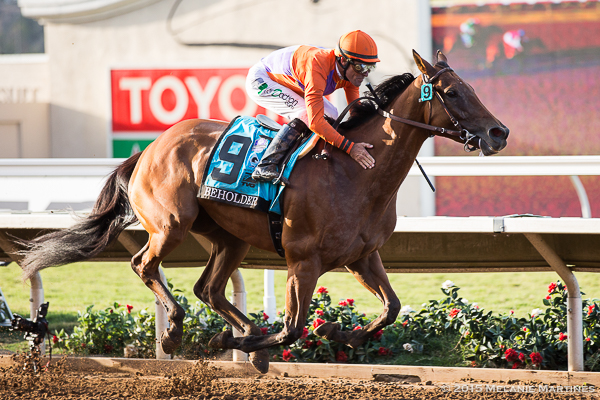 Owner B. Wayne Hughes on Beholder's win, "I've never had that feeling before. I think it's what you call pride."  Beholder is the 5-year-old daughter of Henry Hughes and this was his first progeny to win at over 9 furlongs. 
Trainer Richard Mandella on winner, Beholder, "Ive never felt emotion over a race quite like this. When she made that move, it took my breath away. I'm flabbergasted. I expected her to run well or I wouldn't have put her in this race. I didn't think she'd beat these colts up like that.
"She's just a little tough to handle sometimes and gets herself into trouble. It's aggression. When she's tough, she's really tough. When she's sweet she is really sweet - most of the time. Says her trainer.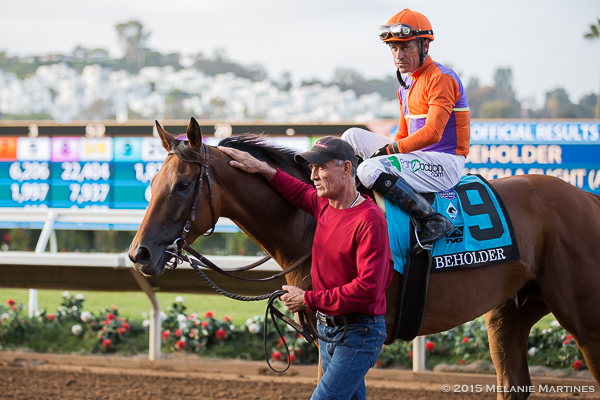 Since the inception of the Pacific Classic in 1991, Beholder's winning margin was the second-largest behind Game On Dude's 8 1/2-length win two years ago. She was given a Beyer speed figure of 114, the highest number this year bypassing Honor Code's 113 speed figure.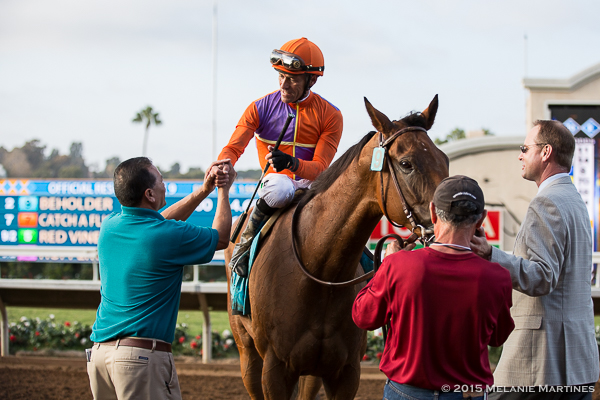 Living in a male dominated sport can be tough, but when you know you're good, you feel it and you fit the part. Beholder had all the right moves. She was confident and patient, and when it was time to make some noise she ran passed her male rivals taking them down one at a time until they were literally left in the dust. She's at the top of her game right now, and at a level that puts her in a league of her own.
After a hard day at work for Beholder and crew, I captured a candid moment of the crew heading back to the barn. A perfect ending to a very memorable day!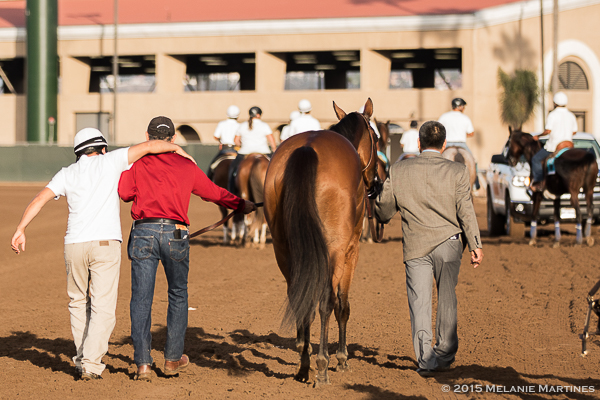 We woke up on Sunday morning at 6:30am, ready to hit the track. Our Triple Crown winner
American Pharoah
, was scheduled for an important workout at 7:50am with regular workmate Martin Garcia onboard. Along with 1,200 race fans, we patiently waited for his appearance. He looked amazing on the track and I was fortunate to get several photos of him as he ran by the grand stand. It was also nice to see his pony horse Smokey (who I might add looked ravishing) right beside him.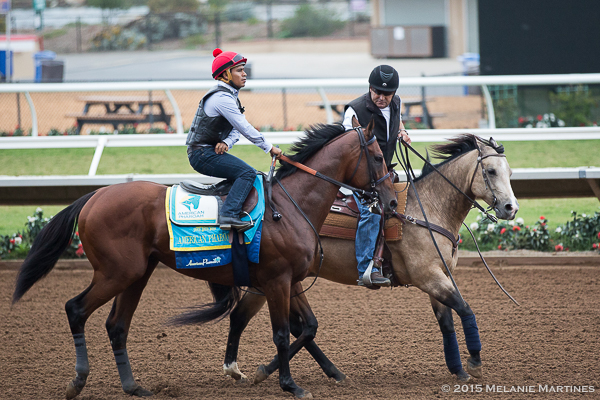 He looked amazing! Look at those muscles!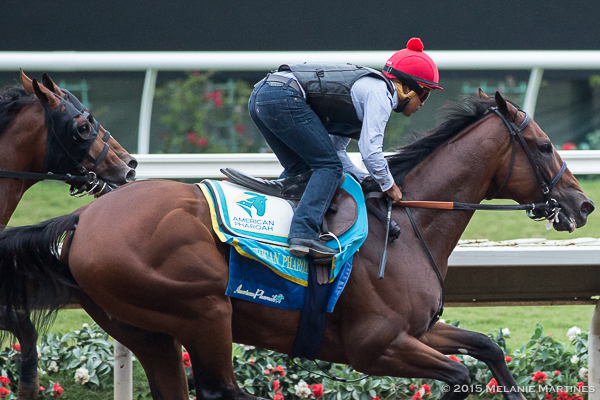 After American Pharoah's workout, we grabbed a quick bite to eat at the track, and I couldn't help but notice a gal with this huge hat on. Her name is Lori Shelton and she was in the hat contest on Opening Day at Del Mar. Her hat entry came in 2nd place in the Horse Racing category. It was decorated in a Triple Crown theme. Very happy to see racing fans get so creative!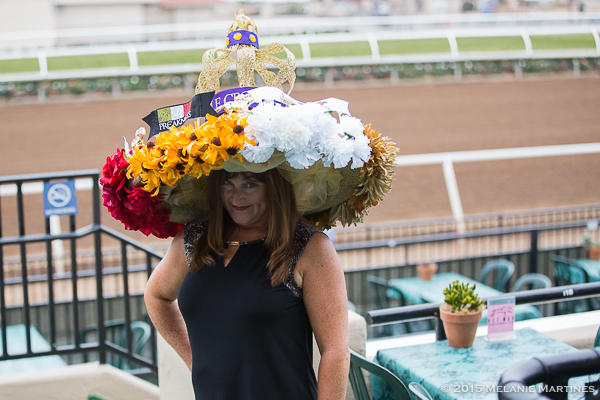 After our breakfast, we headed out to American Pharoah's barn. We were about to visit him, and as soon it was our turn, Bob Baffert's Assistant trainer Jimmy Barnes said there were no more visitors. So that about ruined my morning! Got a couple of snap shots at the barn.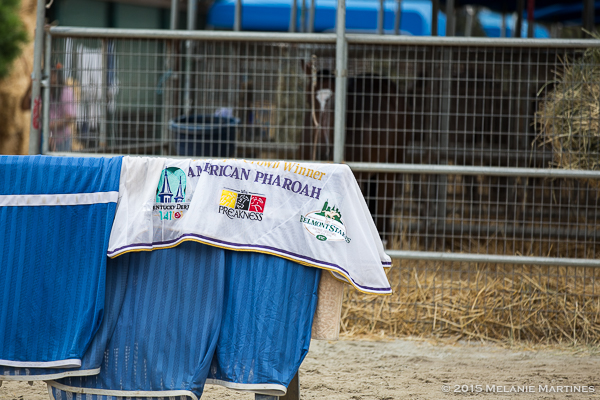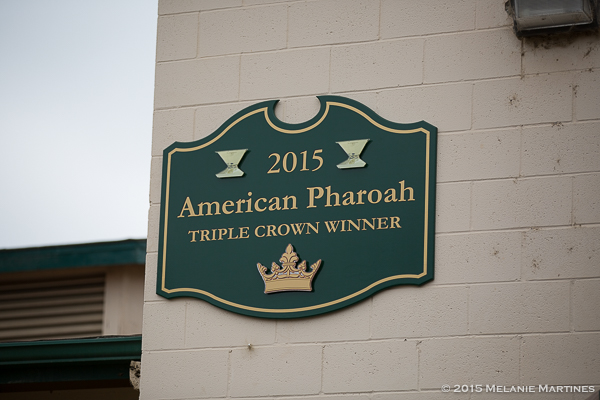 On Sunday, Race 8 was the final graded stakes action. It was the 29th Running of the Del Mar Mile Handicap. Field of 10, since Obviously was scratched from the race. 
Here is the field running by for the first time.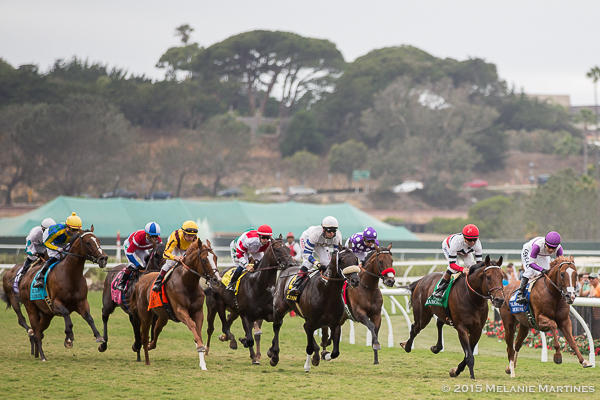 Field now heading for home in the Del Mar Mile.
Coming off a layoff of almost 7 months, #10
Avanzare
and winning jockey Gary Stevens made a big sweeping turn for home going five wide and out lasting a dual from  #2 Talco who just couldn't hold on. Such an exciting weekend for hall-of-fame jockey Gary Steven who had won the Pacific Classic aboard Beholder just a day before. 
Gary Steven's on winner Avanzare, " It was a good run for him. I had to give up some ground to keep him in a good spot, but he's big, strong horse and he got it done today. I think he's a Breeders' Cup horse."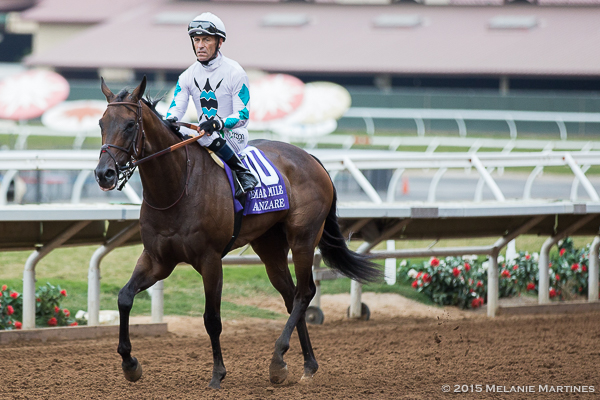 Del Mar Mile winner Avanzare is owned by Donato Lanni and John Youngblood. He returned $15.50, Talco paid $3.20 for second,  and Di Giorgio returned $10.60 to show.
I found out later very sad news about #1 Pure Tactics. During the race nearing the second turn, he  had taken a bad step and fractured a sesamoid in his left hind leg, and had to be euthanized. Here are a few photos of him prior to the race. 
He had perviously won the Wickerr Stakes on July 22.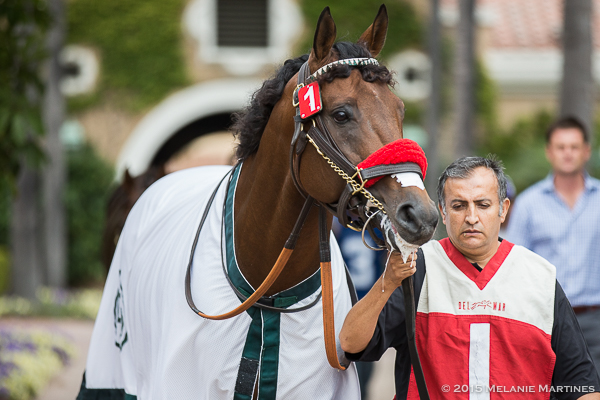 RIP Big Boy, you were a beauty.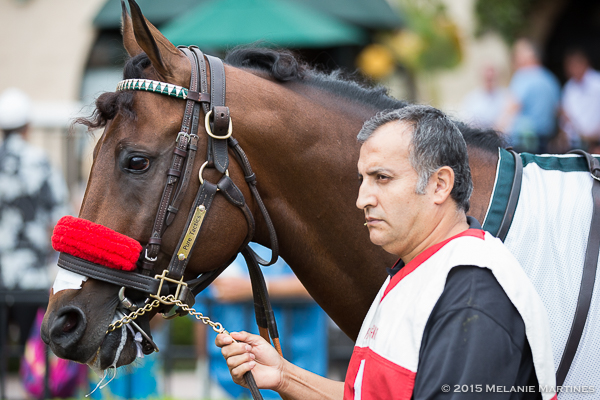 It was an incredible weekend at Del Mar. 
I 
witnessed  history in the Pacific Classic with a female in the winner's circle for the very first time! It was an amazing sight to see through my camera lens, and I was just thrilled to be there and share the weekend with my family. A Champion Mare and our Triple Crown Winner, American Pharoah all in one weekend? Boy did I feel lucky!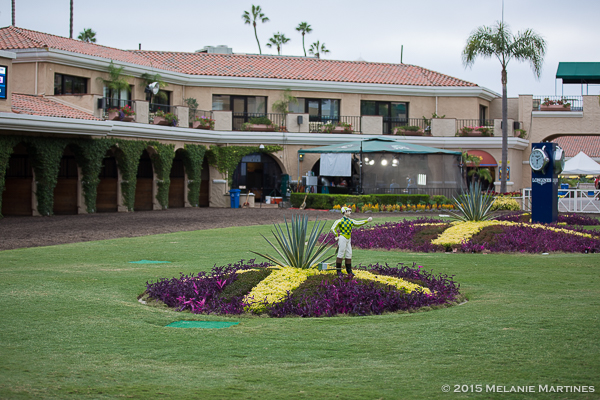 I hope you enjoyed my photos and until we meet again, See you soon, Del Mar!