It's always so wonderful to be back at Del Mar Racetrack! The subtle reminder that Breeders' Cup is on its' way surrounds me throughout the track and town, with gently whispers of "The Best Is Yet To Come… The Best Is Yet To Come"…  As I walked around the track, with the blue skies shining brightly upon me, the ambiance of this place is magical. It never fails to lift my soul and feed energy to my core. To put it simply, I would never downplay my obsession for Del Mar.
So cheers a magnificent weekend, as I share with you how it's Cool As Ever --- to be where the turf meets the surf!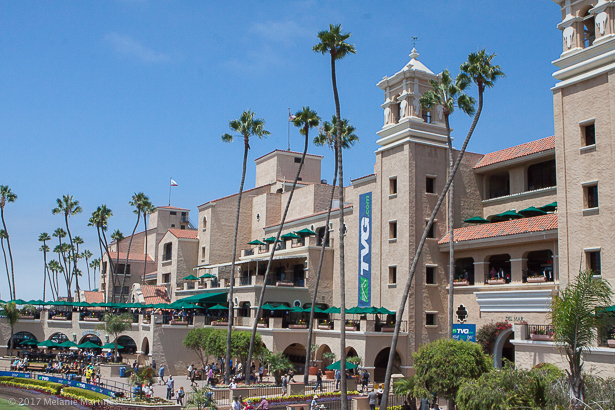 First Stop... lunch at the Veranda Cafe! If you have not been here you need to head over to the second floor Club House for this perfect view of the Paddock Area while you are sipping a nice cold drink!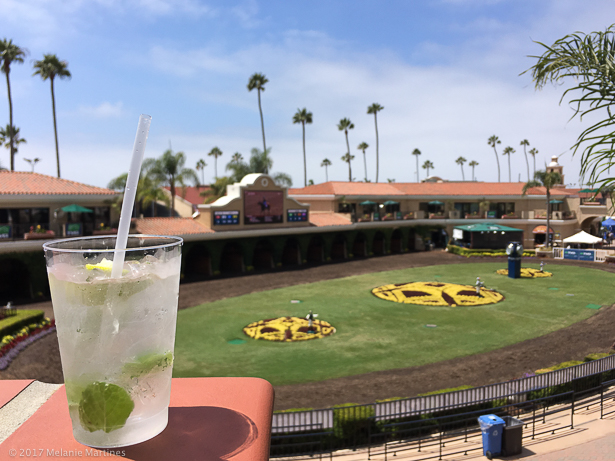 And great food!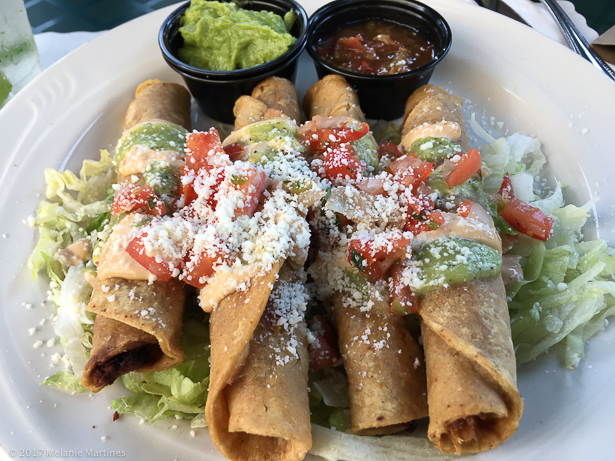 Saturday was a glorious day as racing fans came out to experience the most exciting day of Summer racing. It's Pacific Classic Day!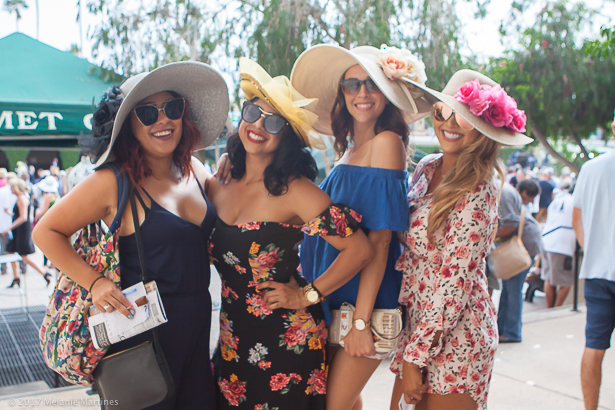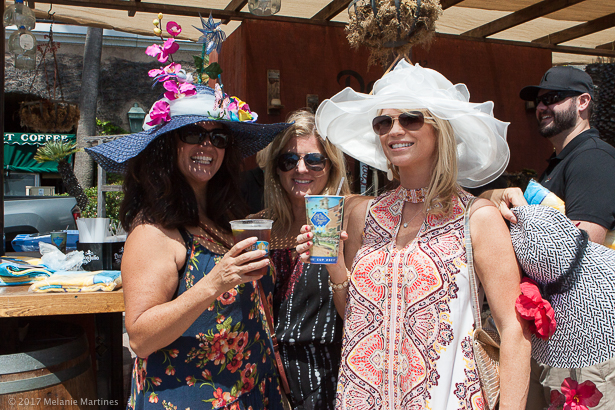 This large group was celebrating Ryan's birthday. What better way to spend your birthday, than at a race track! Shout out to Ryan, Happy Birthday!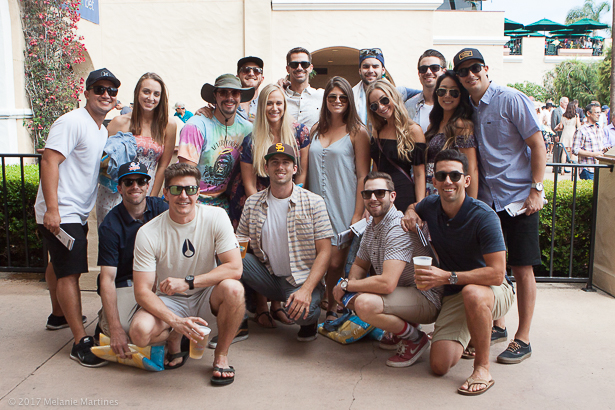 Many were also hoping to catch a glimpse of that beautiful gray horse we all love. The day highlighted the return of Arrogate, as well as a rematch with the horse that beat him convincingly last month in the San Diego Handicap, Accelerate. Would Arrogate be back to his winning ways? Would Accelerate beat Arrogate for the 3rd time? Was Arrogate done? So many questions to be answered in such little time with the Breeders' Cup less than 3 months away. First graded stakes race of the day was the 78th Running of the Del Mar Handicap! A "Win and You're In" for the Breeders' Cup Turf Division. It was a huge field on the turf!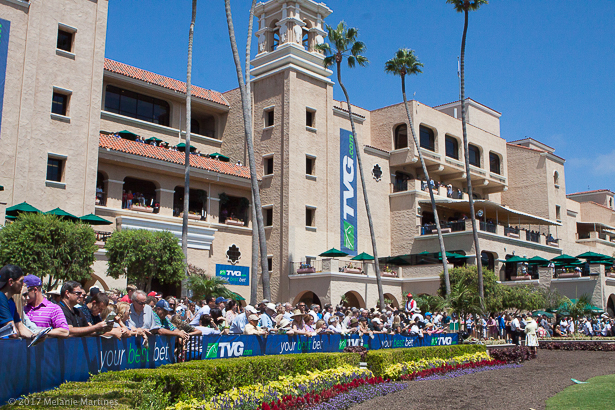 Here a few of my favorite shots from the Del Mar Handicap:
This horse definitely fits in the "Cute Nose Alert" category! This is 5-year-old, Editore.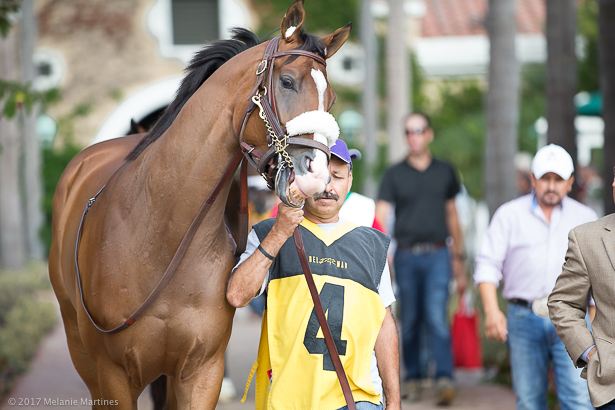 Here is #5, Itsinthepost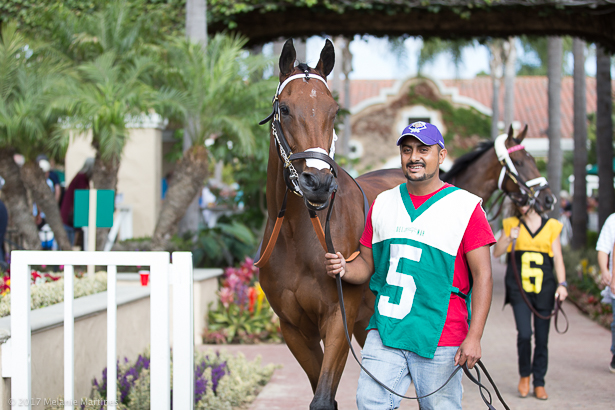 One of my favorites, 6-year-old Flamboyant!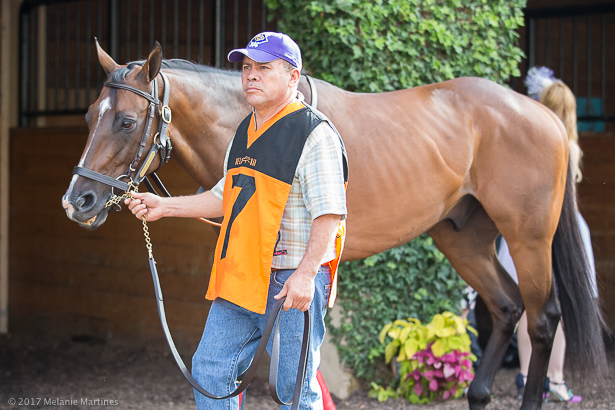 Here's Ashleyluvssugar!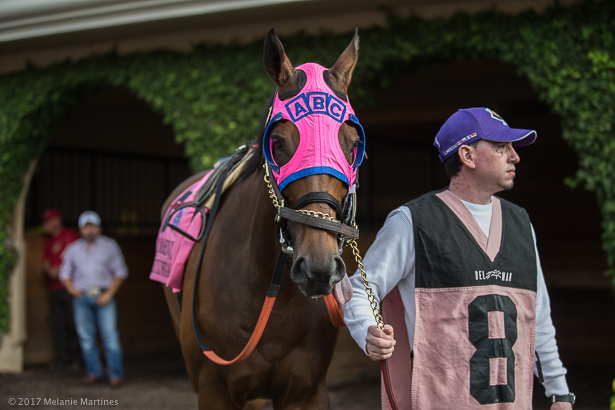 The Del Mar Handicap field running by me for the first time.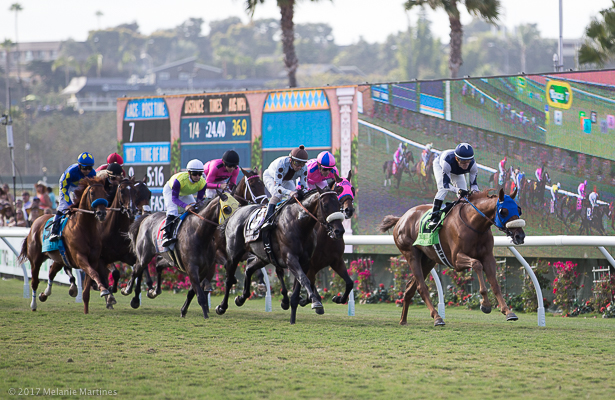 Hunt running by Itsinthepost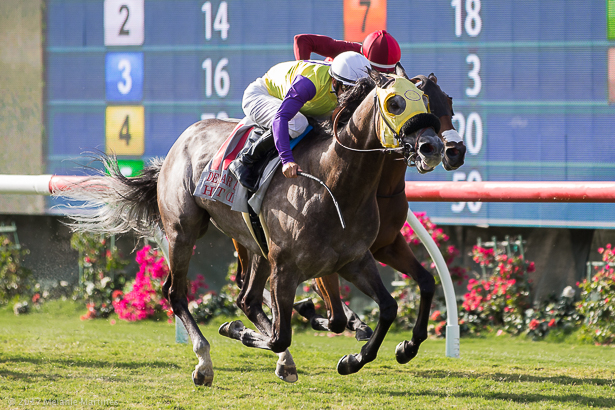 Hunt and Jockey Flavien Prat victorious in the Del Mar Handicap!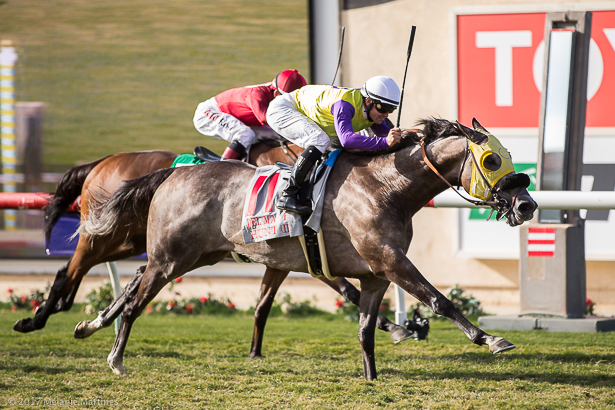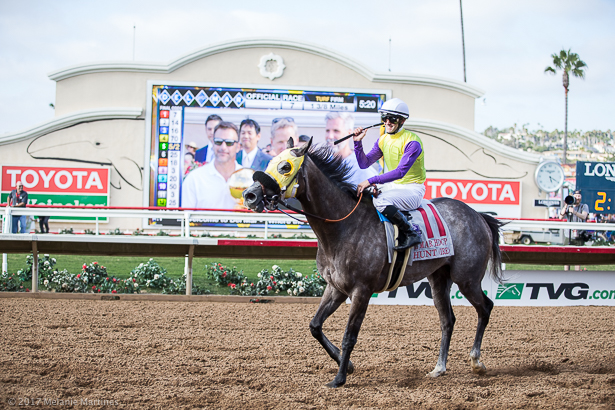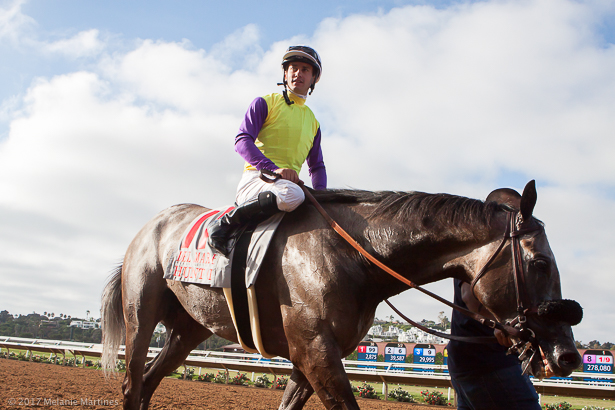 After The Finish Line had their annual Pacific Classic Fundraiser event in the Club House Lobby. They raised nearly $11,000! They are a non-profit organization that provides monthly grants to off track Thoroughbreds at aftercare organizations across the United States.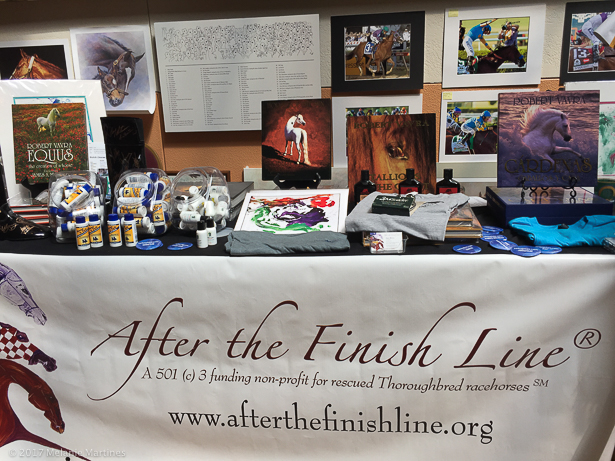 Race 8 was the featured race, the 27th Running of the $1 Million TVG Pacific Classic! A " Win and You're In" for the Breeders' Cup Classic. Here are photos from the paddock area prior to the race. 
This is #1 Royal Albert Hall.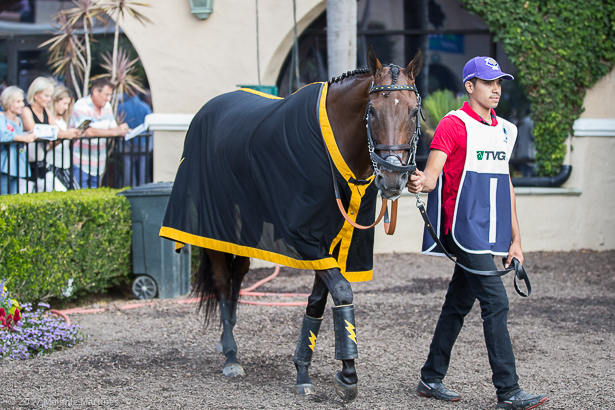 #2 Collected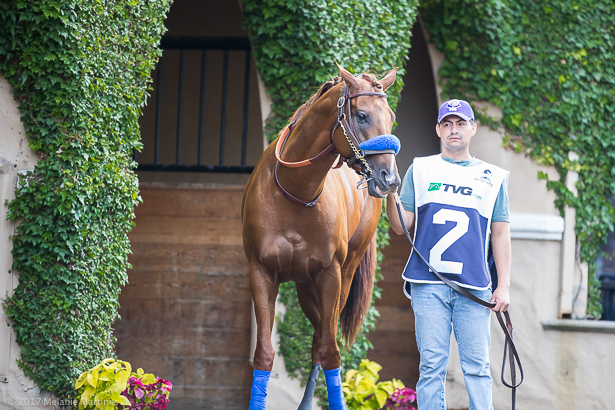 #3 Accelerate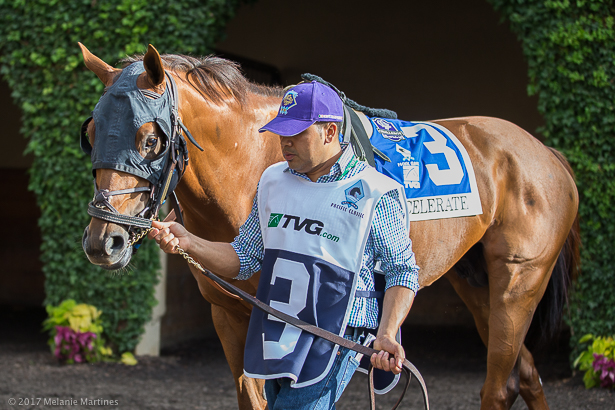 #5 Hard Aces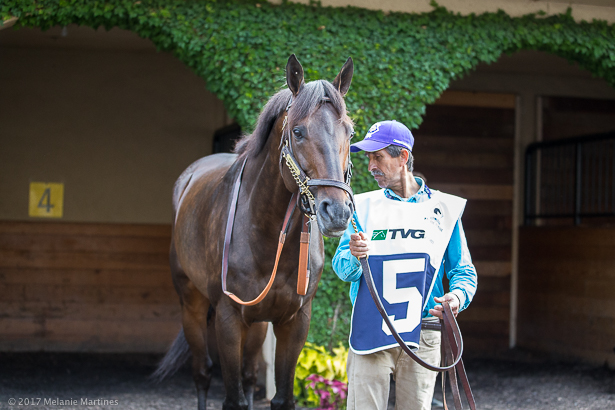 #6 Donworth (I just love his mane).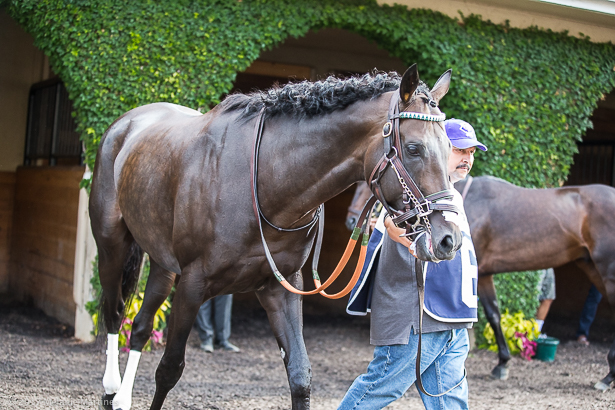 I wasn't able to get a good shot of Curlin Road in the paddock, so here is a photo of him in the post parade.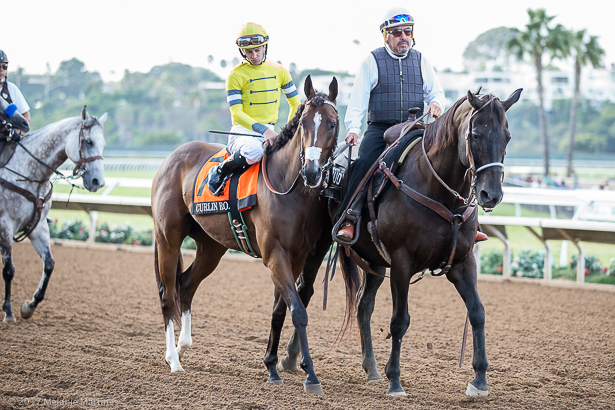 #8 Arrogate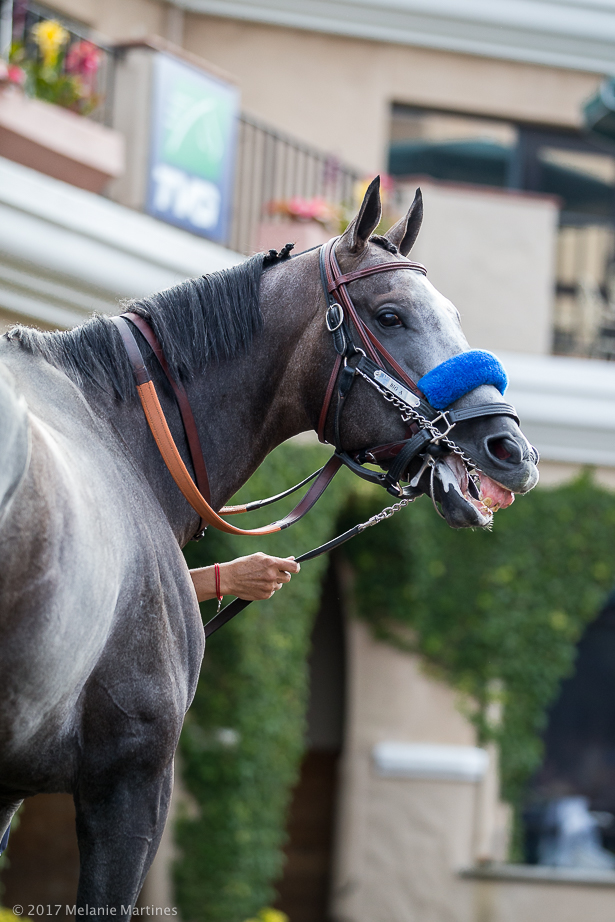 The Pacific Classic field running by me for the first time.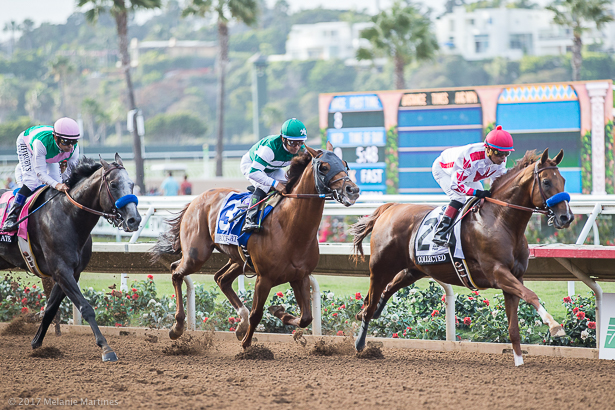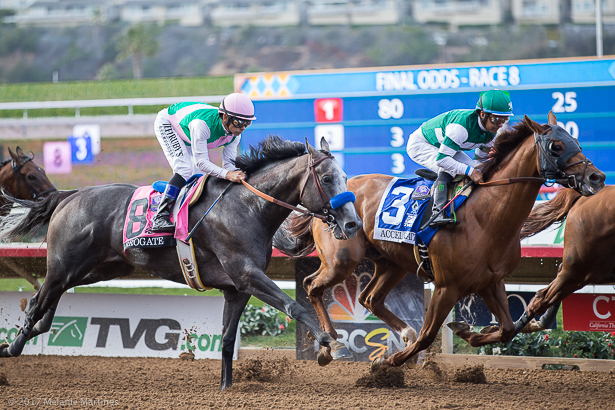 In the stretch heading to the wire Collected is still in the lead.
Collected cruises home.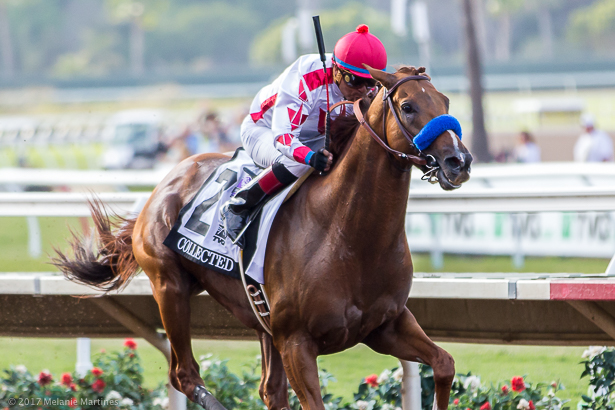 Jockey Martin Garcia, "I could feel Mike's horse (Arrogate) coming. It was like an animal creeping up behind me. But we had enough to get it done."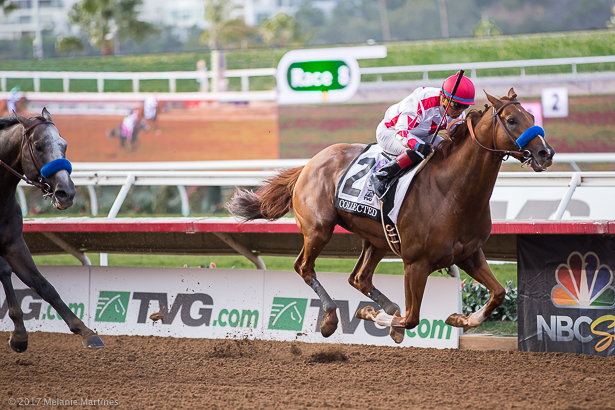 Speedway Stable's, Collected earns a free ticket to the Breeders' Cup Classic! #WinAndYoureIn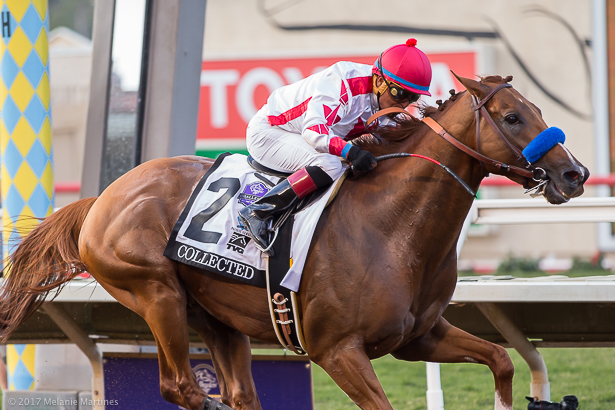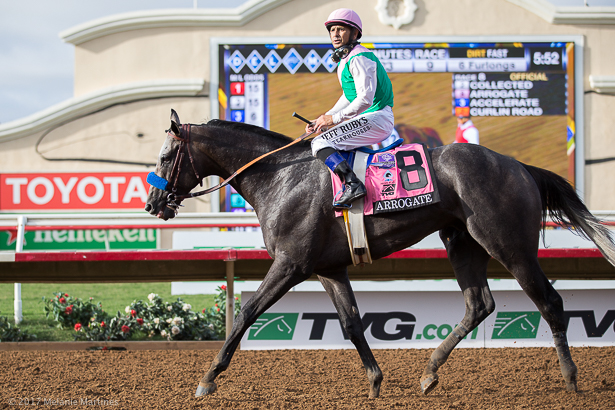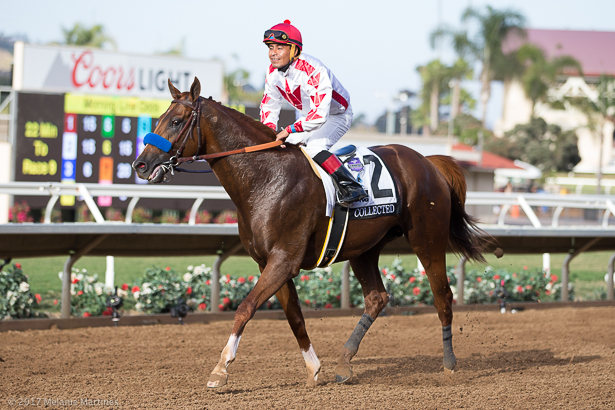 A very happy Martin Garcia!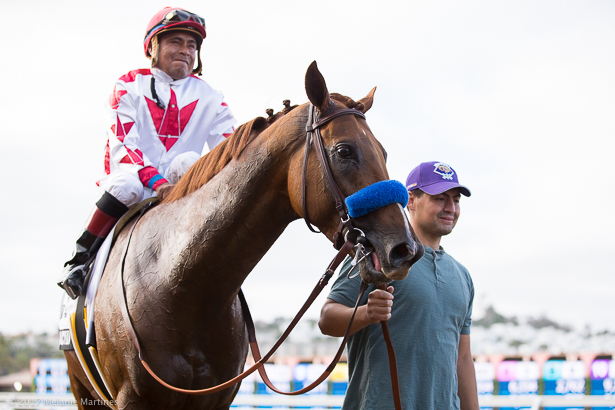 Cheers to a fabulous Pacific Classic!
Race 10 was the 61st Running of the Del Mar Oaks. Another large field on the turf.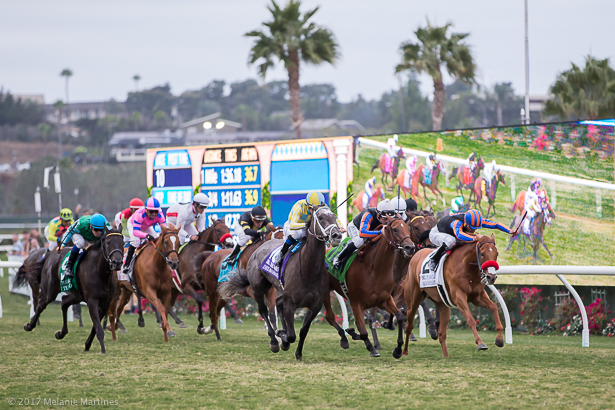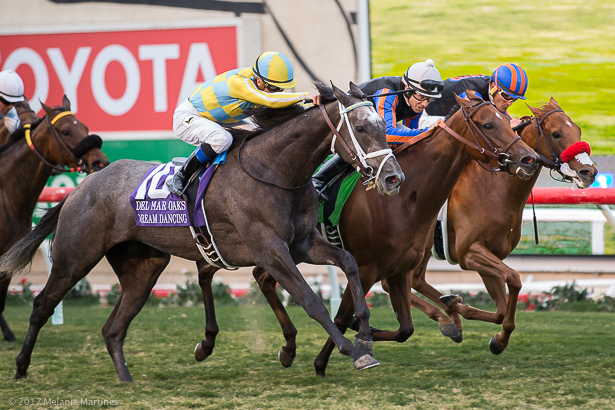 What a close race this was!  Photo for the win!  #10 Dream Dancing from the Mark Casse Barn wins the Del Mar Oaks!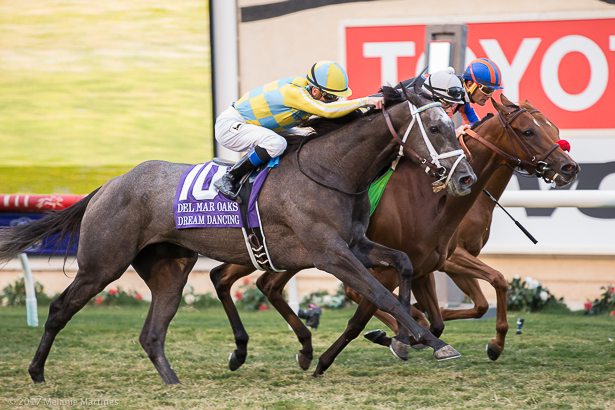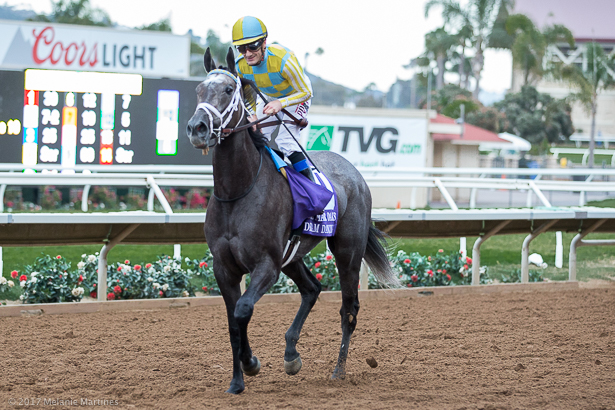 Dream Dancer is a daughter of Tapit!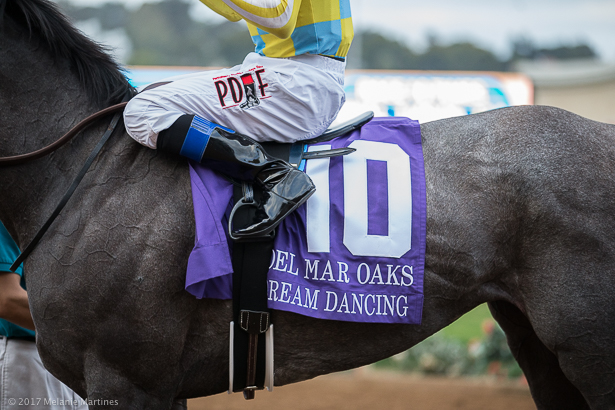 Julien Leparoux's only mount for the day was a success! Dream Dancing paid a whopping $15.20 for the win!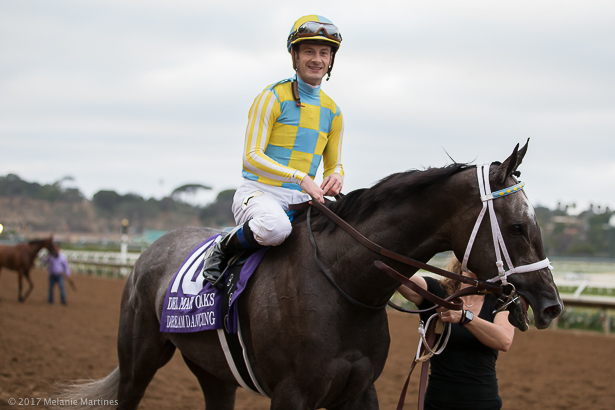 Race 8 on Sunday was the 31st Running of the Del Mar Mile with an excellent field of 6. It was Blackjackcat with hall-a-fame jockey Kent Desormeaux onboard that held off the late challenge of Vyjack for a well-deserved victory! Om finished 3rd.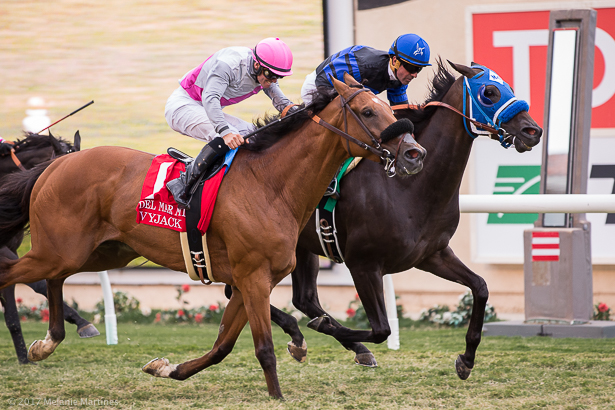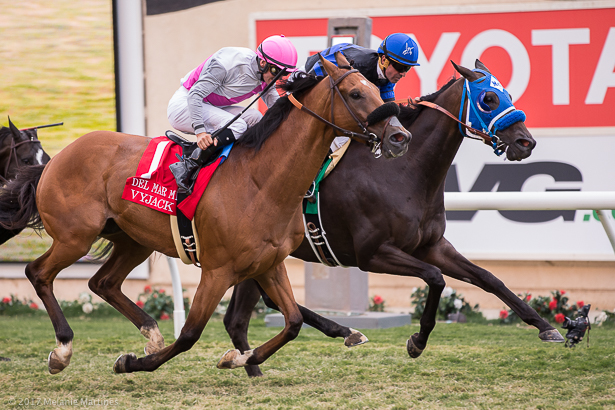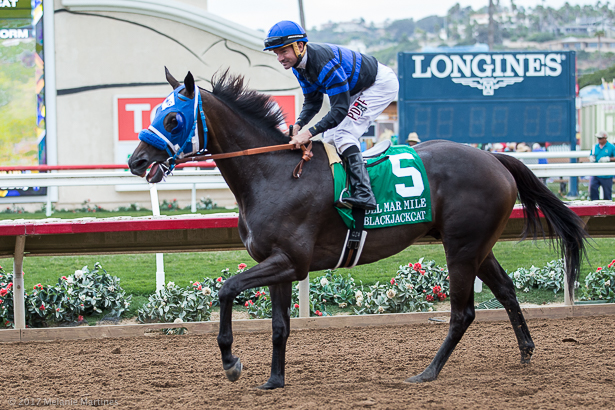 Race 9 was a Maiden Special Weight for 2-year-olds. Triple Crown Winner, American Pharoah's full brother St. Patrick's Day was in this race. A Bob Baffert trainee, this was his debut. Here is in the Paddock Area.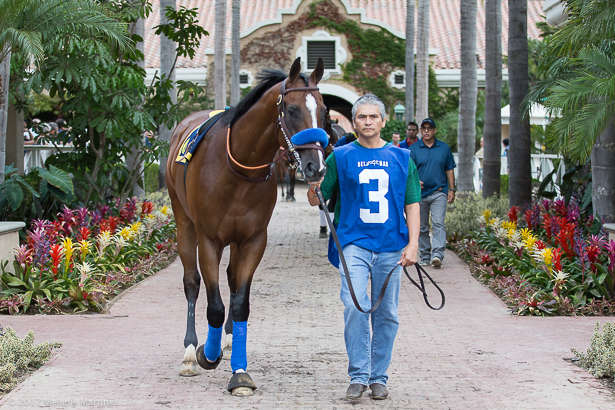 Zayat Stable's Zatter another one of Bob Baffert's trainees.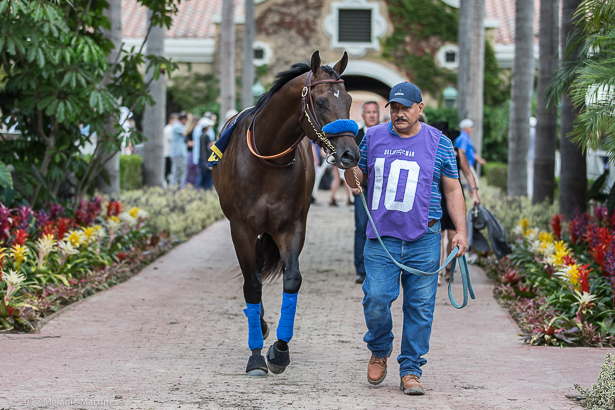 Haulin' Freight was wanting to fly.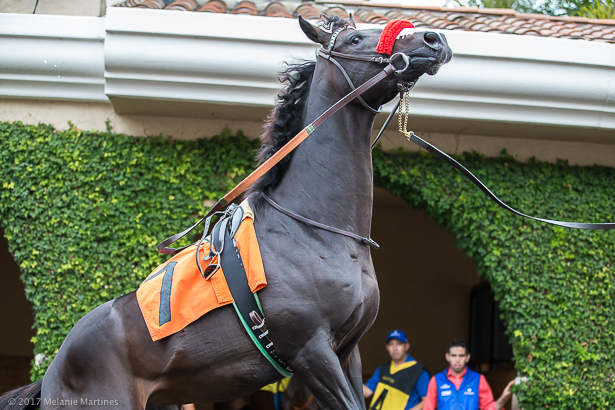 St. Patrick's Day went up inside to duel for the lead, he fought back into the turn and into the stretch, but could not match Zatter in the final furlong.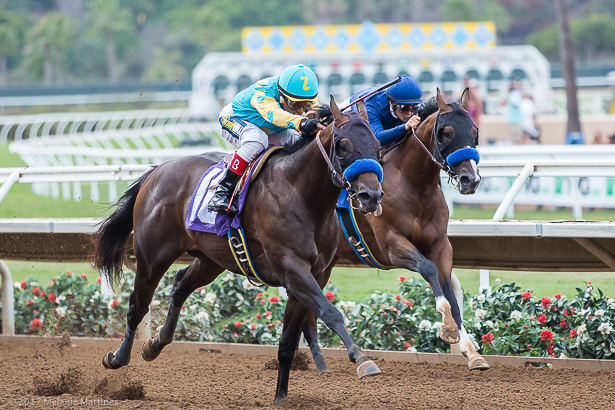 Here is Zatter winning his debut. Looking forward to seeing what's in-store for both of these exceptional 2-year-olds! 
Well that my friends, was my weekend! What another incredible weekend of racing. Hope you enjoyed my photos and looking forward to returning back to Del Mar in November for the Breeders' Cup Classic! See you at the track!  
~Melanie