Brothers Jose and Irad Ortiz dominated the North American jockey colony in 2017, as Irad's 317 victories led all riders, and he posted a winning percentage of 21% from a total of 1,493 mounts. For his part, Jose topped the standings for money earned at $27,318,875 from 1,408 rides.
That money figure is just shy of Javier Castellano's earnings record for a single year that he set in 2015, keeping in mind that Jose missed three weeks at the end of 2017 when he had minor knee surgery. Jose is a finalist and the favorite to win the Eclipse Award for Top Jockey, which would end Castellano's four-year domination of that category.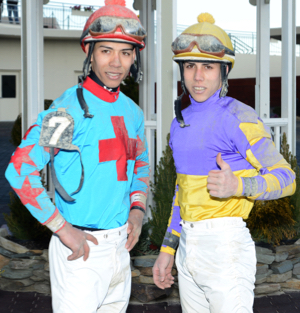 The brothers' amazing year also included a one-two finish in the most prestigious meeting of the year at Saratoga, where Jose topped Irad by five winners, 58 to 53.
At the 2016 Aqueduct Fall/Winter meeting, Jose and Irad finished one-two in the standings, but when the calendar turned to 2017, Jose departed for Florida while Irad remained in New York, braving the unpredictable cold weather.
There, Irad went on to win the 2017 Winter Meeting with totals of 213: 58-51-39 (29%) while at last year's Championship Meeting at Gulfstream Park, Jose had a record of 192: 43-43-28 (22% win rate) as he split time between New York and Gulfstream.
It looked like the same would happen in 2018. Jose was set to go to Florida again once he was ready to ride after his surgery. However, the recent frigid weather in New York caused a rash of canceled racing at Aqueduct, and Irad suddenly decided to move his tack to Florida.
@iradortiz @IradOrtizJrFans will ride Sharp Azteca in the @PegasusWorldCup one of @LooochRacing spots.

— Jorge Navarro (@JorgeNavarroRS) January 9, 2018
In short order, the Ortiz brothers have shaken up the jockey colony at Gulfstream Park. Their agents have had no trouble securing quality mounts, and even though Jose had a head start on Irad, both are winning races at a remarkable clip. Jose has 13 winners from 60 mounts (22%), while Irad is winning at a 30% clip with 9 victories from 30 starts.
Last Sunday, for example, Irad and Jose won two races apiece. And in an interesting sequence of two consecutive races, the brothers finished finished first and second. For them, it does not matter the type of race or for whom they are riding; they go all out to win, all of the time.
On that day, Race 6 was a Maiden Special Weight event on the turf. Irad was riding for Bill Mott on No. 1, Pounds to Pennies, who had piled up three straight second-place finishes and was the 2-1 morning line favorite. Jose was up on a well-bred first-time starter, No. 2 Competitivebalance, for his top trainer, Chad Brown. Enjoy this replay as Irad's horse runs down Jose's after a fearlessly brilliant ride. 
In race 7, the Brothers went head to head again, this time in a non-winners of three lifetime $6,250 claimer. Irad's horse, No. 3 Whoop Ti Do, was 3-1 on the morning line with a 2-for-19 record. Jose was on No. 10 Cotton Colors at morning line odds of 7-2; this 5-year-old had won only twice in 29 tries. Watch as their two horses leave the rest of the field far behind. You would never know that the purse in this race was only $18,000.
Jose and Irad both entered this big Gulfstream meeting late, giving a big advantage to Luis Saez, the winner of last year's Championship Meeting title. Saez already has 42 victories, but the meeting runs until April 1. With Castellano and John Velazquez both choosing to ride less by being more selective in the mounts that they take, I still see the Ortiz brothers as serious threats to run down Saez. Don't be surprised if, like other meets and many races, it's a one-two Ortiz finish.