Our analysis of the winning Kentucky Derby running style was spot on when we saw that the Derby was not a race for front-runners, but was instead, a race that favored horses coming off the pace. That is exactly what happened at Churchill Downs when
Orb
 swept past the field from 20 lengths behind.
What kind of running style has been best in the
Preakness
, with its much smaller field that fits into one starting gate? Clearly horses do not fall as far behind and jockeys do not have to worry much about bad trips caused by a less than clean break from the gate, or traffic from tired horses.
Again looking at the running line of the Preakness winners, since the year 2000, reveals that only one horse has won the second leg of the Triple Crown on the lead, from gate to wire and that was the 2009 Horse of the Year,
Rachel Alexandra
. Shackleford and War Emblem won this race by very closely prompting and pushing the early pace setter.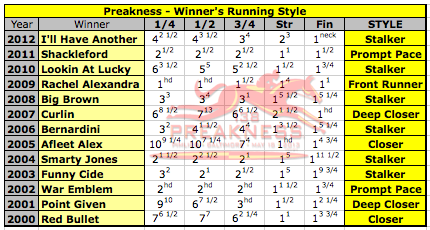 In the Preakness, the most successful running style is that of the stalker. Six of the past 13 winners came from a handful of lengths behind to gain their victory. Five of them had taken control of the race at the stretch call. Last year I'll Have Another came from just a few lengths off the pace to win by a neck near the wire.
Curlin and Point Given were the only deep closers. While Red Bullet and Afleet Alex had the running style of a closer, both were far behind but not more than 10 lengths.
As much as people like to say that the Preakness is a race for early speed, it simply is not true. When you are handicapping this year's Preakness, think about the potential front-runners who are unlikely to win the race. In that category I see: Oxbow, Goldencents, Itsmyluckyday, Govenor Charlie, and Titletown Five.
Try and identify which horses are going to be best suited to sit behind the pace and rally to victory. The horses with the ideal running styles are: Will Take Charge, Departing, Mylute, and Orb.
The most versatile horse in the field is Orb. We know that the Derby winner can be a deep closer, but Orb also won the Florida Derby from only four lengths behind. He has too much talent and experience and he knows how to get to the finish line first. My pick is for Orb to win in Baltimore, and bring the racing world to New York, in quest of the elusive
Triple Crown
.