The 2017 Kentucky Derby prep races are complete, yes all 35 of them, which began in September 2016, when Not This Time won the Iroquois and ended on Saturday when the Two-Year-Old Champion Classic Empire had a winning return in the Arkansas Derby.
                      Bet the Kentucky Derby with NYRA Bets!
Over the next couple weeks there will no doubt be some defections from the field, but there is no reason to waste time. Here is my first analysis of the field for the 143rd running of the Kentucky Derby. For me, handicapping the Derby focuses on running style. It is important to remember that is most difficult to win the Run for the Roses on the front end, in recent history only War Emblem has done it. The past three years the winners have been stalkers who kept the pacesetters in close view knowing that the ten furlongs would be too much for them. However, since the year 2000, closers and deep closers have won the Derby far more often than any other style.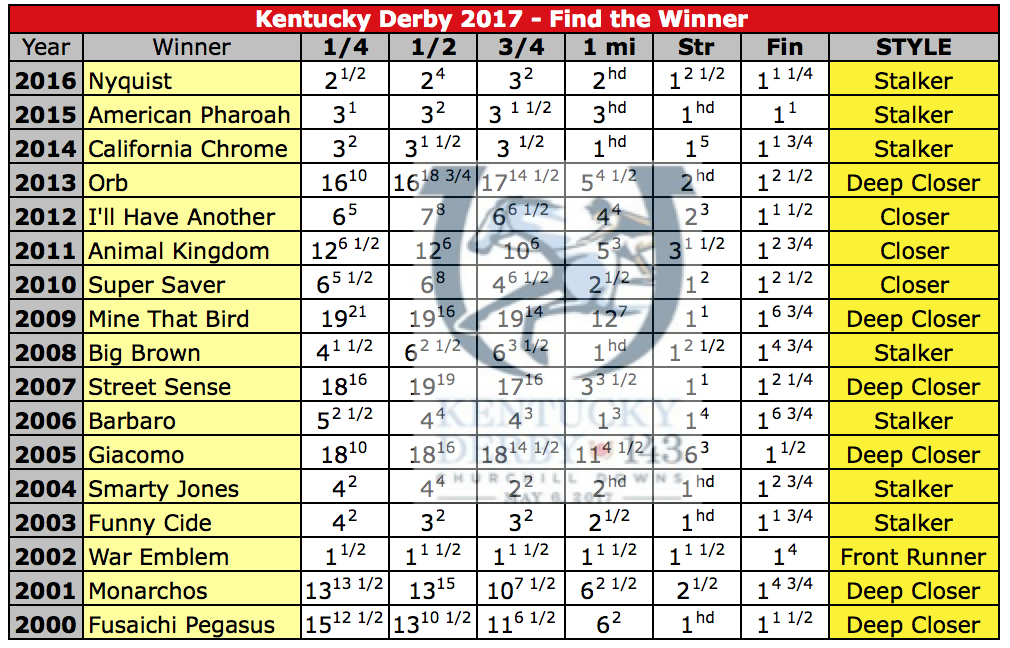 In this first run through I will not pick a definitive winner for the Derby, but will identify contenders to win the race or be part of the trifecta. At the same time noting horses that don't have a chance. As many of you know in recent years my Derby wagering has focused on the trifecta. The horses are listed in order based on their qualifying point total.
1) Girvin [150 points – Joe Sharp] This son of Tale of Ekati has done almost nothing wrong in his career with three wins and a second place in his four races. His two Derby Trail victories at the Fair Grounds had my preferred running style by stalking or closing on the pace. Regular jockey Brian Hernandez has opted to ride McCraken, but Mike Smith has committed to ride for Sharp. Please note that Smith's Derby record [22: 1-4-1] pales in comparison to his Breeders' Cup stats, yet I'm sure Smith's presence will impact the odds. Still, for me Girvin is a CONTENDER.
2) Classic Empire [132 points – Mark Casse] Does the Arkansas Derby victory mean that Classic Empire has put his woes behind him? It was no easy task to win that nine-furlong prep race off a 2½ month layoff. He is one of the few horses in the field that does not give me worry about the ten-furlong distance. He should only improve with that victory under his belt. Could his volatile personality become a problem with all of the Derby commotion? No doubt, but still Classic Empire is a strong CONTENDER.
3) Gormley [125 points – John Shirreffs] This son of Malibu Moon won three different Derby preps, but has had an up and down campaign in doing so. His win in the Santa Anita was against a group of horses that were staggering at the end of the nine furlongs. I have not seen a burst of speed from him down the stretch. He has three-time Derby winning jockey Victor Espinoza in the saddle. Gormley will NOT be on my tickets.
4) Irap [113 points – Doug O'Neill] Irap was no ordinary maiden when he won the Blue Grass to qualify for the Derby. The Blue Grass turned out to be a race where the main contenders did not show up and Irap dug in and held on after being part of the early pace. Everything went perfectly for him at Keeneland and that sure will not happen at Churchill Downs. I will NOT be using Irap.
5) Irish War Cry [110 points – Graham Motion] This son of Curlin redeemed himself big time in the Wood Memorial. His performance at Aqueduct while stalking the leaders was impressive and earned a very good speed figure. Rajiv Maragh did everything right in the saddle to get a coveted 100-point victory. I feel like I should be more excited about his chances in the Derby. He is a CONTENDER to be part of the trifecta, but will not help to produce a big payout.
6) Thunder Snow [100 points – Saeed bin Suroor] Team Godolphin has yet to make a decision about whether the UAE Derby winner will run in the Derby. That race has never produced a horse to impact the Run for the Roses, but this one could be the one to do so. His win in Dubai came with a powerful stretch run that would do him well at Churchill Downs. This CONTENDER will come with generous odds that make him a trifecta horse.
7) Always Dreaming [100 points – Todd Pletcher] Todd Pletcher has five horses in the Top 20 and this son of Bodemeister is the headliner and a likely short price. His three 2017 races have gotten better and better with a big victory in the Florida Derby. He is back working smartly since then. There are distance questions in the minds of many. He is certainly a CONTENDER, but one that will provide little value.
8) Gunnevera [84 points – Antonio Sano] I'll be honest his lackluster third place finish in the Florida Derby left a bad taste in my mouth. He has been alternating wins and losses and the Derby field of 20 is not an easy place to be looking for a rebound victory. No doubt he will be running at the end and passing tired horses. I do NOT like him to win, but he is a trifecta CONTENDER.
9) Practical Joke [74 points – Chad Brown] He has been a game performer down the stretch on the Derby Trail without a win, however. He is going to win some big races as the year goes on, but in the Derby I do NOT see him hitting the board.
10) J Boys Echo [63 points – Dale Romans] J Boys Echo's fourth place performance in the Blue Grass was a big disappointment. Romans' record in the Derby [7: 0-0-2] does not help me feel confident about this son of Mineshaft. He beat Cloud Computing in the Gotham, but then that one ran poorly in the Wood Memorial. He has the running style that I like, but right now I am NOT looking at him as a key horse.
11) State of Honor [62 points – Mark Casse] He has a steak of five finishes in second or third all in stakes company with the most recent being a place behind Always Dreaming in the Florida Derby. The Run for the Roses would be a very unlikely spot for this horse to make an improvement, so I will NOT be using him.
12) Conquest Mo Money [60 points – Miguel Hernandez] This New Mexico based runner is not nominated for the Triple Crown and would require a $200,000 supplemental fee to run. He was staggering down the stretch while drifting out and still managed to hold on for second in the Arkansas Derby. My advice is to save the $200,000 because the Derby is NOT a good spot for Conquest Mo Money.
13) Tapwrit [54 points – Todd Pletcher] Tapwrit was another disappointment when he finished fifth in the Blue Grass. He beat State of Honor to win the Tampa Derby while rallying from behind. The $1.2 million yearling is NOT likely to bounce back in the Kentucky Derby.
14) Malagacy [50 points – Todd Pletcher] This son of Shackleford is no longer unbeaten after getting jostled around in the stretch and then fading badly to finish fifth. That poor finish and his pace pressing running style does NOT make him a top choice for me.
15) Hence [50 points – Steve Asmussen] This Calumet farms runner rallied from 10th place to win the Sunland Derby. I like his running style and his odds should be long. Hence is the kind of horse that can help produce one of those very big Kentucky Derby trifectas. Could he be a CONTENDER for the win spot with the right pace scenario? Not sure about that, but he will be a big part of my trifecta tickets.
16) Fast and Accurate [50 points – Mike Maker] Owner Kendall Hansen has indicated that he will pay the $200,000 to supplement his horse to the Triple Crown. His win in the Spiral was exciting, but paying that six-figure fee is a bad idea for a horse that is NOT going to earn back that money in the Derby.
17) McCraken [40 points – Ian Wilkes] It is feels a bit odd to see McCraken so far down any Kentucky Derby list, but he got just enough points to make the field after finishing third in the Blue Grass. Hopefully that race will be enough to set McCraken up for a big run in the Derby. He certainly has the talent and the poise to be in a good striking position turning for home. Ian Wilkes knows what it takes to train a Derby CONTENDER.
18) Battle of Midway [40 points – Jerry Hollendorfer] Jerry Hollendorfer does not send many horses to the Derby and he has not had much success [5: 0-0-0]. He got his points when he finished second in the Santa Anita Derby after giving up the lead near the wire. This is NOT the year for West Coast based horses in the Derby.
19) Patch [40 points – Todd Pletcher] Off only two career races, the one-eyed son of Union Rags made a big run to finish second in the Louisiana Derby behind Girvin. He has every right to improve off of that race. If he does he has a big chance to light up the board as a trifecta CONTENDER.
20) Battalion Runner [40 points – Todd Pletcher] Battalion Runner tired down the stretch of the Wood Memorial and held on for second after not having run for two months. The Derby distance would seem to be a big challenge. His pace pressing style could make sure that there are quick early fractions on the First Saturday in May, but it is NOT likely that he will be in a challenging position at the race's end.