I do so much reading about horse racing, but in today's world most of that happens on an iPad or a laptop. There is so much information available on the internet, Twitter, and Facebook and it is so easy to spend so much trying to stay up-to-date. So when I saw that
Jason Beem
, the track announcer at
Portland Meadows Race Course
, had ridden a novel,
Southbound
. I thought that this would be a great opportunity to do some good old-fashioned reading, a chance for my hands to actually touch and turn pages.
Southbound is novel about Ryan McGuire, a compulsive gambler, who sets off on a journey from Portland, Oregon to the racetracks of Southern California. Jason Beem also has a gambling addiction, but he has not made a bet since December 5, 2010. Beem said, "Southbound is a novel.  It's a fiction book, however, there is a ton of my story in there."
I had a chance to talk to Beem about how a track announcer ends up writing a novel. "Essentially Southbound began as a journal entry.  Gambling had really taken over all aspects of my life.  It was the only thing I dedicated my time and attention to.  Fast forward a few years, and in the summer of 2012, I was thinking about how it would play out if I ever started up again.  I had always fascinated about heading south to California or Las Vegas to try and live as a full-time gambler.  So instead of actually doing it, I played it out through the eyes of Ryan McGuire, who is very much me."
I asked Beem about McGuire and he said, "I based the character off of me and part of it is me, but I also based him off of the worst me. The one who was gambling, who was a liar, who was a cheater, who was doing these things."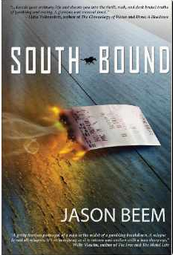 Southbound takes us on a racetrack journey through the eyes of a horseplayer with a gambling problem. I found myself rooting for McGuire to succeed on his road trip to the Southern California tracks even though I knew that the outcome for the compulsive gambler was inevitable. He started off with a big Pick 5 score at Santa Anita based on some information he overheard at Clocker's Corner. At this point optimism abounds, but for the bettor with a gambling problem the daily action at Santa Anita, Hollywood Park, and Del Mar will invariably be way too much for him to survive.
Beem drew upon his experience as a handicapper and bettor. "Basically all of the flashback stories, those are all true. They are all from my point of view, but the actual journey and the main story are just how I pictured it would play out if I would ever go back to doing that again."
Southbound strikes an excellent balance with a mix of basic information for readers who don't know much about racing and realistic images for racetrack stalwarts. "Anything that isn't common knowledge had to be explained a little bit," explained Beem.
Beem gives his readers, who might be regulars at the racetrack, a feeling of familiarity. Throughout the book I found myself thinking:  I've been there, I've done that, I've seen that happen, I've met that person.
Through all of the trials and tribulations of McGuire in Southbound, there is an appreciation for the racetrack.
A day at the races for most people is a relaxing way to spend a Saturday or Sunday out in the sunshine, betting a few bucks, having a couple of beers and just enjoying a great day. It's Americana at its best.
At one point the author describes the feeling that so many of us get when we walk into a place like Santa Anita.
Walking into the Santa Anita grandstand is like walking back in time. At least it's how someone my age envisions olden days being like at the track. The paddock area is gorgeous and manicured so perfectly it's almost a wonder that the flowers and bushes are real. As you walk into the grandstand, the old tile floors, old-fashioned food stands, and the nineteen fifties odds-board all just sweep you back to a time when all the men wore suits to the track and the women wore dresses. When everyone had a hat and people only bet to win, place, or show.
Southbound provides an important reminder to all of us about the addictive nature of gambling. That message about addictive gambling fits so well in the unique setting of the racetrack, a place that is so well described by McGuire.
I love horse racing. I love being here at the track. Horse racing gave me somewhere to go when I needed somewhere to go. The track accepts everyone. It's one of the few places where aristocratic big wigs can be happily surrounded by the most down and out degenerates. People with Master's degrees happily talk with people who can't spell Master's degree.
Southbound goes on sale March 31
st
and will be available through
Amazon.com
 in paperback and for the Kindle. It will also be available at Portland Meadows and Emerald Downs.