Each week the NTRA conducts two "Top Thoroughbred Polls". One poll is exclusively for three year-olds and the other poll is open to all divisions.
The voters are given no specific guidelines to aid in the voting process.  Thus, we all have created our own criteria for the polls.  For instance, I decided not to vote for any horse that had not yet run, so Acclamation has not appeared in my top tens and I waited to include
To Honor And Serve
 until he won the Westchester on April 28th.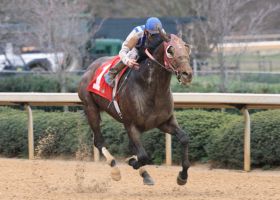 Alternation rallied to defeat a very strong field in the Pimlico Special for his fourth win in as many starts and his first victory in 2012 away from Oaklawn Park.
I'll Have Another
 powered past Bodemeister to win the Preakness and give him a chance at becoming the 12th Triple Crown winner.
The subjectivity of the voting process led to some debate about the poll results for May 21st. I'll Have Another was the unanimous number one selection in the three year-old poll, but in the poll for all divisions he was ranked in second behind Alternation. Even though I'll Have Another received 24 first place votes, Alternation 8, Wise Dan 8, To Honor and Serve 3, Awesome Maria 1, Shackleford 1, and Game On Dude 1; Alternation got the top spot because he accumulated 358 points to I'll Have Another's 331 points.
I asked six turf writers to comment about this week's poll results and the reasoning that they used as they decided for whom to cast their ballots.
"Right now I believe I'll Have Another is the top 3-year-old in the nation but I don't believe he's the best horse in the country. Currently, he is competing in restricted races - races limited to just 3-year-olds. If he were to face older horses, he'd be getting weight from them. He could turn out to be the best horse in the nation but right now, at this moment, I believe he's not."

--Jerry Bossert, New York Daily News
"Until 3yo's face elders and prove themselves superior, top handicap horse(s) get a slight nod to my way of thinking. Is I'll Have Another better than Wise Dan right now? It's close and by Travers, Jockey Club Gold Cup or Goodwood he and/or Bodemeister may be, but for now I'll side with the elder. Looking at the Preakness v. PIM Special, it's pretty clear the top pair from Saturday would have bested everyone that ran Friday. It's just great to have what feels like an actual glut of rock solid horses in most every division this year."

--Steve Byk, host of At the Races on Sirius satellite radio
"I view the overall poll as a measure of who I think is the best horse in training. Since I'll Have Another has yet to face elders I didn't want to rank him among Wise Dan or Successful Dan, but he's clearly the best three year old."

--Ed DeRosa,

Director of Marketing for Brisnet.com, blogging for TwinSpires.com
"I'll Have Another seemed like an obvious choice to me. He's just won two of the three or four most important races in the country and is one win away from immortality. There are plenty of good horses out there, but considering his accomplishments, which also include the Santa Anita Derby, this seemed like a no-brainer. He has won three grade I's this year, while the horse in first place has won none. Go figure."

--Bill Finley, co-host of Down the Stretch on Sirius satellite radio, columnist for espn.com
"Four consecutive graded stakes wins (three grade I's) at four different distances at three different racetracks. I'll Have Another won two classics. Racing's star attraction. It was a no-brainer for me."

--Steve Haskin, senior editor, The Blood Horse (via Twitter)
"I've voted I'll Have Another #1 overall since the Derby, and after the Preakness, how could you not? He's undefeated this year in four graded stakes, including the two most important races run in America so far. If the year ended today, I consider him an easy choice as Horse of the Year, and if he wins the Belmont, you can pencil him in as the 2012 Horse of the Year."

 --Brian Zipse, Managing Editor, HorseRacingNation.com
There is no doubt that there are more top quality horses racing in 2012 then we have seen in many many years. Which horse is the best? Let the debate continue!