After finishing second to Algorithms in the Holy Bull (G3) at Gulfstream on Jan. 29th, many felt that
Hansen
 needed to make a statement in his next Derby prep race.  He did just that and more in the
Gotham Stakes
 (G3) at Aqueduct. Hansen swept from off the pace to a three length victory.
There were questions about running on another wet track, about his stamina, and about his ability to deal with the 12 post position.  Trainer Michael Maker took the blinkers off Hansen for the first time and the result was a more relaxed racehorse. Instead of rushing to lead Hansen sat behind the early leader King and Crusader. The result pleased Maker, "More impressive, he lost all that ground and wasn't rank behind horses and settled. Ramon said [on] his gallop out, he had to call the outriders to come and get him."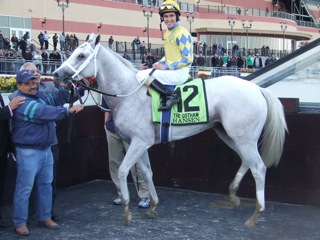 Hansen who came into the race with the most earnings of the three-year olds on the Derby trail, with over $1,200,000 and qualifiying graded stake purses of $1,160,000, added another $240,000 to his bankroll.  Hansen was bet down to $.80-1 and paid $3.60 to win. 
What started out as a rainy morning turned into a warm and sunny afternoon at Aqueduct. The presence of Hansen certainly helped the day become a huge success.  Attendance was up 16 percent on-track, betting was up 9.2 percent, and the all-source handle of $14,341,072 showed an upswing of 28.5%
Post race festivities centered on the namesake owner Dr. Kendall Hansen.  Dr. Hansen was dressed in a royal blue tee shirt with the words "The Great White Hope 05.05.12". The letter o was replaced with a red rose.  The rose and the date, of course refer to the goal of the Kentucky Derby on the first Saturday in May. He has been in the spotlight recently when his request to dye the mane and tail of the near white horse, was denied by the NYRA stewards. Dr. Hansen said, "I considered outfitting the horse with a blue tail extension."
Dr. Hansen was enjoying his time in the limelight, "It's so fun to get interviewed and get attention."  With a big smile he quipped, "Can you tell I like attention?"
Most of all he was delighted with his horse's performance, "To see him relax and see him finish up strong, that's really what I wanted. This is perfect. I'm a little bit more relaxed when he's tucked in and just tracking another horse and just takes it easy."

Dr. Hansen was also more than happy to talk about what's next for his two-year champion. "I wish the timing was better for the Spiral [Turfway Park, G3, March 24]. I really want to run at my hometown track, and it'd be an odd circumstance where Mike [trainer Maker] says, 'Gosh, we really have to run him in three weeks.' That's what I'd really like to do, but the Wood is a really famous race. A lot of history, and it'd be a real thrill to have a chance to win that. We don't have to run again [before the Kentucky Derby]. We may make that decision, whatever is best for the horse. As long as everything stays on schedule, we'll probably run him one more time. I think a mile and an eighth would be good for him to build up to a mile and a quarter."