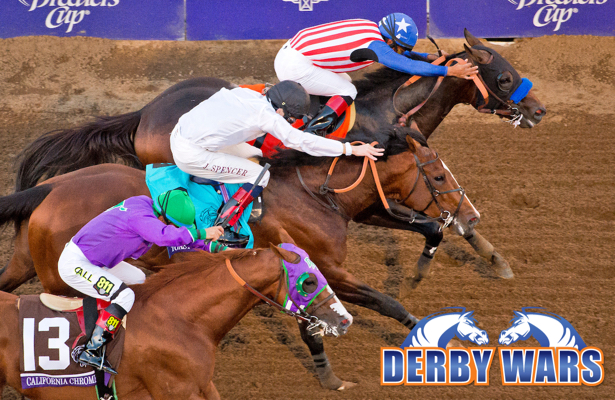 In an earlier DerbyWars.com handicapping article, we discussed three important keys to keep in mind when playing a Survivor tournament. Now, let's use those same ideas to handicap and then play in Saturday's big $1,000 Aqueduct Survivor game.
This Survivor tournament is scheduled for Aqueduct Races 2 through 9 with post time at 12:48 p.m. ET. Because that sequence contains some big fields and a maiden field loaded with first-time starters, it will be important to purchase more than one entry in order to survive the challenging races on the card. Entries cost $5.75 apiece, and a player may buy as many as 10. I usually buy between five and seven entries in a game like this. Remember, that you can win with as many of your entries that survive the entire tournament.
Let's take a look at the contest races, identifying each as a spot to use just one horse with all the entries or if spreading on more than one horses will be needed to increase the chance to move on to the next race. I wouldn't be surprised if this tournament ends before Race 9.
Race 2 – In a big field of N2L claimers, This Bird Can Sing has finished in the money 7 of 11 starts with her last two races being her best. The race is filled with speed, and This Bird can sit a good trip from the outside and hit the board. Taking a bit of a risk and going all in on This Bird Can Sing to start the contest.
Remember, it's important to advance with as many chances as possible, thus you need to single as often as possible. It is a big advantage to get to the later races with multiple entries alive when your opponents have only one left.
Race 3 – We will continue to let it ride. This time all entries on the Juddmonte homebred Boule, who will be a heavy favorite in here.
Race 4 – This New York-bred maiden claimer with a full field of 12 is going to narrow down the number of survivors significantly. This kind of race is why you need to buy multiple entries. Let's spread our picks on Conforto, It's Hot Out, Steelersfanforlife and Niko Strong (if he gets bet as a firster, 8-1 or less).
Race 5 – Let's put all of our surviving entries on the very consistent Bar None. At this point in the contest, the field will have narrowed significantly and the number of entries we have alive will dictate our strategy. Hopefully we have multiple chances still in play and, as the field narrows, we can use more than one horse.
Race 6 – We will continue to press, this time on Puffery, a talented second time starter who ran big first time for Mark Hennig, a trainer who does not win first out very often.
Race 7 – This claimer is a wide-open affair in which we will spread using as many different horses as possible, in order of preference: Gorelli, Lucky Town, Casigordo, and Valyrian.
Race 8 – All remaining entries go on Pure Silver.
Race 9 – Should this contest still be going on, this last race is a low-level claimer with 12 runners -- no easy task to survive. If we have more than one entry alive, we will use different horses for each, in this order: Are We Not Men, Nonna's Boy, and Nominal Dollars.
Good luck, and enjoy the game!