With the conclusion of Saratoga's 2018 meet, here are the highlights, both human and equine, from 40 days of racing at the Spa:
Chad Brown: Saratoga superstar

In recent years Chad Brown has been recognized as a super trainer based on the massive size of his stable. But with his record-setting summer as as leading trainer at Saratoga, he has achieved superstar status.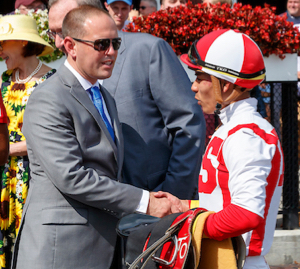 His 46 trips to the winner's circle broke the previous record of 40, a total he had shared with Todd Pletcher. This year the competition wasn't close, as Pletcher's 19 wins were second of all conditioners.
Among those victories for Brown were six graded stakes wins: Separationofpowers in the Test (G1); the Diana (G1) went to Sistercharlie; Raging Bull won the Hall of Fame (G2) and the Saranac (G3); Rushing Fall took the Lake Placid (G2); and Quidura was victorious in the Ballston Spa (G2).
Brown's horses earned more than $4.4 million in purses during the meet.

"In this game, you're really judged by winning," he said. "It's been a magical meet for us. We've had so much good fortune and so much support. The most rewarding thing is the chemistry in the morning between all the moving parts; everyone executing their jobs. The horses showing up and running so well and so consistently. On a personal level, being from the area, and having so much local support, so many fans, family, friends [and] everyone that roots for us, it feels very good. Throughout the meet, it is literally like playing in your home stadium. It feels like a homecourt advantage when you walk around."

All of this success came on the heels of Brown having won the Belmont Park Spring/Summer meeting with 34 winners, 13 more than the runner-up. To sustain that level of achievement in two of the most competitive race meetings is exceptional.
The best jockey colony in the world

More than at any other meeting in the country, racing fans closely follow the competition for leading rider at Saratoga.
With 52 wins, Irad Ortiz Jr. overcame a bit of a slow start to earn the title of top jockey, his first at Saratoga since 2015.
"I feel great. It's so exciting," Ortiz Jr. said. "We worked really hard to win the title and now we can enjoy it. My agent, Steve Rushing, did such a great job and all the owners and trainers who gave me an opportunity. Without them it wouldn't have been possible. I won on a lot of nice horses this summer.

"I can't name them all at the moment, but each of them was special. Diversify winning the Whitney was a top moment, but they were all special."
Ortiz Jr. finished nine ahead of Hall of Famer Javier Castellano, who changed agents to John Panagot and rebounded from a disappointing total last year. Castellano won five graded stakes races, including the Travers for the sixth time aboard Catholic Boy.
The Ortiz brothers finished first and third in the standings as brother Jose ended up just one behind Castellano.
Joel Rosario, who frequently is a target of social media ridicule by horse players was sixth in the standings with 27 victories including three graded stakes in a row on the final Saturday of the meeting.

Grade 1 glory goes turf to dirt
Have the Grade 1 victories of Catholic Boy in the Travers and Yoshida in the Woodward started a new training trend? Will we now see more and more Grade 1 turf horses switch to the dirt to find Grade 1 success or were this summer's results just an anomaly?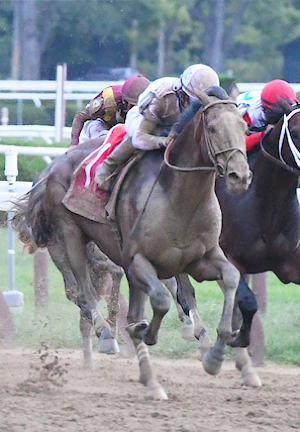 Taking a simplistic look, we shouldn't really be that surprised by what trainers Jonathan Thomas and Bill Mott did in those big Saratoga races. After all, American horses do the majority of their daily training on the dirt.
Catholic Boy had raced three times on the dirt before the Travers, including a win in the Remsen (G2) as a 2-year-old. Yoshida had never raced on anything but grass prior to the Woodward.
Interestingly, the betting public had a similar view in both instances, since Catholic Boy was 7-1 and then Yoshida was 6-1.
Bill Mott had similar results last year when he switched Good Samaritan to the dirt for the first time to win the Jim Dandy (G2).
"I had a wait-and-see attitude [about the switch from turf]," said Mott about Yoshida. "The horse had worked well on the dirt. This was a pretty impressive run, actually. I don't think you ever really know how they'll run on a surface until you try them."
Producing a Breeders' Cup Distaff winner?
Between the Grade 1 Coaching Club American Oaks and the Personal Ensign, it is very likely that the 2018 Breeders' Cup Distaff winner will have run at Saratoga this year.
Monomoy Girl is the runaway leader of the 3-year-old filly division after her powerful victory in the CCA Oaks. Then Abel Tasman and Elate had another head to head stretch battle in the Personal Ensign.
All three have run at Churchill Downs in their careers. Abel Tasman and Monomoy Girl are the winners of the last two editions of the Kentucky Oaks (G1), while Elate has placed in an allowance.
Even without knowing the final entries for the Distaff it would be a big surprise if Abel Tasman, Elate, or Monomoy Girl don't win that big race on November 3.
Class tells at the Spa
Saratoga is the premier thoroughbred meeting in America. Every trainer and owner want to win a race at the Spa. Trainers bring their horses to the upstate New York track in top form looking for that victory, but the fields are large and the competition is fierce.
Looking for an edge, it is quite common to see horses making a significant drop in class, be it from a stakes race to an allowance or allowance to the claiming ranks.
As handicapper at Saratoga, those class moves by trainers must be given serious attention, probably more than at any other meeting of the year. When a horse gets in a race against easier competition other factors like pace, race flow, speed figures become far less significant.