The list of important horses training up to Breeders' Cup 2017 keeps growing. The first big names were Arrogate and Gun Runner. They would skip the chance for a final prep in a major grade one race like the Jockey Club Gold Cup or the Awesome Again. Now big names such as Stellar Wind, Forever Unbridled, Collected, Vale Dori, and Drefong have joined the list.
Several of those top thoroughbreds come from the barn of Hall of Fame trainer Bob Baffert. He has won the past three editions of the Breeders' Cup Classic and he has a big chance to do it once again in 2017 with Arrogate or Collected.
In 2014, Bayern won the Classic with 42 days between races. Then in 2015, the Triple Crown winner American Pharoah needed 63 days to prepare for his final victory. Last year, Baffert's triumph came after Arrogate got a 70-day break between the Travers and the finale in the World Championships.
>> Play Today's Races with TVG - Sign Up Here! <<
The success Baffert has had in the Classic of late has been remarkable and it is easy to see the trend in his training method. With each year, he increased the amount of time he gave to his winning horse between races from 6 weeks with Bayern to 9 weeks for American Pharoah and finally Arrogate was given 10.
Baffert is not going to buck his own trend in training methods as he goes for his fourth consecutive Classic victory. Both Collected and Arrogate made their last start in the Pacific Classic on August 19, when they finished one-two at Del Mar. A look at the calendar shows that they will have a 77-day layoff.
Over the years, Hall of Famer Steve Asmussen has also been changing the way he prepares for the World Championships. Gun Runner padded his resume with his victory in the Woodward at Saratoga on September 2, but Asmussen decided to make that his final prep, thus he goes to the Classic with the same 77 days of rest. Last year, Asmussen sent the son of Candy Ride to his second-place finish in the Breeders' Cup Dirt Mile off 6 weeks rest. When Asmussen took the 2007 Classic with Curlin, he had won the Jockey Club Gold Cup just 27 days earlier.
Is the recent movement towards long rests of two months or more going to become standard practice in years to come or are the past few years just an anomaly? Prior to American Pharoah, 49 days or 7 weeks had been the maximum preparation time, with the exception of Invasor who was given 13 weeks off between the Whitney and the Classic by Kiaran McLaughlin because he spiked a fever just before a scheduled final prep in the JCGC.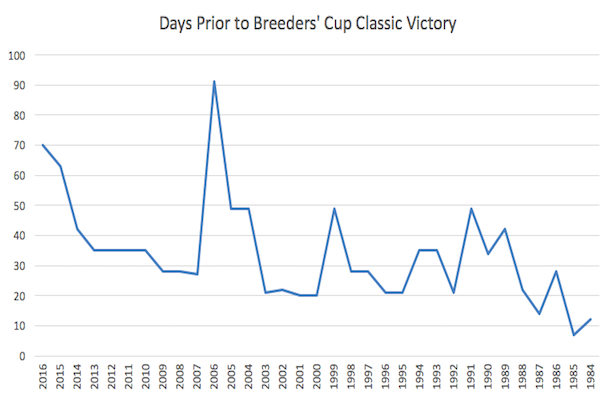 Sunday Silence got 42 days between races in 1989, 10 years later Cat Thief got 49, as did Ghostzapper and St. Liam in 2004 and 2005. As you can see in the graph above, there had been only a very gradual increase in the amount of time between races, prior to the Triple Crown winner's BC Classic victory.
The change over the past few years has been dramatic. The Breeders' Cup will have full fields, but the final 'Win and You're In' races are taking a very big hit. Stakes like the Zenyatta and Awesome Again at Santa Anita and the Jockey Club Gold Cup at Belmont Park are facing small fields without the best horses.
Prior to the last three Bob Baffert Breeders' Cup Classic victories, four consecutive Classic winners prepped in the Awesome Again or Jockey Club Gold Cup, which meant that they only had a 5-week layoff between races. Those four winners were older horses and Baffert's winners were all three-year-olds.
The Breeders' Cup has already had a significant effect on the stakes schedules at tracks like Belmont Park and Santa Anita. In 1992, when Cigar won the Classic, the Jockey Club Gold Cup was only 21 days before the Breeders' Cup. In 1997, it was 28 days and then in 2010, there were 35 days. If this year's horses with lengthy layoffs win at Del Mar, tracks like Belmont Park and Santa Anita may be forced to once again adjust their stakes calendars.