How often is there an eleven race card in which the smallest purse is $90,000? In addition, the first six races on that card do not include a stakes race. This describes Saturday's
Whitney
Day card at Saratoga.
The card boasts total purses of $3,137,000 that includes three grade one stakes and two $100,000 overnight stakes. The smallest field is eight for the Vanderbilt with seven of the races having full fields. 
Analysis of the All-Stakes Pick Four, which is being offered on the last four races of the card, follows the race descriptions.
Race 1 - $90,000 – NY-bred Alw90000N1X – 3YO and Up - 5½ furlongs – TURF
14 entered including 3 for Main Track Only
Race 2 - $98,000 – Md Sp Wt 98K – 3YO and Up – F & M – 7 furlongs
10 entered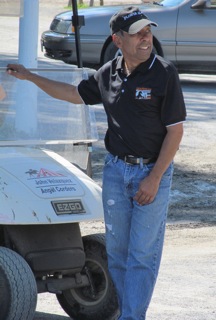 Race 3 - $98,000 – Md Sp Wt 98K – 2YOs – 1 1/16 – TURF
15 entered including 1 for MTO
This maiden special weight includes #5 
Cordero
 who is named for the Hall of Fame rider. Owner Jake Ballis named the horse to honor his friend. Angel Cordero Jr., the jockey, is the third leading rider in the history of Saratoga behind John Velazquez and Jerry Bailey. Of course, Cordero is also the agent for Velazquez, who is named to ride Cordero, the horse. The son of Giant's Causeway is making his first start in the United States after debuting at Ascot in June.
Race 4 - $105,000 – OC62/N2X – 3YO and Up – F & M – 1 1/16 – TURF
10 entered with 1 MTO
Race 5 - $98,000 – Md Sp Wt 98K – 2YOs – 6 furlongs
14 entered
Trainer Todd Pletcher has the WinStar home-bred #1
Royal Son
 (ML 2-1) in this six furlong contest. Sired by Tiznow, Royal Son is out of the mare Mama Nadine, a stakes winner of $88,105. In 2014 at Saratoga, Pletcher has already won five races for two-year-olds.
Race 6 - $100,000 – OC75/N1X – 3YO – Fillies – 1 1/16 – TURF
16 entered with 1 MTO
Race 7 - $100,000 – DeLaRoseB 100K – 4YO and Up – F & M – 1 mile – TURF
9 entered
Two graded stakes veterans, #7
Pianist
 (ML 3-1) and #8
Dayatthespa
 (ML 2-1) make their 2014 debuts in the De La Rose for trainer Chad Brown. In 2013 Pianist won the Gallorette (G3) and the Athenia (G3). Dayatthespa won the Queen Elizabeth II (G1) in 2012 and was grade one placed last year.
The All-Stakes Pick 4 begins here...
Race 8 - $350,000 – AGVndbtH – G1 – 3YO and Up – 6 furlongs
This field of eight is the most challenging in the Pick 4 sequence with virtually all of the horses having a chance to win the Vanderbilt. If I was pushed to narrow my choices, the best I could do is to eliminate the 2, 3, and 4. However, I am going to use the ALL button here because I have standout picks the rest of the way.
Race 9 - $500,000 – Test – G1 – 3YO – Fillies – 7 furlongs
12 entered
The full field in the Test has plenty of early speed and sets up for my top choice, #7 
Sweet Reason
. I will single Sweet Reason on three of my tickets and spread on another ticket using her with the other likely closers, #3
Sweet Whiskey
 and #6
Street Story
.
Race 10 - $1,500,000 – WhitneyH – G1 – 3YO and Up – 1 1/8
9 entered
If I was asked to select the top horse in this Pick Four it would be #5
Palace Malice
. Even in this very strong Whitney field Palace Malice is a stand out. His perfect four performances in 2014 make him the best horse in the country right now. The Dogwood runner won the Met Mile by impressively beating Goldencents, who is the defending Breeders' Cup Dirt Mile winner. Palace Malice is clearly is a better horse at longer distances. I will spread on one ticket with #1
Will Take Charge
, #4
Itsmyluckyday
, and #6
Departing
.
Race 11 - $100,000 – LureB 100K – 4YO and Up – 1 1/16 – TURF
14 entered with 2 MTO
In the Lure, #4
Big Blue Kitten
 will make his 2014 debut for the Ramseys and trainer Chad Brown. This son of Kitten's Joy towers over the other runners in this full field and will be a single on three tickets. With the others very evenly matched I will spread and use seven horses [3, 4, 5, 6, 8, 10, 12] on another ticket.
Here is my four ticket All-Stakes Pick Four play, which costs only $60:
If you prefer a one ticket play in the Pick Four, I offer this to you:

Good luck and enjoy the great racing on Whitney Day at Saratoga.