With
I'll Have Another
 and the Triple Crown garnering so much attention in horse racing, we should remember that the New York Triple Tiara for three year-old fillies kicks off on Memorial Day at Belmont Park with the
Acorn Stakes
 (G1). The second leg is the Mother Goose (G1) on June 23rd at Belmont. The Coaching Club American Oaks (G1), which is now run at Saratoga on July 21st, closes out the series.
There have been eight winners of the Triple Tiara since its inception in 1957 and they are all Hall of Famers: Dark Mirage 1968, Shuvee 1969, Chris Evert 1974, Ruffian 1975, Davona Dale 1979, Mom's Command 1985, Open Mind 1989, and Sky Beauty 1993. Over the years the distance of the Mother Goose and the CCA Oaks has been shortened, but it still has been 19 years since the three races have been swept.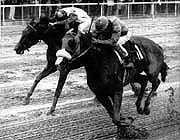 No filly will ever compare to Ruffian for her brilliance and charisma. However, 1974 was the year of Chris Evert. I must admit that I had a bit of a crush on the tennis player, with whom I share a birth year and that certainly increased my interest in the thoroughbred.
In 1974
Chris Evert
 was named champion three year-old filly after winning the Triple Tiara. Chris Evert was purchased as a $32,000 Keeneland yearling in 1972, by women's sportswear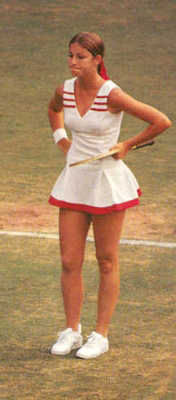 manufacturer Carl Rosen. The horse received her name because at that time tennis star Chrissie Evert wore Rosen's outfits on the court.  From that point their careers ran on parallel courses.
Chris Evert earned $679,475 in her 15 race career with 10 wins and only one finish out of the money.  In 1974 she was the leading money winning horse in North America with $551,063.  Meanwhile Chrissie was having her best year on the courts with her most wins in any single year and her first season ending #1 ranking.
Immediately after winning the Tiara the connections of the west coast star
Miss Musket
 challenged Chris Evert to a $350,000 match race. Chris travelled to Miss Musket's home track and defeated her by 50- lengths at Hollywood Park. At the same time Chrissie would win her first two Grand Slam titles at the French Open and Wimbledon. Both Everts would make the Hall of Fame: the horse in 1988 and the two-fisted backhander in 1995.
As a broodmare Chris Evert would produce five fillies with
Six Crowns
 being the most noteworthy. She was by
Secretariat
 and one of the few foals of a Triple Crown and Triple Tiara winner, and thus her name Six Crowns. Six Crowns went on to produce the Breeders' Cup Juvenile winner and champion
Chief's Crown
.  Chris Evert died at age 30 at Three Chimneys farm.
At this point the field of the 2012 Acorn does not seem to have a Triple Tiara winner, it is a small, but contentious group.
Aubby K
 won an optional claimer at Gulfstream by 9 ¾-lengths on March 25 and has been training in Saratoga for Ralph Nicks. Contested won the Eight Belles (G3) on May 4, at Churchill Downs for trainer Bob Baffert and his wife. George Weaver's 
Hard Mystery
 won Belmont's Inside Information overnight stakes by over five-lengths on April 28.
Reneesgotzip
 will ship in from California after winning a Hollywood Park allowance on May 4 for Peter Miller. As a two year-old she won the Santa Ynez (G2) and has never finished worse than second in five career starts. Trainer Tom Albertrani enters 
Zo Impressive
 after three promising starts at Gulfstream this winter.