How hard is it for a jockey to win the
Kentucky Derby
?  Take a look at this list of famous retired riders, who in their noteworthy careers, were unable to win the Kentucky Derby: Ramon Dominguez (9: 0-1-0), Sandy Hawley (6: 0-0-0), Don MacBeth (9: 0-0-2), Eddie Maple (9: 0-1-2), Richard Migliore (5: 0-0-0), Randy Romero (9: 0-0-0), Shane Sellers (13: 0-0-1), George "Ice Man" Woolf (9: 0-2-0), and Manny Ycaza (9: 0-1-3).
Not only is it hard to win the Derby, these greats hardly managed to even get a top three finish. Some of these jockeys are in the Hall of Fame. Some have won multiple Breeders' Cup races, the Belmont Stakes, or the Preakness, let alone most of the important races in North America.
To state the obvious, the Derby only happens once a year and this is just the 140th running. Twenty-three jockeys have won the Run for the Roses more than once and that is such a significant achievement that 22 of them are in the Hall of Fame.
Let's take a look at the likely starters in this year's Derby, from California Chrome (150 points) down to Uncle Sigh (24), and their probable jockeys.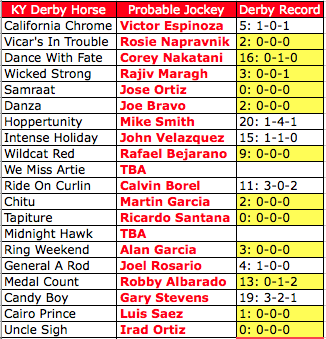 John Velazquez
 on
Intense Holiday
 and
Mike Smith
 on 
Hoppertunity
 will be seeking their coveted second Derby wins, even though both are already in the Hall of Fame. Just look at their records and you will see how hard it is to win the Derby. Combined they already have had 35 starts to get those two wins, that's a mere 5.7%.
Victor Espinoza
has the mount on the likely Derby favorite,
California Chrome
. Espinoza is also going after his second win, but for him it would come in just his sixth start. He won in 2002 on War Emblem in this century's only gate to wire victory.
Joel Rosario
has chosen
General A Rod
 as his Derby mount. He will go for his second Derby victory in a row after winning last year on
Orb
. Only six riders have won two consecutive Derbies, including Ron Turcotte with Riva Ridge and Secretariat in 1972 and 1973, Calvin Borel with Mine That Bird and Super Saver in 2009 and 2010, and Eddie Delahoussaye with Gato Del Sol and Sunny's Halo in 1982 and 1983.
Calvin Borel will be on Ride On Curlin in this year's race. He of course has 3 Derby wins and one of the best records in the history of the race (11: 3-0-2), over a period of 20 years from 1993 to 2013.
Twelve of this year's possible Derby riders have never won the race, which includes two rookies in Ricardo Santana and Jose Ortiz. Steve Cauthen won the Derby in his only attempt in 1978 on future Triple Crown winner Affirmed. Most recently Mario Gutierrez took the race as a rookie in 2012 on I'll Have Another.
UPDATE -- Irad Ortiz has been named the rider of Uncle Sigh, thus both New York-breds in the Derby field will be ridden by a rookie Ortiz brother.
Corey Nakatani and Robby Albarado have tried and failed 39 times to get the blanket of red roses. That is how difficult it is to win the Derby.
Take a look at the career totals of Laffit Pincay (9,530 wins), Pat Day (8,803), and Jorge Velasquez (6,795). How hard is it to win the Kentucky Derby? These three Hall of Famers have only three Derby wins between them in 56 attempts. Pincay won in 1984 on Swale, Velasquez in 1981 on Pleasant Colony, and Day rode 18-1 long shot Lil E. Tee to victory in 1992.
Russell Baze who has won 12,228 races in his still active career has only had two Derby mounts. His best finish was in 2006 when he finished 13th. Baze has not had a ride in the Derby since then.
Rajiv Maragh and
Wicked Strong
 are my top choice to win this year's Derby on May 3
rd
. Maragh has a record of 3: 0-1-0 in the Run for the Roses. His best finish was in third in 2011 on Mucho Macho Man.