Here are the top choices of 16 Horse Racing Nation staffers for all 13 of the 2014 Breeders' Cup races. At the end of the charts you can find the consensus pick for each of the races.
The Juvenile Fillies Turf is a wide-open race according to the HRN staff with eight different horses selected as winners and
Osaila
(5-1 ML) as the consensus pick of five people.
The Distaff appears to be a two horse race since six HRN handicappers picked both
Close Hatches
(3-1 ML) and
Untapable
 (5-2 ML favorite).
The Filly and Mare Turf has only 11 horses going in the gate, but the HRN team had nine different choices to win this 10-furlong grass event. Defending champion
Dank
 (5-2 ML) was the top pick with four.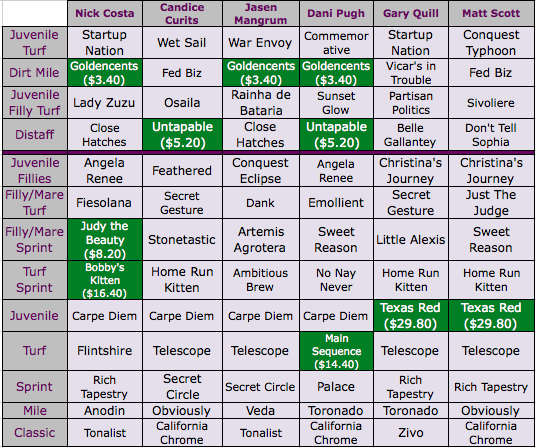 If you are looking for a long shot,
Home Run Kitten
 (12-1 ML) is the HRN top choice in the Turf Sprint. You might want to try a trifecta box in this race because Home Run Kitten, No Nay Never, and Undrafted were clearly our top three horses.
With the scratch of the Juvenile favorite American Pharoah, the two Todd Pletcher runners became the clear-cut HRN choices.
Carpe Diem
received the nod from eight of our team.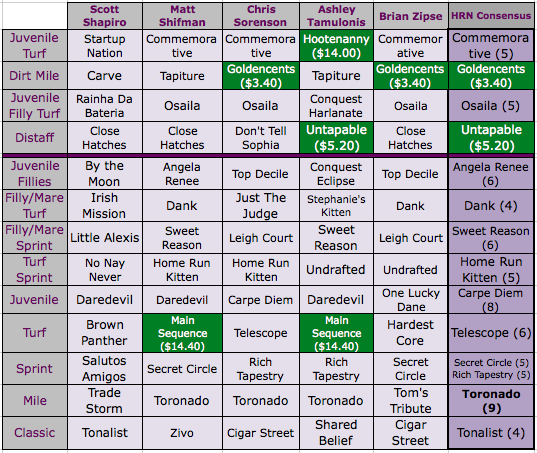 The HRN picks in the Sprint give you a clear cut exacta box with defending champion
Secret Circle
 (9-2 ML favorite) and
Rich Tapestry
(5-1 second choice) each getting 5 votes.
The HRN consensus best bet of the Breeders' Cup comes in the Turf Mile. The European
Toronado
 (5-2 ML favorite) was the top choice of nine of our 16 handicappers.
Unbeaten
Shared Belief
(9-5 ML favorite), who was assigned the second shortest morning line odds, was not the top choice of HRN in the Classic. In what many people feel is the most wide-open Classic field in years,
Tonalist
(5-1 ML third choice) was the consensus top pick of four staffers.
Be sure to check in at Horse Racing Nation, as I will be updating the charts to show the winners that we pick throughout the two-day World Championships. Good luck with all of your wagers and let us know if you cash any big tickets.