When the Monmouth Park thoroughbred racing meet ended on Sunday, Jane Cibelli became the first woman to ever win the training title at the Jersey Shore track. Her 32 wins were six ahead of Greg Sacco and Scott Volk.
Cibelli spoke proudly about her achievement, "It is very exciting to win the title.  People are making a lot about being the first woman to win the title but it doesn't matter whether you're a man or woman."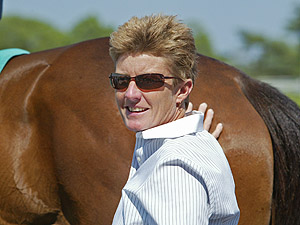 Ms. Cibelli is a native of the United Kingdom where she grew up
interested in horses. She rode show jumpers as a teenager and got into racing when she left high school learning everything about the care of horses.  In 1983, she came to the United States and worked here way up the training ladder.  She won her first race as a trainer at the small time New Hampshire track Rockingham Park.
First coming to Monmouth Park was a big decision for Cibelli. "
I've been coming to Monmouth for around 10 years but in the past 3 or 4 years I've been more serious about being in contention.  Initially, I trained at the cheaper tracks and wanted to try to move up at either Arlington Park (in Chicago) or Monmouth, but I decided to stay on the east coast."
Cibelli spends her winters in Florida based at Tampa Bay Downs where she had a very good 2010-2011 meeting with 26 winners, but when she came north to Monmouth she was not expecting to win the training title. "Most of the horses I had at Tampa were too cheap to bring to Monmouth and you have to be careful about what kind of horses you bring to Monmouth because the meeting is very tough.  Things just came around and we got lucky!"
Her run to the training title was aided by several horses that went on winning streaks.
Bombast
was claimed for $12,500 and went on to win three in a row. Cibelli explained their plan. "We claimed Bombast because his numbers were good and thought he could win the Jersey-bred AE1 and he did that and just kept winning. We try and claim horses that are on the way up."
Cibelli very modestly described why
Pound Foolish
went on a tear this summer. "Pound Foolish was claimed last year, but he wasn't doing particularly well at Penn National so we could run him at a safe level. Sometimes horses just get good and he kept winning."
This summer Cibelli defeated nationally acclaimed trainers Todd Pletcher and Steve Asmussen, who finished 7th and 9th at Monmouth. Pletcher and Asmussen rank one and two in the nation with over 200 wins each and both have over $14,000,000 in earnings.  Cibelli's horses earned $903,055 this summer at the Oceanport track.
When asked about her goals in racing after this summer she said, "I hope to keep doing what I have been doing.  I enjoy the claiming game, but you usually can't win a Breeders' Cup race with a claimer.  I am starting to get into the breeding side and bought some yearlings at Keeneland this year and hope they will race well as two year-olds."
Cibelli will head back to Florida for the winter where she said, "We will race at Tampa Bay Downs and look to claim some horses at Gulfstream to bring back to Monmouth next summer." No doubt we will be able to find Cibelli defending her historic training title at Monmouth in 2011.