My son Riley likes to go to the racetrack.  Going to
Monmouth Park
is part of our summer weekend routine that usually includes a visit to a water playground that is a short distance from the track.  Like most kids he really enjoys these activities, but if you were there you would quickly notice Riley.  He is the one at the spray ground that doesn't play with other children but he is extremely happy to kick up the water so that he can watch it splash in the puddles. At Monmouth he likes to stand at the rail by the tunnel that leads from the paddock to the track.  It is there that he can get the best view of the horse's feet moving or where he can lay face down and feel the cool linoleum floor.  My son Riley is eleven years old and he has autism.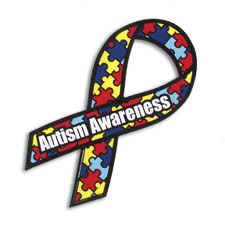 Autism is a complex disorder that affects brain development and is characterized by difficulties with social interaction and verbal and non-verbal communications. Repetitive behaviors are a common in children with autism. Children with autism have trouble making eye contact and communicating their needs.
It is believed that the abnormal development of the brain begins before the child is born. In the past five years there has been more and more evidence that autism may be caused by unusual changes to the genes known as mutations. These genetic anomalies cause changes in the brain that are very difficult to identify. Parents of children with autism often talk about a feeling that something isn't quite right with their child.  These differences can be a lot like the development delays that can occur in typical children. It isn't until age two to three that the significant effects of autism become clear. There can be sudden losses in language skills – a child that could talk no longer can.  The child can fall into a kind of isolation because they are no longer able to socially interact with other people.
Horse racing and autism have had a connection over the years. There is a very successful thoroughbred named
Autism Awareness
. His owner Johnny Taboada named the horse to raise awareness because his son also has autism. Autism Awareness the horse has won over $300,000 in his career including two wins in grade three stakes races in California.
The 2010 Horse of the Year 
Zenyatta
 had a special relationship with a five year-old boy with autism. The big mare was known for her calm and cooperative disposition around the racetrack barn. Since the boy has autism he didn't know how to interact with a horse, but he was immediately drawn to the famous mare.  Zenyatta patiently allowed him to
poke and prod her
.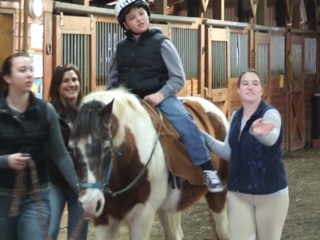 Once a week in the spring my son's class from school travels to a stable for horseback riding.  The stable is certified to offer
hippotherapy
. Hippotherapy has its roots in the 1960's in Germany where it was used to supplement traditional physical therapy.  Over the years the use of horses has proven to be therapeutic for mental and developmental disorders as well. Riding a horse improves balance and muscle coordination and the motion of the horse has a significant influence on children with autism.
On the day that I accompanied my son's class to riding I saw that one of his classmates was having trouble with his behavior. When they finally got him on the horse a big smile lit up his face. As the horse began to walk the movement felt so good that this boy bent over and rested his head on the horse's neck.
You must keep in mind that my son is a handsome young man who in his own way is very charming.  Riley is extremely affectionate and can be a lot of fun to be around.  On the other hand, he is non-verbal, which means he cannot talk. His spoken vocabulary is limited to some consonant sounds, noises, and a couple of words.  Riley's listening vocabulary is much greater, so he can understand far more than he can speak.  You can often identify a child with autism by the kind of sounds that they make.
Like any other child Riley likes to have time to himself and when he is by himself he likes to spin objects.  The visual movement of the objects is an exciting sensory experience for him. When my wife and I want to buy Riley a present we look at everyday objects and try and imagine how he might spin them. This type of self-stimulating, behavior, known as 
stimming
 is very common in kids with autism. You also may see kids rocking back and forth or flapping their hands. 
For parents of children with autism life is a daily challenge.  Some of us eventually must come to understand and accept that our child will never be able to talk or to live independently. Please take a look at this recent
TV commercial
.  It points out this struggle that all parents, who have a son or daughter with autism, have gone through.
In that commercial the parent Jimmie says, "There's nothing wrong with the way he is, it is the world that views him differently." Jimmie is correct, but we are treated differently because people don't know what to do when they face autism. Frequently when I meet people that know my son and me, they do not acknowledge his presence; however, they would routinely greet a typical child in that same situation.
I was like every other father: I looked forward to sharing experiences with my son that I enjoyed with my Dad. I looked forward to those days when I would take my son to the racetrack and I have been able to do that.  Riley has already been to Monmouth Park, Saratoga, Aqueduct, and Philadelphia Park, and someday he may catch up to the 20 or so tracks that I have visited.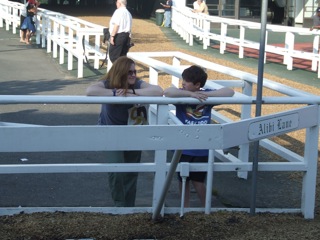 Even though Riley will never be able to handicap a race and enjoy the sport in all the ways that I do, I am proud to bring him with me to the track any time that situation is appropriate.  If you see us at Monmouth Park standing at the rail by the tunnel, please come and say hello because we just want to be treated like everyone else.