The Eclipse Awards are sponsored by the NTRA, the Daily Racing Form, and the National Turf Writers Association, and have been presented as thoroughbred racing's highest honor since 1971.  The awards take their name from Eclipse who did not begin racing until he was a five year-old, yet he went on to win all 18 of his starts.
The Thoroughbred Racing Associations' website says that, "The Eclipse Awards are presented annually to recognize those horses and individuals whose outstanding achievements have earned them the title of Champion in their respective categories."  There are no specific guidelines for the selection of the winners, thus there is a plenty of room for debate about which horses deserve the year-end honors.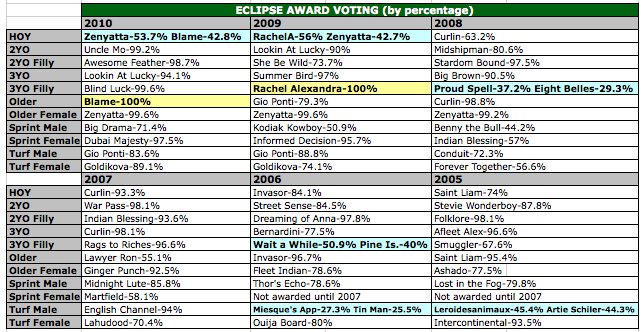 Every year following the Breeders' Cup there is two months of debate about the Eclipse Awards. Yet in the past six years there have only been a few categories that actually have ended in a truly close vote. Even the last two Horse of the Year debates, that have focused on Zenyatta, did not end in  close votes. In 2010, 
Zenyatta
 won HOTY by a margin of 10.9% and in 2009, Rachel Alexandra prevailed by 13.3%.
Recently the closest votes for divisional champs had Miesque's Approval nosing out the 2006 turf male title by 1.8% over The Tin Man, and Leroidesanimaux winning that same division the prior year by 1.1% over Artie Schiller.  The vote count in 2005 was actually 119 to 116.
Interestingly over the past six years there have been only two unanimous winners.
Blame
 took the 2010 Eclipse Award for Older Males with 100% of the vote and 
Rachel Alexandra
  swept the votes for the 2009 three year-old filly championship.
Can the vote for Horse of the Year among 
Havre de Grace
, Acclamation, and Caleb's Posse produce a close finish? I think Havre de Grace will win it by a solid margin of at least 15 to 20%.
The three year-old male championship will probably be more contentious. 
Animal Kingdom
 leads the way because his season ending injury doesn't leave a lot of reason to knock him. Certainly
Caleb's Posse
, Shackleford, Ruler on Ice, and To Honor and Serve will get their share of the votes.
The older male category will see a lot of horses get votes.  Acclamation, Drosselmeyer, Flat Out, Game On Dude, Tizway, and Wise Dan are all worthy of consideration.
Acclamation
 is also a leading candidate for the turf male award.  Here he faces
Cape Blanco
 who went three for three in American grade one races with extremely impressive victories.  Could Acclamation end up not winning any Eclipse Award?
The battle between Hansen and
Union Rags
 for the juvenile male award may end up being just as close as their Breeders' Cup race.  Will Hansen once again win by a narrow margin?
Another interesting question about this year's voting is whether there will be any new unanimous award winners.  My Miss Aurelia has had a brilliant unbeaten four race campaign.  Royal Delta will take the three year-old filly title with her year ending dominance, but will she sweep the votes? 
Finally Havre de Grace is likely to be named Horse of the Year, but what will the voting show for the older female Eclipse?  No doubt that Blind Luck will get votes based on her impressive Delaware Handicap victory over HDG.
On January 16, 2012, in Beverly Hills, CA, the Eclipse Award winners will be announced and the best horses of 2011 will be honored. It will be just as interesting to find out how the votes were distributed in each of the categories.