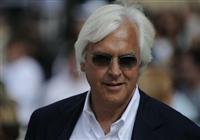 A few hours before The Haskell Invitational Bob Baffert, @Midnightlute, was tweeting about the keys to Coil's victory.
"Just had lunch at Max's Hot Dogs on Jersey Shore. Best hot dog in the world."
"Can't win the Haskell without eating at Max's Hot Dogs on day of race." 
Coil
 was making his first start on a conventional dirt surface after making his first five starts on the Hollywood Park polytrack.  It was a different experience for Coil who bobbled at the start and dropped to last place.  In all his prior races Coil had been on or close to the lead.  Baffert was startled, "He didn't break well and at that point I thought the race was over. Down the backstretch, I thought he was going to have to be like his dad, Point Given, to win.  In the stretch, when he was passing Shackleford it was almost like I couldn't believe what I was seeing."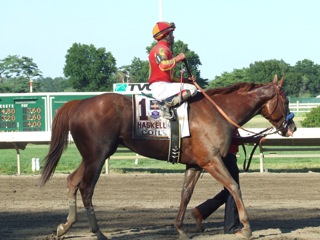 This was the first race Coil ran without blinkers since his first start. Baffert credits his jockey, "
Martin (Garcia) kept telling me to take the blinkers off.  In his last race, he was rank and gave Martin had a hard time and he came back and said 'Senor, I think it's time to take the blinkers off."
Baffert won his fifth consecutive Haskell Invitational starting in 2001 with Point Given, 2002 War Emblem, 2005 Roman Ruler, 2010 Lookin At Lucky, and now in 2011 with Coil.
Coil adds $600,000 to his career earnings, but for Bob Baffert the sweet taste of victory is a hot dog at the Jersey Shore.