Before the sun begins to touch the tips of the Twin Spires, she's at work. Even before exercising horses, she is busy taking care of them. Medicines to be given, legs to be looked over, and tack set out. The early morning track grind would scare many away, but Danielle Rosier she is living out her dream.
"I just love it," she said. "Most days it's not a job for me. It's a lifestyle that most people never understand. You sacrifice a lot for these animals: family, friends, relationships. I work so hard, and there are days I'm so exhausted I don't even want to get out of bed, but in the end it's worth it. How many people get to wake up and live their dreams?"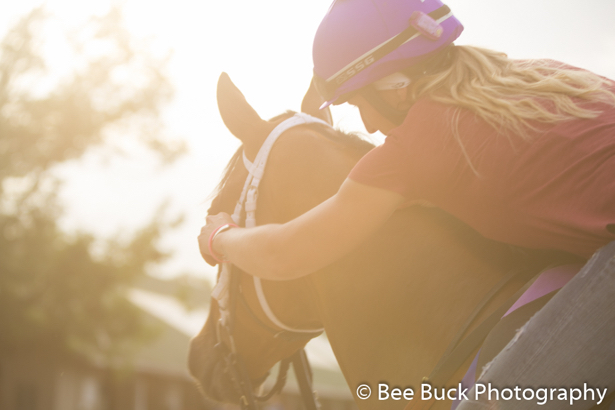 Danielle's love for horses and the world of thoroughbred racing was discovered early in her life. She even admitted to being that "weird horse girl in school." It began with riding show and trail horses.
"I became obsessed with racing when I was around 8 or 9," she said. "I was the little girl on the other side of the fence just in awe of everyone and every horse I saw. I got on my first racehorse when I was a junior in high school and I was hooked."
So hooked, that Danielle's parents would get her out of school for big races.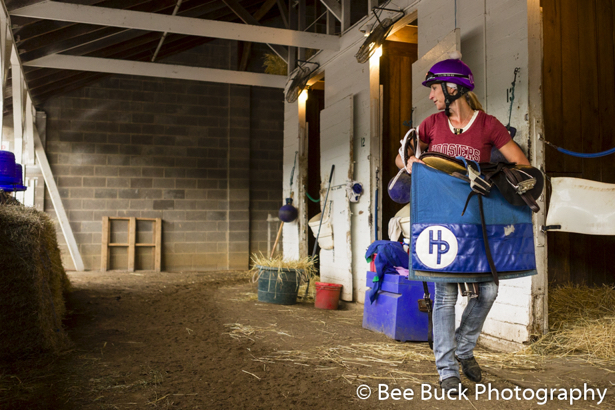 As I followed Danielle around on a recent morning, it was obvious she loved the seven-day grind that she lives. With only having an occasional Monday off she doesn't shy away from the work. Keeping a tight schedule, she also has her own horse, Mangata, at Churchill Downs. In between sets she gives her care and after her rides she gets on her to train.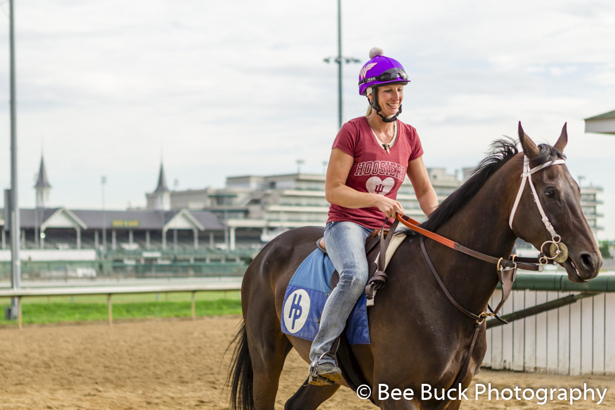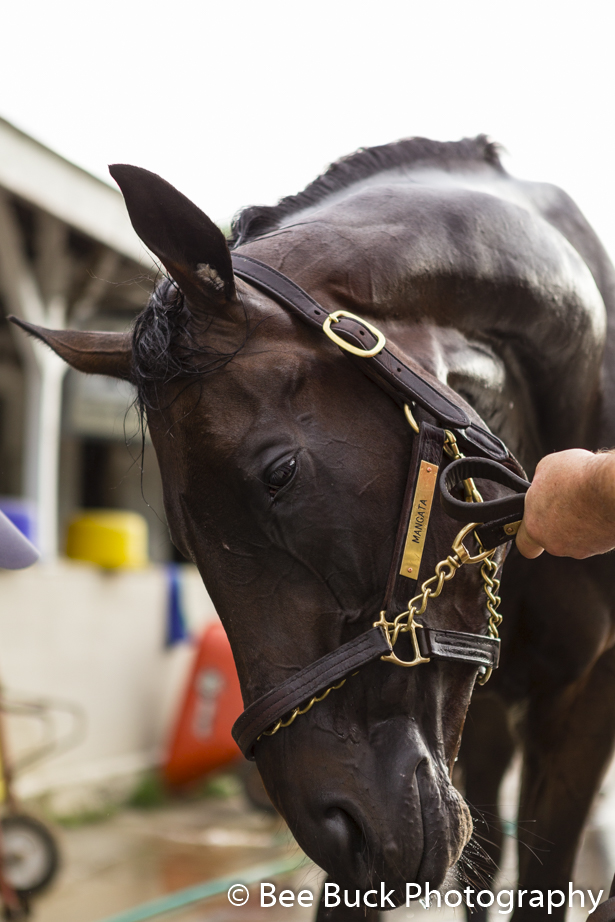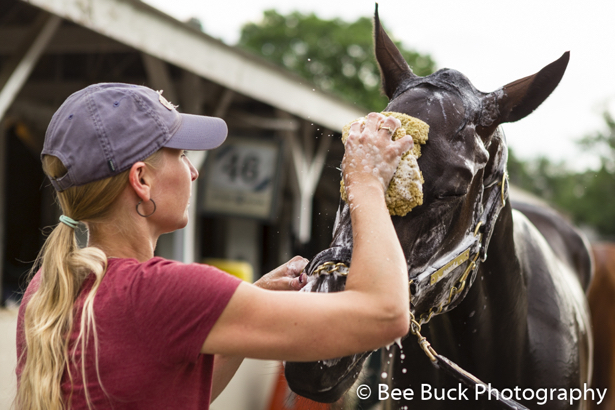 "She's (Mangata) a weirdo," Danielle said. "On the track she's nuts. All about her job, she leaps through the air and bounces around."
Even though Danielle describes her as her hardest yet most fun ride each morning, the filly has a soft side. Mangata can easily be led around by a friend's 3-year-old daughter, she ground ties for baths, and when she's not at the track, she makes a great trail horse.  
Danielle has a special relationship with Hall of Fame trainer D. Wayne Lukas.
"D. Wayne Lukas molded me into the rider I am today," she said. "I was average when I went to work for him. I wasn't going to fall off or get run off with, but I needed polished and I needed help. He was relentless. There were days I wanted to quit, days I said I hated him, but he never gave up and thankfully neither did I.
"I was in a bad spot personally when I went to work there, and he changed my outlook on everything. I owe he and his wife Laurie so much."
While Danielle has ridden high-profile horses such as Breeders' Cup Classic winner Bayern and the multiple graded stakes winner Hoppertunity, she still had not had a horse in the Kentucky Derby. It was this relationship with Lukas that provided her with her first neon saddle towel on Bravazo.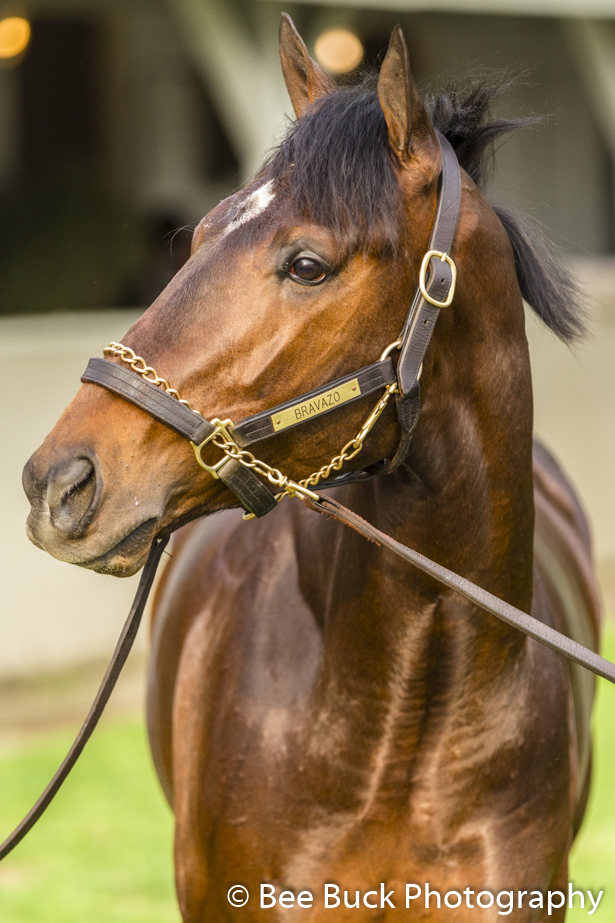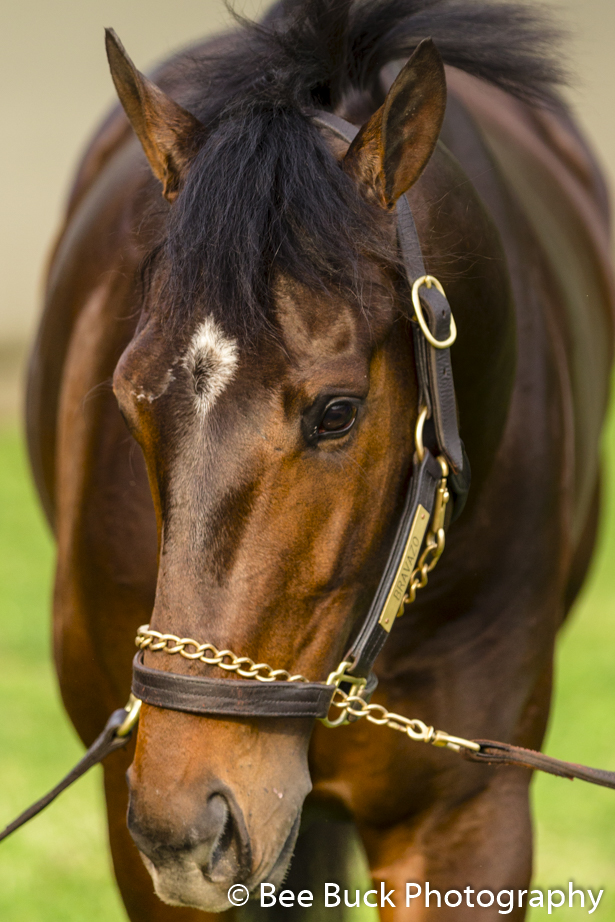 "When I got on Bravazo for the first time, it was 12 days before the Derby," Danielle said. "I was so scared to mess it up because I had seen that he was very picky and quirky. He doesn't like to be messed with. He likes when you ask him to do something and leave him to do it. I'm a quiet rider and don't move my hands around. I'm very trusting of a horse when we are galloping, sometimes too trusting. He and I are a good fit in that aspect. He loves his job and that makes it so much fun."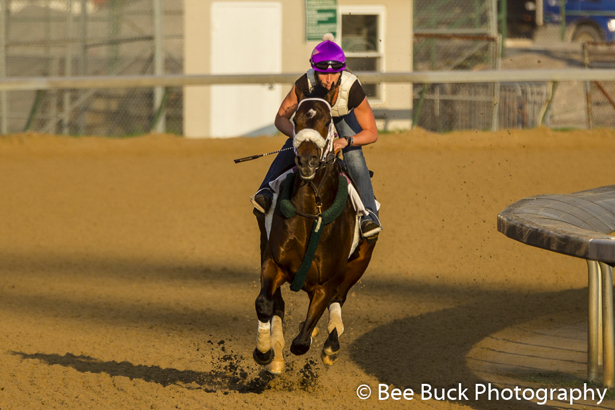 The relationship between the exercise rider and colt has began to attract attention. As I watched them in the days leading up to the Kentucky Derby, you could tell there was something special about the bond the two shared. Lukas had not been shy about voicing that they wanted Bravazo to relax.
"I try and teach them to use themselves the right way and keep them relaxed. I think keeping one relaxed is the key; if they're fretting about something then nothing is going to go right, including a race."
Danielle has not only a passion for riding these amazing creatures but also training them.
"This is going to sound terrible, but it's honest," she said. "I love training. I just don't like the pressure from owners that don't understand horses. How do you explain to someone that's paying thousands of dollars a month that their horse just isn't doing that great right now and we shouldn't run them in this spot or that spot? Or how do you say, 'Well I need another week for them to be at their best'?
"Most people don't understand that they are like humans. They aren't machines. They have good and bad days, they have aches and pains just like us. So yes, I love training, I love seeing a horse come into themself and everything click. There's no feeling like it. That's why being an exercise rider and assistant is what works for me. I get the fun stuff. I get the horses."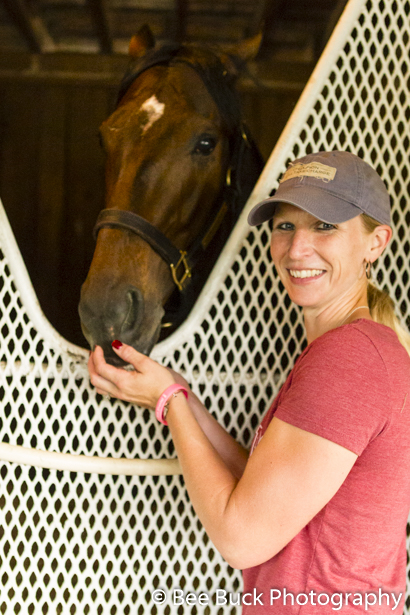 You always know when they're coming around the second turn. Danielle has a custom helmet cover. It's purple with the Wonder Woman logo on it.
"The Wonder Woman helmet cover is a personal thing," she said. "Many people think it's cocky, but that's not it at all. I have grown personally in the last four years of my life. There have been tremendous highs and just as many tremendous lows that I didn't know how I'd get through. But I did. Many people take those lows and stay there. I had become someone I wasn't proud of, and I used my pain as an excuse.
"My mistakes and my pain have made me a much better, more loving, and a much stronger person. Wonder Woman is strong even when she doesn't want to be or have to be. I took that mindset and made it my life. Wonder Woman also says that only love can save the world. She's right. We all just want to be loved, humans and horses alike."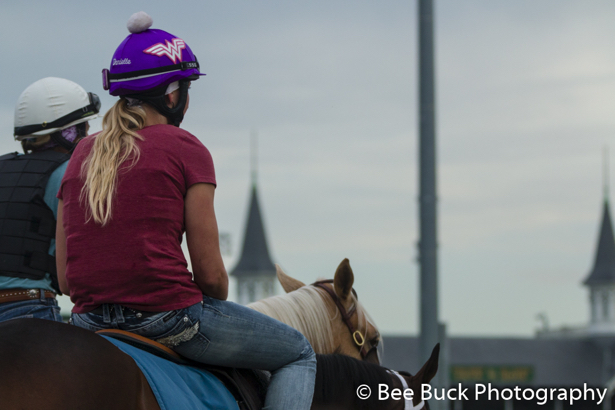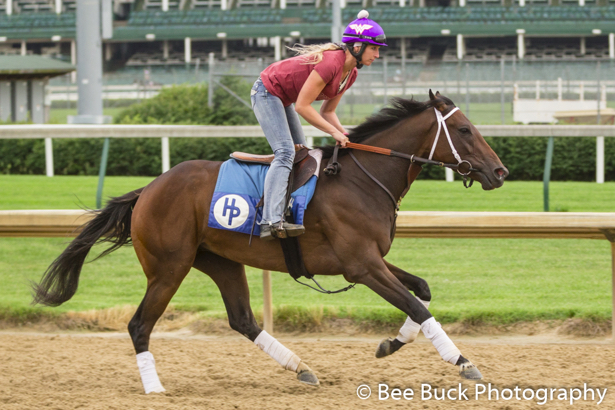 The kindness that Danielle displays to everyone she meets doesn't stop with just the people. It extends beyond to her horses. When she's not at the track, her time is dedicated to a side business she began not long ago.
"I live on a farm and I have started a lay up business over the last year, and to my surprise it's grown to the point where I've turned people away for lack of room. I absolutely cannot wait to get home and take care of the horses in the evenings. I love being able to help them and comfort them. I love being able to watch them 'let down' from the track and just be a horse for a while. It makes my heart happy."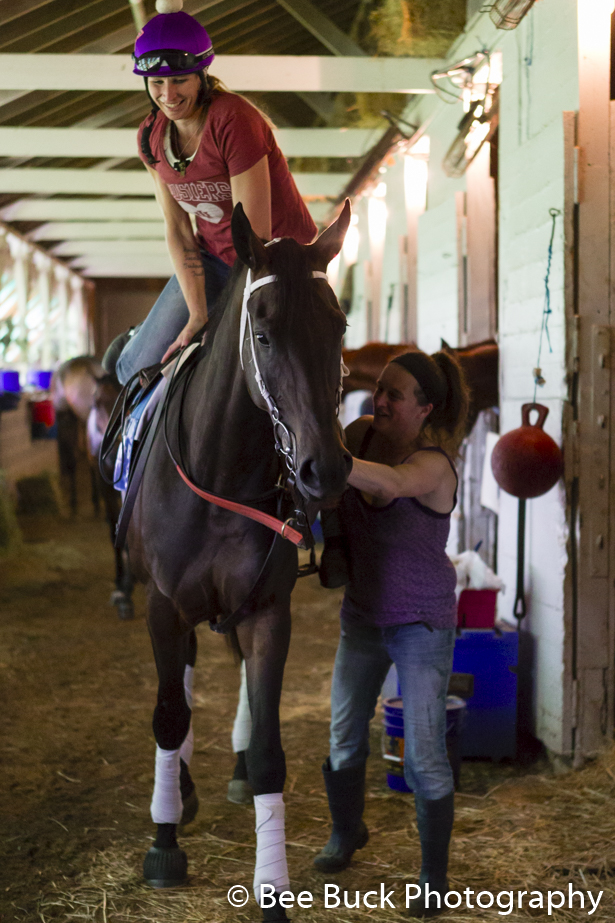 Danielle has an amazing view of the racing world: from the beginning of the horse's life to their growing up on the track to coming off. She is one of the lucky ones. Danielle gets to do the work that so many would love. It's a great privilege to influence the life of a horse and Danielle gets the chance to do that every day.