Justin Dew qualified for the National Horseplayers Championship for the first time after just missing a seat last year, when Runaway Ghost's odds in the Sunland Derby dropped from 7-1 to 7-2 late in the wagering. A photo finish Jan. 13 at Santa Anita Park secured his trip to the 2019 NHC.
My bags are packed. I'm ready to go. Las Vegas is waiting.
It's off to Treasure Island and my first ever crack at the National Horseplayers Championship.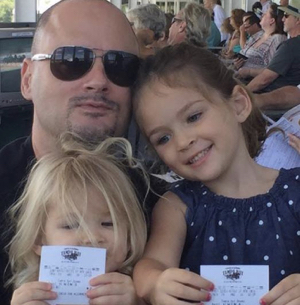 The plane ride will be spent pouring over past performances and Thoro-Graph numbers. To this point, my preparation has been limited to trying to identify which races from the eight available tracks on Friday will form the pool of 10 optional races I can play. The next step will be identifying my top value plays from those races. From there, it's a matter of watching the tote board.  
My focus will be on turf races, non-claiming dirt races with big fields and maiden races. It looks like there are roughly 21 that fit the bill on Friday, depending on which tracks remain on the turf.  But my feeling is that I should be able to find 10 plays from those 21 races.  
There will also be eight mandatory races for me to play on Friday. As of this writing on Wednesday morning, those races have not been announced yet.  
With 72 total races eligible for play on Friday, there simply isn't enough time to handicap each race properly. Maybe better horseplayers than I could make that work. But I cannot. I suspect at least some of my highlighted potential optional races will be chosen as mandatory races, but even if none is, I shouldn't have to handicap more than 30 races for Friday.  
Another point of emphasis for me will be to demand value. And this is never easy for me in tournament play.
For example, let's say I identify a horse at 12-1 on the morning line and I get all excited about making a play. Then the tote board opens and he's 9-2. Then he creeps up to 6-1.
Do I play or pass?
In the past, I have had trouble passing. At odds of 6-1, that horse should mean around $20 in tournament points if he wins. That's no small score. There are the issues tournament players face.  
With a total of 18 plays on each of Friday and Saturday, my goal for Friday is to end with something more than $100. A score of $140 would be outstanding. A score of $90 would be mediocre, but I don't think it would eliminate me.
In other words, I'd be able to bounce back on Saturday and overcome a slow Friday start as long as I don't totally bomb.  
Follow me on Twitter at @justindew and be sure to check LoneSpeed.com for more thoughts on the NHC. Oh, and wish me luck.