Miley Cyrus/Hannah Montana probably didn't have horse racing in mind when she sang the words, "Best of both worlds", but that line could easily be applied to turf super-stars, Winter Memories, Black Caviar and Goldikova. Though in this case, it's the best of all three "worlds".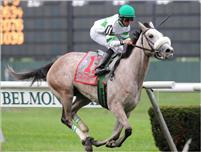 You know something special has taken place in the racing world when three days after an event, the web is still abuzz with news and online forums are lit-up with excited back and forth debates and chatter. That is exactly what Winter Memories scintillating performance in the Garden City Stakes has evoked since her dazzling turn of foot at Belmont Park Saturday. I won't linger over the details of Winter Memories bad trip again, as that has been exhaustively covered in the last three days, but there are interesting things worth noting about her win.
When Winter Memories wins, she does it with little or no help from the jockey. Some will disagree with me on this, but the rider switch to Javier Castellano, who I think is a terrific rider, did absolutely nothing to help Winter Memories pick up her first Grade 1 win. Castellano gave her a terrible ride, forcing her lose position after breaking well and running comfortably in behind the pacesetters approaching the first turn, then keeping her under a strangle hold and allowing horses to block her path to the outside as the field navigated the turn. Entering the stretch it was clear to everyone that Castellano had Winter Memories in what appeared to be an impossible position and still he did nothing, waiting instead until the final furlong when Hungry Island moved up on the outside to swing Winter Memories into the clear. Please don't misunderstand the point I am trying to make here, which is not to bash Javier Castellano, but to praise the ability of Winter Memories to rouse herself to such a super-horse effort and win.
Despite not being allowed to run her race until the final furlong of the stretch, the El Prado filly traveled her final 1/8 of a mile in an astounding 10.6. That is unheard of in racing. Even a sub-11 final 1/8 is unheard of, and the fact that she did it in a hand ride and was eased just before hitting the wire makes it all the more astonishing.
She received a 93 Beyer in the Garden City Stakes which at first glance may seem low, but keep in mind she wasn't able to utilize the length of the stretch this time like she was in the Lake George Stakes where she received a career best 95 Beyer. Imagine what she might have been assigned if allowed clear running room.
It appears the final start of 2011 for the Jimmy Toner trained filly will be in the Queen Elizabeth II Challenge Cup (gr.1) at Keeneland on October 15th. Winter Memories would almost surely meet Grade 1 winner Summer Soiree in the Queen Elizabeth II, which would set up for one of most exciting turf filly matchups of the year. Summer Soiree has lost just once this year, much like Winter Memories, though she finished far up the track in 10th while contesting the Kentucky Oaks. Since then the War Front filly has done no wrong, winning the Grade 3 Boiling Springs Stakes by more than eight lengths, and capturing the Grade 1 Del Mar Oaks by half a length in her most recent start. Summer Soiree started the year with two runaway wins before finishing out of the money in the Kentucky Oaks; First a 9 ¾ length allowance romp which she followed up with a 10 ¾ length rout in the Grade 3 Bourbonette Oaks in late March. The Queen Elizabeth II should be an excellent match up, and with Hungry Island and possibly Pucker Up (gr.3) winner, Marketing Mix, also heading to the Queen Elizabeth, this field is beginning to look Breeders' Cup worthy.


[Goldikova currently ranks #1 on HRN's active horses page, with Black Caviar ranking #7 and Winter Memories #23; Who has a better turn-of-foot?]
Black Caviar, Australia's undefeated wonder-mare, has been crowned Australian Racehorse of the Year and Champion Sprinter. During the awards ceremony on September 17th, the 5-year-old daughter of Bel Esprit took home the top award with a winning tally of 301 votes, with So You Think finishing second at 208 votes. Everything the impressive sprinter has done so far has resulted in perfection since her debut in early 2009. She is currently on a six-race Group 1 winning spree and is gearing up for her return to the races after taking a break from racing following her win in the BTC Cup (Aus-1) May 14th.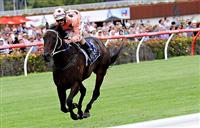 Peter Moody and Luke Nolen, trainer and jockey for Black Caviar, also took home the awards in their categories as leading group 1 trainer, and leading group 1 jockey. All around, it was another perfect sweep for the Black Caviar team.
Undefeated in thirteen starts, Black Caviar is positioned to make her return to the races in the $1 million Patinack Farm Classic (Aus-1), the same race she used as a spring-board to her current six consecutive Group 1 wins. Also nominated for the Classic is Champion Two-Year-Old Sepoy, the first horse in more than 20 years to win the Blue Diamond and Golden Slipper in the same year. Of seven of his eight lifetime starts, Sepoy and Black Caviar fans have been clamoring for a match-up of the two super horses and it appears they will finally get just that in the November 5th, Patinack Classic. Other possible starters for the Classic include Godolphin's Delegator, as well as Crystal Lily, Smart Missile, Response, Danleigh, and former Australian Racehorse of the Year Scenic Blast. It appears Australia's newest Racehorse of the Year could have her work cut out for her…or will she?
Winter Memories and Black Caviar may be the best turf fillies in the United States and Australia, respectively, but Goldikova has reigned as the undisputed queen of European race for the last three years running, and if not for a certain undefeated Prix de l'Arc de Triomphe winning filly, that reign would most likely stretch back four years. Goldikova has been one of the greatest examples of talent, brilliance and longevity the world has ever seen in a race mare. Her last nineteen starts have all come in Group/Grade 1 races, the vast majority of them against males. That's 19 consecutive runs against the best competition in the world.
2011 has been a turbulent year thus far for the gifted mare. She began her campaign with style, capturing the Prix d'Ispahan for the second year in a row and notching the 13th Group/Grade 1 win of her career. An astounding figure by any estimation. Goldikova next finished second to Canford Cliffs in a fantastic match up at Royal Ascot in the Queen Anne Stakes (Eng-1) that resulted in one of the most thrilling finishes of the year. In her next start Goldikova made a rare appearance against her own sex and won the Prix Rothschild (Fr-1) for the fourth consecutive year, while racking her string of Group/Grade 1 wins up to 14. In her fourth start of the year Goldikova finished second for the second time in three years in the Jacques Le Marois (Fr-1). After breaking free from the pack and momentarily appearing to take the lead on the outside, Immortal Verse came flying up on the inside to defeat Goldikova by one length for her second consecutive Group 1 win.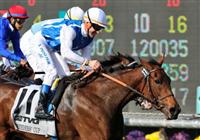 Now Goldikova is set to make her return in the Prix de la Foret (Fr-1) at Lonchamp on October 2nd, a races she won the race last year over Paco Boy and Dick Turpin and finished third in 2009. Questions and rumors have been flying since her defeat in the Marois over whether or not the champion has lost a step since last year. Claims like that seem ridiculous when you examine the facts. Both losses this year have come to classy Group 1 winners who have proven their worth on the track, and both losses she finished ahead of some very exceptional horses. She also ran some of the best fractions of her career in the Queen Anne when losing to Canford Cliffs, proving she is as sharp as ever.
Immortal Verse and Dick Turpin are both possible contenders for the Foret, meaning she will once again be running against a quality field. All things considered, Goldikova is still easily the class of any field and will be well situated to capture a record 15th Group/Grade 1 win if she is, as I believe, the same horse she was last year.