The second running of the $85,000 Sagamore Sired Stakes for Indiana-bred three-year-old colts and geldings looked to be a two horse race on paper at Indiana Grand Race Course. The Dale Romans trainee Topara was set off as the 5-2 favorite, while the Jeffrey Greenhill charge, Son of a Nut went off at odds of 7-2.
Son of a Nut quickly proved that this would be a one horse race. The undefeated son of Unbridled Energy showed a new dimension today quickly sprinting for the early lead. Under the confident hands of Indiana Downs leading rider, Albin Jimenez, Son of a Nut led the field through a quarter in 22.03 and a half in 45.05. Two if by Sea applied moderate pressure in 2nd with Aye Skipper to his outside in 3rd, while Topara was slow out of the gate sitting 7th in the early stages.As they reached the top of the stretch, Son of a Nut drew off and ran away from the field of sophomore colts and geldings.  The half-brother to the Indiana-bred stakes winner In a Jif, poured it on late in the stretch crushing the field by some 7 lengths stopping the clock in 1:10.06 for the 6 furlong affair.  Lucky Newton closed to finish 2nd at odds of 10-1 with Aye Skipper in 3rd. Topara never picked his feet up finishing a distant 7th.
The dominating performance in the Sagamore Stakes gives the Sherri Greenhill owned Son of a Nut his 3rd win in 3 starts with earnings over $90,000. He's shown his versatility in closing from 5th in his maiden win, rating just off the pace in 3rd in his allowance victory, and showing early speed in his gate to wire, coming out party in his stakes debut. The son of Unbridled Energy, out of the Stravinsky mare Damie's Peanut, has improved in each start and looks to be a force to reckon with in future Indiana-bred stakes, if he proves he can handle a distance of ground, the sky could be the limit for this undefeated colt.
It would be the females turn to strut their stuff at Indiana Grand in the $85,000 Swiftly Sired Fillies Stakes. The home-bred Nevertoomanykisses came into the race on a strong two-race win streak for trainer Tim Glyshaw, and owner/breeder Deann Baer. Toomanykisses was sent off as the 8/5 favorite. Barbara Mcbride sent out an uncoupled pair of strong sophomores in the two-year-old Indiana-Bred Champ, Spooled and Hay Little Bit, both went off at odds of 3-1.
Oriana Rossi broke strong on Nevertoomanykisses as the filly did exactly the opposite of what Tim Glyshaw was hoping for as she sprinted to the early lead.  The daughter of Checklist set a quick and heavily pressured early quarter in 22.20 and half in 45.44, with 9-1 long shot Cabbyjoshtin chasing in 2nd. Spooled stalked the early pace setters for jockey Francisco Torres, while sitting in 3rd. As they reached the top of the stretch, Nevertoomanykisses and Oriana Rossi was a ½-length in front of Cabbyjoshtin, who began to fade. Spooled made a strong menacing move down the stretch as Francisco Torres went to the right handed stick, Rossi went to the left hand, as the pair battled down the stretch. Nevertoomanykisses dug in gamely to get to the wire a neck in front of Spooled.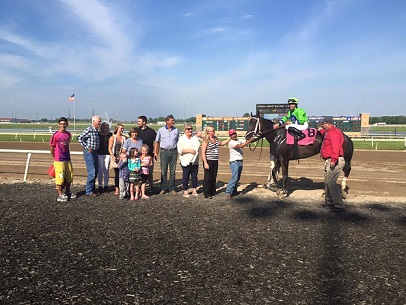 (Photo courtesy of Jamie Linscott)
Nevertoomanykisses scored the 4th win her career in only her 7th start and captured her first stakes win. Trainer Tim Glyshaw who was ecstatic with his filly's performance he said "This filly is a little crooked but she tries so hard and she wants to win, she has a big heart, she's tried ever since we had her at the Fair Grounds."  Though Glyshaw pictured his filly coming from off the pace, winning Jockey Oriana Rossi had a different plan as she knew what she had under her, wiring the field. Glyshaw said "Shows you what I know." I know one thing this filly has a lot of heart and a bright future.
The team of Baer-Glyshaw-Rossi have teamed up for 4 wins with this filly with career earnings of over $135,000, not too shabby for a crooked a filly.