There are moments in our lifetime and moments in history where time stands still and where the pure brilliance of one person, one event, or one horse exceeds the seemingly unbelievable.
For Secretariat, the unbelievable lasted for not just a waking moment and not just the 35 days of the Triple Crown but it has lasted forever etched in the American culture and carved in the hearts of all horse racing and non-horse racing fans.
This Sunday will mark the 40th anniversary of "Big Red's" Kentucky Derby coronation and the beginning of his incredible Triple Crown dominance.
Much like several of this year's Kentucky Derby contenders, Secretariat arrived in Louisville with many questions to be answered. Being a son of the great "speed" sire, Bold Ruler, Secretariat had several doubters that challenged if his pedigree could carry him to victory at the grueling 10 furlong distance of the Derby.
The mighty c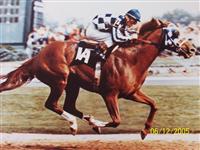 hestnut with the oversized heart would not disappoint his fans as he put on a show under the fabled Twin Spires of Churchill Downs.  Not only did the Meadow Stud (Penny Chenery) owned Secretariat win the Kentucky Derby he did it in a fashion the sport had never seen before.  The Lucien Laurin trainee set the Kentucky Derby stakes record and became the first horse to run the 10 furlongs of the Derby in under 2:00. (1:59.2) Big Red not only set a new track record he also did something unheard of as he ran each quarter mile faster than the previous. It was as if jockey Ron Turcotte pressed down on the accelerator a little harder each quarter mile.
Big Red went on to win the Preakness by the same 2 ½ lengths that he won the Derby. A malfunction in the tele-timer prevented Red from another track record but the Daily Racing Form clocked him in 1:54.2 breaking the previous Preakness record.
Secretariat's Belmont performance could arguably be the greatest moment in sports history. Big Red demolished his competition in demoralizing fashion winning by 31 lengths in astonishing time of 2:24 destroying the track record which might never be approached again.
As we near the final hours till this year's Kentucky Derby we are all looking for the one horse that could give us one of those unbelievable moments of brilliance. The thought of finally experiencing a Triple Crown is something that literally gives me goose bumps.  So many times in my lifetime and even before my time we've been so close to that elusive Triple Crown champion.  35 years has seemed like an eternity since Affirmed's epic dual with Alydar to achieve the unachievable and win the Triple Crown.
It's been heart break after heart break. Close beat after close beat. We suffered through Silver Charms narrow defeat to Touch Gold. Then there was the heart stopping finish where Victory Gallop and Gary Stevens ended Real Quiet and Kent Desmormeaux's triple crown run by a mere few inches.  Our hearts were shattered when Charismatic suffered an injury deep in the stretch of the Belmont Stakes. There was War Emblem, Funny Cide, and Smarty Jones. Smarty was a mere 200 yards away from breaking the streak before Birdstone spoiled the party. Big Brown's Triple Crown was over 3 furlongs into his Belmont and I'll Have Another never even entered the gate scratching 24 hours before the race.
Could this be the year we see one of those "unbelievable moments?  IS there a HORSE in this year's Derby that could end the streak? To that question, I say ORB.
The Shug McGaughey trainee has looked nothing short of spectacular since arriving in Louisville. He had an extremely strong 4 furlong work over the Churchill Downs strip which had all the clockers and experts buzzing.  Shug has always said "he would never take a horse to the Derby the horse would take him." This horse has given McGauhey, Phipps, and Janney reason to believe the unbelievable.
The Malibu Moon colt is undefeated and unchallenged as a 3 year old. He started his sophomore season off with an impressive win an allowance optional claimer at Gulfstream. Orb circled the field while inhaling his rivals which included the heavily favored Violence in the grade II Fountain of Youth Stakes at Gulfstream Park. Orb made his last start in the grade I Florida Derby. A race in which he ran right by fellow Kentucky Derby competitor It'smyluckyday to win by an easy 2 ¾ lengths.  
Orb has a running style that is favorable to winning the Derby. He has a ferocious turn of foot and a pedigree that says he'll run forever, he's even a descendant of Secretariat.  Having drawn post position #16, Orb and Joel Rosario should be able to navigate a good trip and stay clean of all the early traffic.  
The elusive Triple Crown begins with a dream, and for Orb that dream starts with winning the Kentucky Derby.  I think Saturday will be the beginning of the unbelievable where talent meets destiny and where Orb starts his road to Triple Crown glory!